Oct. 23-24, 2023
at Tanglewood Resort
Housing: Available Monday and Tuesday nights
Registration Deadline: Sept. 20
Late Registration deadline: Oct. 5 (food and program only, no housing)
Clergy Retreat is designed with the hope to offer connections with fellow clergy, new insights and renewal. "Be Strong, Take Heart. Hope in the Lord" as we continue to journey together through the calling of the Psalmist, we seek to gather ourselves in a spirit of Hope. All Central and North Texas Clergy are invited to gather for fellowship, learning and engaging ideas on future ministry. Bishop Ruben Saenz Jr. will offer inspiration through preaching, communion and his hope for our future. Suzanne Smith, of Social Impact Architects, will offer new insights to the future, to leading transformation in times of change and seeking clarity in a season of uncertainty. We will receive and reflect on an update from the unification exploration.
We invite you to renew yourself and your connections with God, each other and the created world in the tranquil surroundings of Tanglewood Resort and the Prothro Center at Lake Texoma. We will engage in deep work together and we will have space for relaxation and renewal. You are invited to schedule a session with a spiritual director or coach. You could engage the services of the spa or play a round of golf with your colleagues. Take a long walk along the lake or through the woods. Jump in line to become 9-square royalty or visit with your covenant group on the beach.
We look forward to sharing in 36 hours together (noon Oct. 23 to 8 p.m. Oct. 24) for networking, learning and moving into the future.
We'll see you at the lake!
Leaders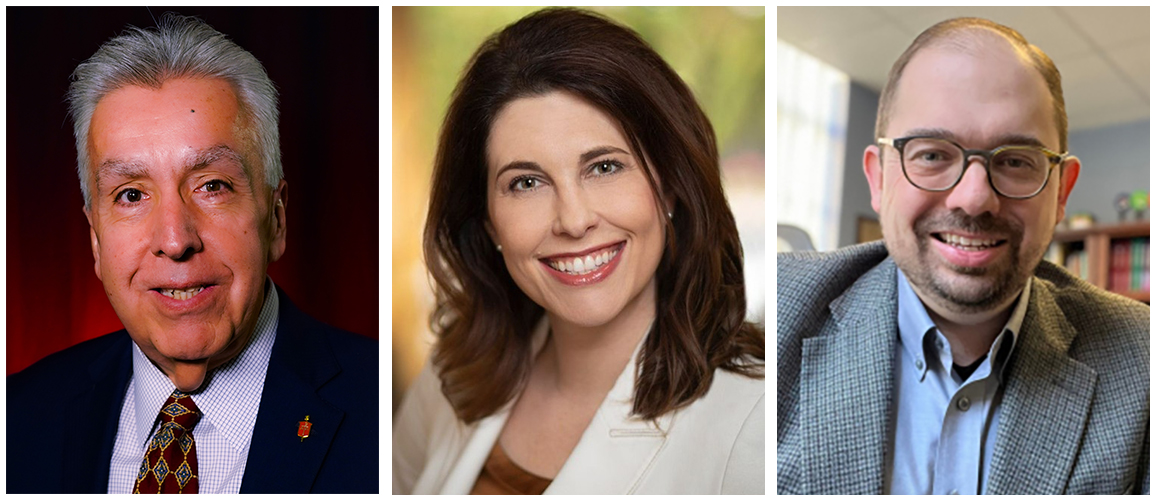 Ruben Saenz Jr. | Bishop
Ruben Saenz Jr. is a native of south Texas and lifelong United Methodist. In 2016, he was elected bishop by the South Central Jurisdictional Conference and assigned to the Great Plains Conference, based in Topeka, Kansas. On Jan. 1, 2022, he also assumed the episcopal leadership duties for the Central Texas Conference. Since January of 2023, he has served as episcopal leader of both the Central Texas and North Texas Conferences of The United Methodist Church, leading the conferences through a season of disaffiliation and into a time in which the churches are reclaiming their connection and looking forward to building the church of tomorrow while remaining true to our disciple-making mission of today.
Suzanne Smith | Social Impact Architects
Suzanne Smith has a deep belief that everyone is a changemaker. As a serial social entrepreneur, she strives to harness the powerful force of organizations, including nonprofits, foundations and socially responsible businesses, and individuals, especially students and young entrepreneurs, to maximize the potential of the social sector to create real, scalable impact.
Dr. Joshua Taylor |
Director of Worship and Music at First UMC Denton
Joshua Taylor is the Adjunct Instructor of Sacred Music Studies in the University of North Texas College of Music and serves as the Director of Worship and Music at First UMC Denton. Dr. Taylor holds the doctor of pastoral music degree from Perkins School of Theology/Southern Methodist University, a Master of Music in choral conducting from Kansas State University, a Bachelor of Music Education from the University of North Texas and a certificate in ministry from Austin Presbyterian Theological Seminary.
Schedule
Monday, Oct. 23 (at events at Tanglewood Resort)
12 p.m. – Retreat Check-in and Lunch
1:30 p.m. – Opening Session
4 p.m. – Hotel Room Check-in
5 p.m. – Dinner
6 p.m. – Worship with Bishop Saenz
Tuesday, Oct. 24
7 a.m. – Breakfast (Tanglewood Dining Room)
8:45 a.m. – Gathering
9 a.m. – Plenary Session
12:30 p.m. – Lunch (Tanglewood Buffet, Prothro Cookout or Clubhouse Boxes)
1:30 p.m. – Reflections and Relationships**
3:30 p.m. – Cohort Launch
5:30 p.m. – Closing Dinner & Liturgy (Tanglewood), will conclude by 8 p.m.
Wednesday, Oct. 25
11 a.m. – Check out of rooms
**Reflections and Relationships
So many options! What do you?! Let's start by taking a moment to check-in with yourself. What will you need?
A round of golf? Spa treatment? Billiards? A conversation with a new friend? Time with your covenant group? Becoming 9-square royalty? Spiritual Direction? Coaching? The excitement of a corn hole tournament?
Golf — To register for the golf tournament, select the golf option on the registration page. Boxed lunches will be at the Tanglewood Golf Course Clubhouse for our golfers to enjoy before hitting the first tee box.
Spa — To schedule a spa treatment for Tuesday afternoon, follow this link and book directly with the Tranquility Spa at Tanglewood Resort. When booking identify yourself as a member of the United Methodist Clergy Retreat group to receive the group discount. All appointments must be confirmed and prepaid 48 hours in advance of the appointment. Gratuities are not included in the price.
Game Room — at Tanglewood is available for billiards, ping pong, pinball and more. Gather some friends for a relaxing afternoon of indoor fun in the Game Room
Workshop — opportunity for group engagement will be offered from 1:30-3 p.m. in the Tanglewood Ballroom West

Spiritual Direction — As you check-in to the retreat on Oct. 23, there will be sign-up sheets on the Welcome table to reserve a spot for individual or group spiritual direction provided through HeartPaths DFW. Sessions will occur at the Prothro Center.
Coaching — As you check-in to the retreat on Oct. 23, there will be sign-up sheets on the Welcome table to reserve a spot for individual coaching provided through the NTC and CTC networks of ICF trained coaches. Individual sessions will occur at the Prothro Center.
9-square, corn hole, table games, beautiful hiking trails and beaches will be available for relaxation and recreation at the the Prothro Center
Now that you've made a great decision for your future self. We will make lunch suggestions for you.
If you're going to golf, the spa, workshop, the game room or visit with colleagues at Tanglewood, then you'll want to register for the Tuesday lunch buffet at Tanglewood.
If you're going to sign up for Spiritual Direction, Coaching, 9-square, corn hole or want to spend your time hiking trails or sitting on the beach, then you'll want to register for our Tuesday lunch cookout at the Prothro Center.