For more than 20 years, the United Methodist Church has had a growing presence in Honduras. Today, the Mission there consists of 22 congregations and numerous United Methodist-affiliated organizations. In January 2019, Bishop McKee was installed as the new episcopal leader of the Mission in Honduras. This leadership transition offers great promise for the Mission in Honduras not only because of Bishop McKee's gifts and passion but also because he brings with him the relationships and resources of the North Texas Conference.
Recently, leaders of the mission in Honduras and partners from the United States held a summit to listen in on state of mission in Honduras.
The CMO has been in dialogue with leaders of the Mission in Honduras to develop ways for local churches in North Texas to be in partnership with our Honduran brothers and sisters. In keeping with our "ministry with" values, the CMO has focused on ways for local churches, as well as individual clergy, in North Texas and Honduras to form long-term relationships marked by mutuality and empowerment.
Additional Videos
Ways to Partner
The purpose of a Church to Church (C2C) Partnership is to develop healthy relationships between brothers and sisters in Christ across cultures that strengthen the United Methodist presence in both North Texas and Honduras and are transformative and inspirational to all.
A typical C2C Partnership will build such relationships between the clergy and laity of two churches – one from North Texas and one from Honduras – through the following:
Quarterly written updates to share inspiring stories of ministry with one another.
Quarterly virtual meetings of clergy and laity from communications (both written reports and virtual meetings) to share about ministry, listen to and learn from one another, and pray for one another.
A relatively small, 3-year financial commitment from the North Texas church.
Occasional travel to Honduras.
The guiding values for these C2C Partnerships include: relationship, mutuality and empowerment.
We invite you to purchase When Helping Hurts: How to Alleviate Poverty Without Hurting the Poor … and Yourself and watch the accompanying videos to understand how poverty is much more than simply a lack of material resources and why it takes much more than donations and handouts to solve it. When Helping Hurts shows how some alleviation efforts, failing to consider the complexities of poverty, have actually (and unintentionally) done more harm than good
Form a team (must be at least 14 years old) and spend a week in Honduras building relationships and strengthening the Mission and communities there by doing construction projects, leading medical or dental brigades, and/or engaging in mutual learning about ministry topics like evangelism, women's ministry and migration.
Typical itinerary:
Sunday – Arrive in Honduras for team orientation
Monday to Friday – Enjoy days of working, eating, worshipping and reflecting together
Saturday – Sight-seeing in the quaint shopping village of Valle de Angeles or the Mayan ruins of Copan
Sunday – Return home
Cost (per person):
$75-85 – Per day for lodging, food and transportation
$350 – For construction costs
TBD – Airfare to Tegucigalpa, Honduras
Next steps:
Contact Rev. Andy Lewis
Resources:
Public schools in Honduras are often poor, and in the case of Ciudad Espana, only go through the 9th grade. The goal of the sponsorship program for the Juan Wesley School is to sponsor young people who otherwise could not afford to go to school. An education at the Juan Wesley School opens the door to hard-to-find job opportunities in Honduras and provides an alternative to joining gangs.
Consider sponsoring a student at the Juan Wesley School. The Church of the Resurrection, a key funding partner for the school, has a goal of increasing sponsorships to 300 students in the coming year. Doing so not only will help the school financially but also will go a long way in creating a sustainable future for the program and its students.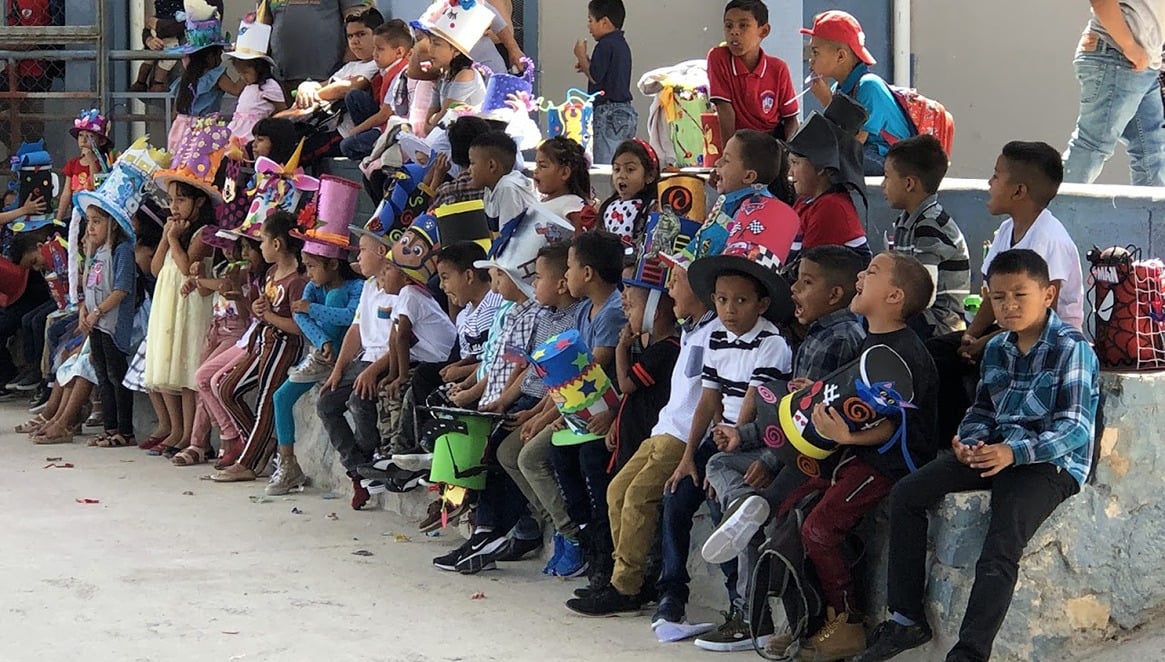 To Learn More
Contact Rev. Andy Lewis
Read When Helping Hurts: How to Alleviate Poverty Without Hurting the Poor … and Yourself to understand how poverty is much more than simply a lack of material resources and why it takes much more than donations and handouts to solve it. When Helping Hurts shows how some alleviation efforts, failing to consider the complexities of poverty, have actually (and unintentionally) done more harm than good
Invite a member of the Speakers Bureau to come to your church:
Consider going on an upcoming Exploratory Trip (September 2020)