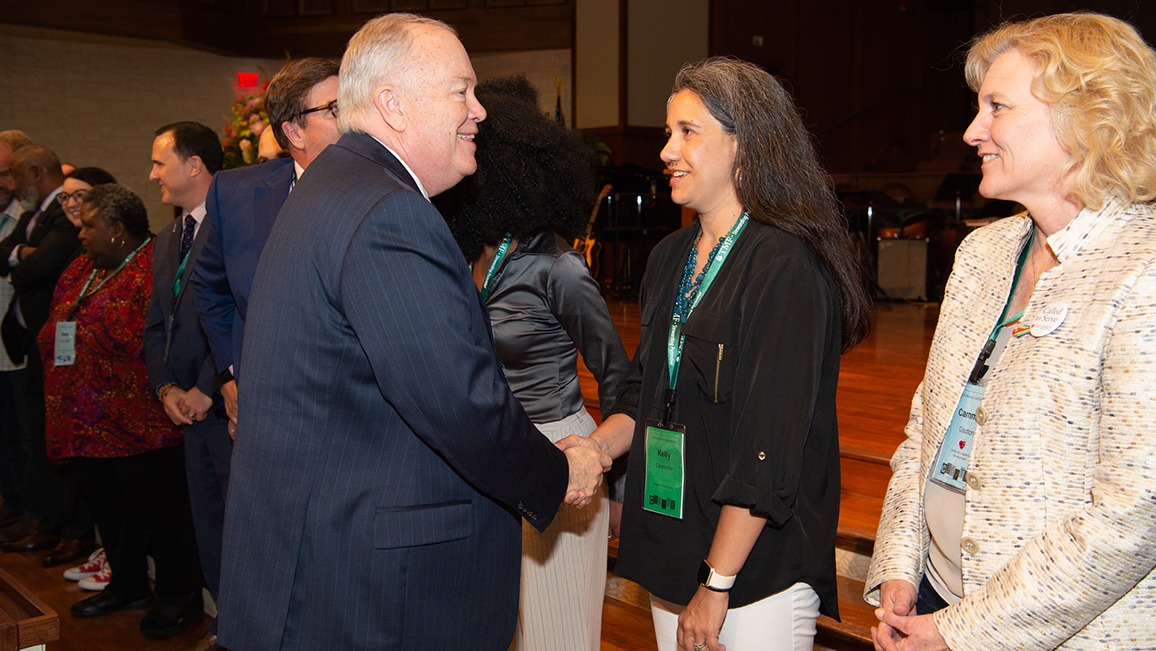 Statement from the NTC General and Jurisdictional Conference Delegation
When the Commission on the 2020 UMC General Conference announced the third postponement of the event, we, the elected Delegation of the North Texas Conference, experienced the jumbled emotions shared across the Connection. Although the General Conference has been postponed to 2024, we are still working and anticipate news about the future of our work together, including when the South Central Jurisdictional Conference may occur. We lament alongside faithful United Methodists from all areas of our Annual Conference and beyond as we know this news hurts many of us, especially those of us in the LGBTQIA+ community. While we are not surprised by the delay, we are prepared to continue our commitment to serving the North Texas Conference as elected representatives. We believe God has a future for the United Methodist Church where there is space at the table for all of God's children. We, as a delegation, will continue to seek to facilitate a path for the North Texas Conference to engage as a "One Church" Conference, allowing for flexibility in ministry based on contextualization and drawn together in unity as the Body of Christ.
Three new Bishops to be elected at Jurisdictional Conference
Lay and clergy delegates from across seven states will gather in Houston for the South Central Jurisdictional Conference of the UMC (Nov. 2-4). The North Texas Annual Conference will be represented by our eight General Conference delegates and eight Jurisdictional Conference delegates who were elected at the 2019 Annual Conference.
With Bishop Michael McKee's retirement effective Jan. 1, 2023, the work of the South Central Jurisdictional (SCJ) Conference is noteworthy for United Methodists across North Texas.
The SCJ Committee on Episcopacy has decided, in consultation with the College of Bishops, to recommend that the Jurisdictional Conference elect three new bishops. With three elections, the SCJ would have a total of nine bishops available to be assigned to nine of the 10 current episcopal areas.
Following the election, the SCJ Committee on Episcopacy — which includes Rev. Clayton Oliphant and Tim Crouch — will recommend, and the Jurisdictional Conference will assign, all nine active bishops to episcopal areas, with terms beginning Jan. 1, 2023.
The 10th episcopal area will be left open with episcopal coverage to be determined by the Council of Bishops upon recommendation from the SCJ College of Bishops immediately following the adjournment of Jurisdictional Conference. That area is anticipated to be the Northwest Texas/New Mexico area, which is currently covered by active SCJ bishops.
In addition to Bishop McKee's retirement, three other SCJ bishops are retired or have requested retirement. Bishop W. Earl Bledsoe (Northwest Texas-New Mexico) and Bishop J. Michael Lowry (Central Texas) retired earlier this year. Bishop Scott J. Jones (Texas) will retire effective Jan. 1, 2023.
Elected Delegates
General Conference: 2020 (postponed to 2024)
Clergy
Lay
Clayton Oliphint
Kelly Carpenter
Stan Copeland
Kenneth Wolverton
Cammy Gaston
Shandon Klein
Maria Dixon Hall
Jessica Vittorio
Jurisdictional Conference: Nov. 2-4, 2022
Rachel Baughman
Tim Crouch
Ron Henderson
Kathleen Pryor
Ricky Harrison
Collin Echols-Richter
Rob Spencer

Linda Parks

Alternates
Edlen Cowley

Sally Vonner

Edgar Bazan-Garza

Laura Hudec

Jenna Morrison
Andy Stoker
Keri Lynn Lucas (elected Lay, now Clergy)