Do You Have a Heart to Help Honduras?
Rev. Andy Lewis explains how your church can partner with a congregation in Central America
In 1998, Hurricane Mitch struck Central America. Almost 20,000 people died in its wake; 7,000 of those deaths were in Honduras.
In the months and years after this devastating storm, United Methodists from all across the U.S. sprang into action – delivering emergency aid, rebuilding homes, building relationships and sharing hope. And, in time, this powerful witness to the love of God in Jesus Christ grew into a strong United Methodist Mission. This GBGM-sponsored Mission in Honduras is the only United Methodist presence in Central America.
Today in Honduras, there are 23 United Methodist congregations and many United Methodist-affiliated ministries that together are making disciples and striving to transform their corner of the world. We all know something about the great challenges faced by the people of Honduras and the desperation they feel. In January of this year, I was in Honduras and had the opportunity to meet and talk with some of the pastors and lay leaders of these congregations. I was so impressed with them – their faith, their passion, their commitment and their willingness to labor in a dangerous vineyard for the sake of the Gospel. It's truly inspiring.
For the past 18 years, the episcopal oversight for this Mission was provided by Bishop Elias Galvan. In January, the baton of leadership was passed from Bishop Galvan to our own Bishop Mike McKee. This leadership transition offers a great opportunity for our conference to partner with the Mission in Honduras in ways that will bless us all.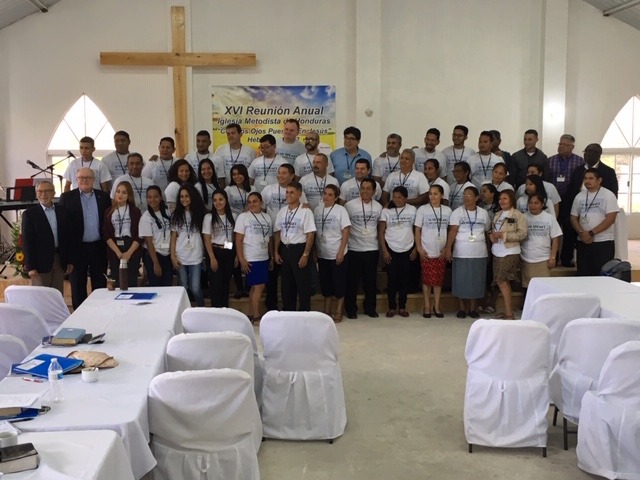 This spring, I have been in dialogue with leaders of the Mission in Honduras to develop a vision for this partnership – a partnership that will involve long-term relationships and mutual learning and exchange.
The first piece that is ready to go is church-to-church partnerships. Your local church here in North Texas can become a 50/50 Partner Church with a church in Honduras. There is a relatively small financial component to these partnerships, but actually the emphasis is on cultural exchange and mutual learning and support. All of the details for these church-to-church partnerships can be found here.
Right now, 10 of the congregations in Honduras have a U.S. church partner. Our goal is to find a committed partner from North Texas for the remaining 13 congregations, so that every congregation in the Mission in Honduras has a church partner by this time next year.
If you're curious or if you're ready to jump in with two feet, you also are welcome to join me and the bishop on an exploratory trip to Honduras this fall. The trip dates are Sept. 9-13, 2019. This trip will be great opportunity to meet the leaders of the Mission, visit several of the churches, learn about the country, and overall lay the groundwork for a healthy partnership. If you're interested, email me.
Almost every day, Honduras, Guatemala and El Salvador are in the news related to the great number of migrants from these countries who are coming to our southern border, seeking asylum and hope. Regardless of your politics, being in ministry in Honduras – working with the people there to address some of the root causes of migration – is important work. It's Kingdom work, and our conference has a new and profound opportunity to be a part of it.
Published: Monday, July 8, 2019