Campus Ministries Lead The Way In Engaging Young Adults

Denton Wesley Foundation hosts lunch and learn to share learnings and best practices in reaching the next generation
The Denton Wesley Foundation Campus Ministry – a thriving young adult ministry – is helping churches discover how they too can reach and support young adults. Rev. Marianne Brown-Trigg and her team recently hosted a Lunch and Learn for pastors and church leaders.
"We love talking about ministry with church members anytime we can at the Wesley," Brown-Trigg said. "We have had several churches talk to us about their adventures in planting new ministries and we want to support their important work. Our friends at the TCU Wesley hosted a similar gathering, so we decided it would be worth a try for our church partners too."
Attendees came from across the region to learn best practices in young adult ministry from the Denton Wesley students, staff and board members.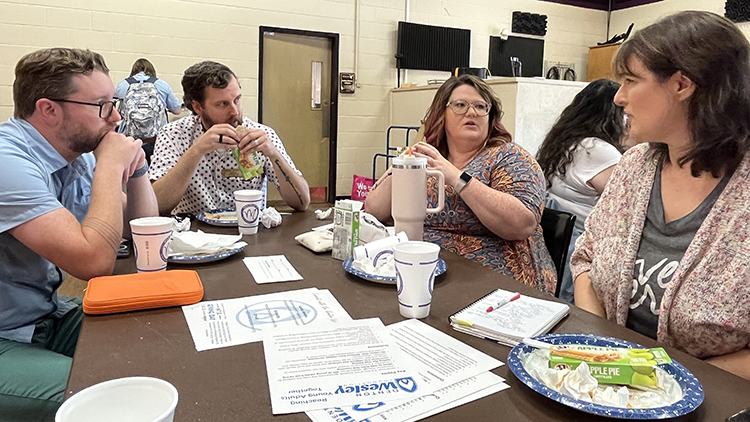 Rev. Dale Tampke, senior pastor at Argyle UMC, serves on the Denton Wesley board and notes how this ministry has created a space that draws young adults in. "The Denton Wesley provides a generous space for young folks to explore the faith. The peer support and the ministerial leadership work in tandem to create an inviting and safe space for all."
One takeaway from the Lunch and Learn discussion was that young adults are ready to receive the baton of leadership. Denton Wesley is successful in part because many of its ministries are student-driven. One young adult attendee encouraged church leaders to find out what their young adults are passionate about and then empower them to take the lead in building on that passion to serve the needs of the community at large.
Board chair Kent Carpenter emphasized that churches should find their own unique ways to approach ministry by, with and for young adults.
"Churches need to recognize that there isn't just one way to reach young adults," Carpenter said. "They need to think outside the box and not be too rigid in their thinking. Churches must allow young adults to help in creating new worship spaces that make them feel comfortable and safe enough to discuss their feelings."
During the Lunch and Learn, Brown-Trigg shared generational research and outlined best practices that churches can bear in mind as they discover the gifts of young adults in their midst.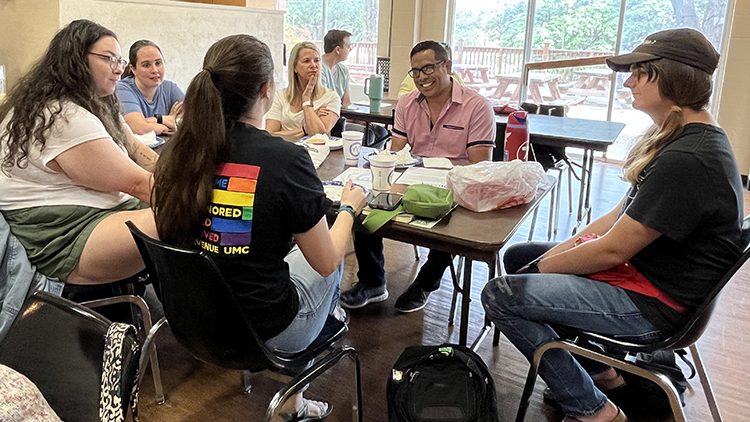 She said: "Like all people, young adults want to be seen and valued as a part of their community. My greatest advice is to be open to the ways you might be surprised by the good things young adults have to offer. Their gifts and graces might not be the ones you expect, but they are ready to lead and you will be so enriched but what they bring."
Rev. Stefani Reed-Meyer and several of her leaders at Faith UMC in Denton found the event fruitful.
"Marianne and the team at Denton Wesley really helped our church staff understand the importance of reaching Gen Z adults and being intentional about integrating them into the life and ministry of our congregation as we meet them right where they are," she said. "We learned a lot of eye-opening statistics and heard firsthand from students as to what they're looking for in a church and what their faith means to them. It was reassuring to hear that we don't have to come up with splashy programming to be relevant; we just need to be genuine in our approach and authentic in building relationships."
The opportunity to reach young adults has never been more important, and Brown-Trigg used the Lunch and Learn to underscore the connection between campus ministries and partner churches as vital for both entities' growth.
"Campus ministry is inherently shared," Brown-Trigg noted. "We all work together to raise up our students as the next generation of leaders. We can't do what we do without congregations actively partnering with us. We want you to be able to accomplish the adventures God calls you to with young adults in your context, too. Reach out to your nearest campus ministry to see what ways you can share in each other's ministry!"
To learn more about Wesley campus ministries in the North Texas Conference, visit here.
Published: Wednesday, October 18, 2023