Methodist Maxim Continues To Shine During COVID-19 Response

Numerous NTC churches serving as vaccine hubs are benefitting their communities
"Do all the good you can, by all the means you can, in all the ways you can, in all the places you can, at all the times you can, to all the people you can, as long as ever you can."
This advice, attributed to John Wesley, has been followed in a very real way by several North Texas churches this spring as they answered the call to serve as vaccination sites for the COVID-19 vaccine.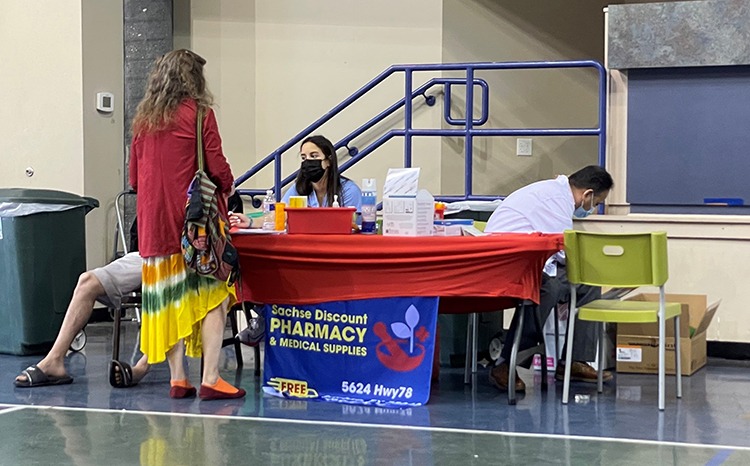 For Rev. Frank Rahm and First UMC Sachse, this meant literally answering a call for help from a local pharmacy that had many doses to give but little foot traffic. When Sachse Discount Pharmacy asked if the church would be interested in hosting a vaccination event, "It was an easy 'yes'," Rev. Rahm said. The church communicated the registration information through its website and Facebook page and all 136 doses were given April 1.
"Many of the people who came commented how easy this was compared to going through the City of Garland or Dallas County," Rev. Rahm said.
Providing its community with easy access to the vaccine was a key motivator for First UMC Sulphur Springs, as well. When the Emergency Management coordinator for Hopkins County called for help because its first site fell through, First UMC Sulphur Springs jumped into action.
"Our church is always eager to open our facility to the community," said Jason Dietze, Executive Minister. The church has now been the host location for four vaccination events served by the National Guard.
Other churches that have hosted vaccine events this spring include First UMC Electra, Hamilton Park UMC and St. Luke "Community" UMC in Dallas, and Wesley UMC in Greenville.
"From the beginning of the pandemic we have sought ways and prayed for God to use us to alleviate the suffering in our community. We have a long tradition in Hunt County of being a community mission and service hub. Wesley regularly offers its facilities and site for outside non-profit work and community ministries," said Rev. Chris Yost, pastor of Wesley UMC in Greenville. "With each vaccination, that was one more person we could help and contribute – albeit in a small way – to Jesus' invitation to healing."
One of the benefits of hosting a vaccination event at a local church is greater access to the community.
"I knew it would be a great chance to meet new people who may otherwise not step foot in our church. 'Love thy neighbor' kept coming to mind as I began preparing for the clinic," said Amanda Jones, who organized the vaccination event at First UMC Sachse.
Providing access to life-saving vaccines is a key way the church can live out our calling to care for our neighbors.
"Over the pandemic we developed a strong relationship with our neighbors and we want them protected," said Rev. Dr. Sheron Patterson, Senior Pastor at Hamilton Park UMC. "We spent the summer as a COVID-19 testing site. It was imperative that Black and Brown communities be tested. So it was only natural that we offer the COVID-19 vaccine. Also there is a hesitancy about the vaccine in our community and the church is a trusted voice."
For Rev. Dr. Bob Lee and the community at First UMC Electra, helping people get access to the vaccine motivated them to provide their parking lot, which sits next door to Electra Memorial Hospital.
"Any way we could help people who are trying so hard to get shots in people's arms we wanted to help," Dr. Lee said.
In Sulphur Springs it has been a community-wide effort to connect those in need with vaccines. Volunteers made calls and even went door-to-door at the end of the day whenever there were remaining shots to give to see who needed to be vaccinated.
"We have an incredible community that all came together, and continues to do so, to ensure everyone – particularly those without electronic resources or means – is included and receives vaccines," First UMC Sulphur Springs member BJ Hardman said.
One of the church members is now helping county officials set up mobile vaccinations for those who are homebound. Several churches have future vaccination dates on the calendar as they continue to find ways to do all the good can for all the people they can in their communities.
Published: Wednesday, April 14, 2021