Wylie UMC's Congregation Leaves Its Mark On Church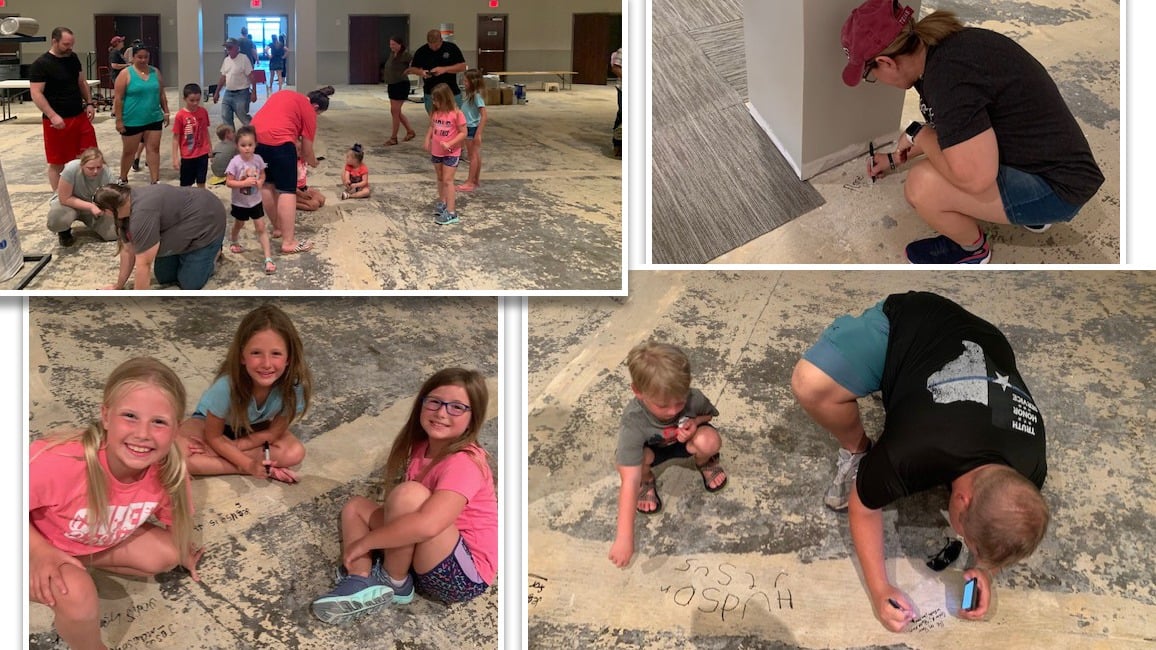 In the midst of renovations from Winter Storm damage, members write words of love and hope on church's foundation
Wylie United Methodist Church members and staff are leaving their mark – literally – on the foundation of their Worship Center.
Many churches across North Texas were damaged by flooding when pipes burst during the winter storms of February 2021. Wylie UMC had six inches of icy water covering their first floor and had to remove everything down to the foundation.
On June 13, nearly 100 people came out to serve on their regularly scheduled Mission Night, and many took the opportunity to visit the Worship Center and sign the floor with prayers, scriptures and their names.
"It was a powerful time of pouring out the love of God upon our community and upon the ongoing work in our building," said Rev. Dean Libby, Senior Pastor. "Hiding God's Word in our hearts is vital to life and faith, just as much as writing God's Word on the foundation of our building will bless generations to come!"
With their current sermon series entitled "Nehemiah: Rebuild, Restore, Revive," Wylie UMC is speaking to their current context of rebuilding as they reflect on the book of Nehemiah, the Jewish governor who rebuilt the walls of Jerusalem after the Babylonian exile. The sermon series has afforded the church the opportunity to reflect on how God is rebuilding not only the physical church but also the body of believers who are being rebuilt as God's holy people with Jesus as the cornerstone.
Just as God is blessing our rebuilding efforts inside churches across the North Texas Conference, we know that God also calls us to be church outside our walls as well – and Wylie UMC continues to share God's love in their community in tangible ways. During their Mission Night on June 13, the church assembled 496 lunch packs which will be given out to children that are on the free or reduced lunch program during the school year.
Published: Wednesday, June 23, 2021