Winds Of Change In Archer City Blow Steady

Church finds new growth following disaffiliation vote, opportunities have helped strengthen their connection
Along the plains of North Texas, in a city famous for being the home of author Larry McMurtry and the setting for movies like "The Last Picture Show" and "Texasville," sits a United Methodist church that is being reborn after a vote to disaffiliate from the UMC failed.
First United Methodist Church Archer City has a new lease on life as its members have strengthened their commitment to being a United Methodist presence in Archer County.
"There's a renewed passion for church again," senior pastor Donny Haywood said. "There's a sense of pride and the people are so happy to be in church together again without all the anxiety."
On the Sunday following the vote last December, there were roughly 10 people in the pews for worship. Today, FUMC Archer City is averaging 30 to 35 worshippers per week. They have welcomed four new members in recent months, and the adult Sunday School class is growing. Over the summer, they hosted a weekly kids event that included a movie, snack, Bible story and craft, in addition to their traditional VBS week.
Haywood credits God and the faithfulness of the people who have kept showing up for one another. For Director of Student Ministry and Office Manager Megan Densmore, this season of renewal in Archer City feels like a breath of fresh air.
"I feel like everybody's attitude is different," Densmore said. "We've moved past [the vote] and realized it is what it is, and this is who we've got. Everyone feels more connected and feels ready to do something. It's a breath of fresh air, we can finally breathe. We've caught our breath and now we are ready to move."
New opportunities for visibility in the community have also helped strengthen their connection as a church and their relationships with their neighbors. The church has launched a free monthly community breakfast, created gift bags for each district employee in Archer ISD, served breakfast for school staff during in-service at the start of the school year, hosted a community-wide pool party and are now gearing up for their annual pumpkin patch.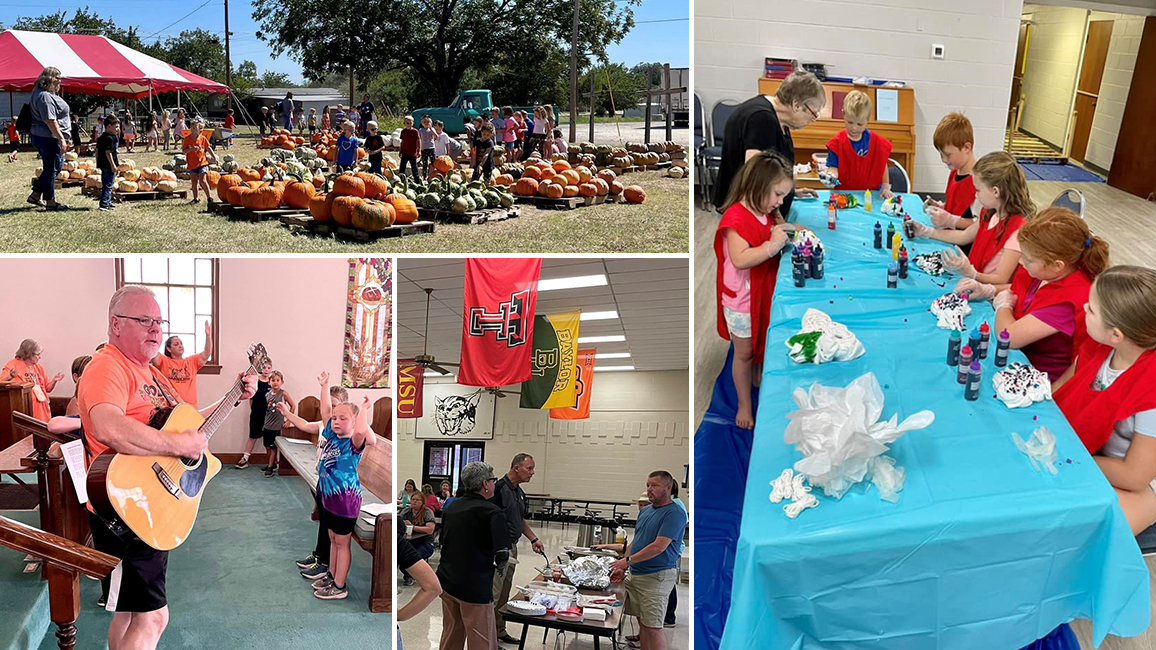 Establishing relationships takes time and they know this will be a long process of rebuilding and growth.
"It's slow going; there's nothing fast about it," Haywood said. "There are plenty of people in this area who don't come to church and that's the group we're going after. We want to offer more opportunities and classes to the community through our church. It's going to build slowly and it's going to take some time for it to come back together. I'd rather have a few people really solid than the ministry be a mile wide and an inch deep. I want to grow it, but I want us to grow it right."
Haywood noted that finances are also better, and some members who said they'd never give again have not only come back to church but started supporting the church financially again.
Among the landscape of faith communities in the area, FUMC Archer City is noteworthy as a place with its doors open to all.
Haywood emphasized, "We're going to be that community that says, 'come on in and sit by me and find Jesus here.' We're not going to be exclusive. They've all agreed we're not against anybody. We're going to be the people that invite people in no matter what."
Densmore and her community are looking ahead with anticipation and hope. "I feel like we're in a really great place and we can only go up from here."
Published: Wednesday, September 20, 2023