Virginia Point UMC Celebrates 180 Years of Faith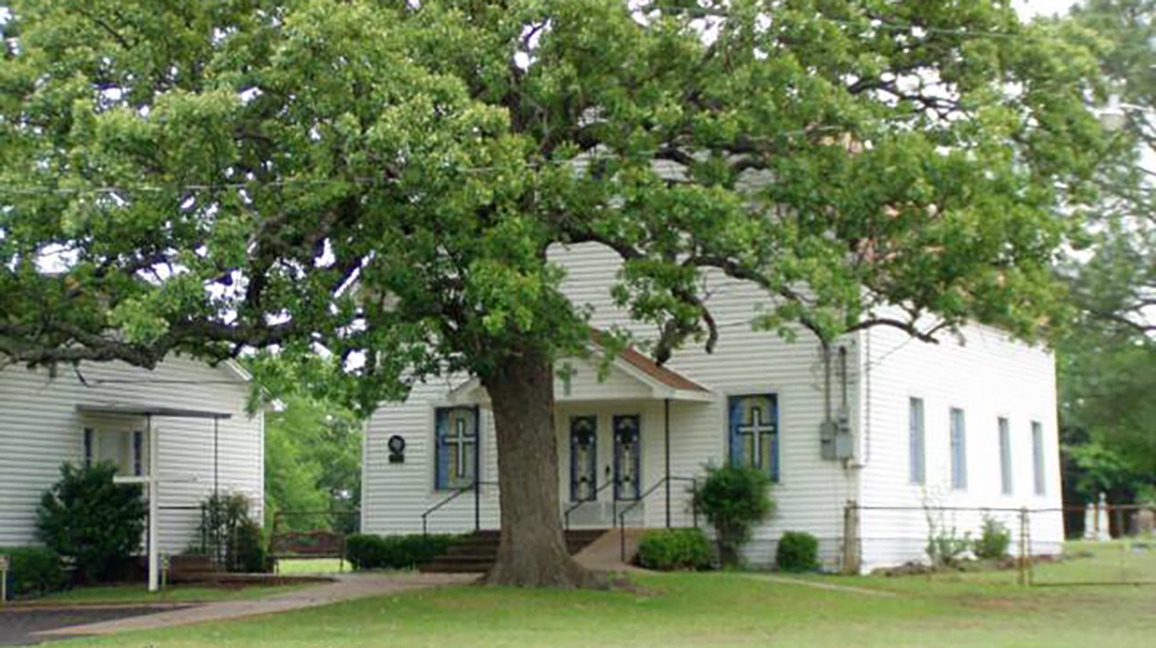 By Mark Beardsley
Herald Democrat
SAVOY — Virginia Point United Methodist Church will celebrate its anniversary commemorating 180 years of continuous service, Saturday at 1 p.m.
Founded in 1837, Virginia Point United Methodist Church stands as the longest-serving Methodist church in North Texas. Historians and journalists trace the church's founding to the migration of settlers from Virginia to Fort Warren in 1834, and from there to a location 12 miles east of Denison.
The pioneers chose the location because the land they bought from local cattlemen was inexpensive, Native Americans in the region were not hostile, and its nearness to Fort Warren offered protection and a source of supplies. They cleared the land and built homes in an area they would later name Virginia Point because of the terrain's resemblance to the rolling hills of Virginia.
Construction of a church soon began as well. The structure and pews were built from hand hewed logs, and the floor was dirt. Records show that the first sermon in the newly completed church was delivered by John B. Denton in 1837. A cemetery was also established, which now has tombstones dating back to the 1840s.
Regrettably, the church was lost to fire after only a few years. Details vary, but most agree with the anecdotal account attesting to a tragic turn of events in 1844. Soldiers, with a comrade who was very ill, passed through the area in that year. They asked if they could spend the night and were accommodated in the church.
During the night the stricken soldier died and is believed to have been the first person buried in the church's cemetery. When the settlers learned that the man had died from smallpox, they burned the structure they had so lovingly built, for fear of epidemic. During the early years that followed, they met in members' homes and, somewhat later, in a school some three miles away.
A new site for the church was selected in 1860. A founding member, Andy B. Youree, sold two acres of land to the congregation for $1, and work began. Logs for the foundation came from the largest oak trees to be found on Red River bottomland. Milled lumber was drawn by ox-teams from a sawmill in Jefferson, and a pulpit and straight back pews were crafted from pine. The pulpit and some of the pews are still in use today, and the original cemetery sits behind the church.
Enhancements for human comfort and structural upkeep have been added over the years. An annex building, housing a kitchen, an area for dining and classes, and restrooms, was built 1963. A Texas Historical Marker was added in 1965 recognizing Virginia Point as the oldest church in Fannin County.
With such a rich history one might think the congregation would be entrenched in the past and content to focus chiefly on legacy. Not so. The Rev. Louella Williams, church pastor, and fellow members have too much to accomplish for that to occur.
"We are the hands and feet of Christ. It is an absolute must that we stand as a community serving as an extension from our heavenly father," Williams said.
The "Common Thread" prayer group meets on Wednesdays to share prayers and concerns for a sizable prayer list. Two of the church's members provide sewing and alterations for patients in the V.A. Hospital and Rehabilitation Center in Bonham. They also collect clothing, suitcases, and toiletries for patients who need such things when they are discharged.
"We address a wide range of needs within our church and beyond, and it is crucial that we be there for one another. In the aftermath of Hurricane Harvey, we quickly mobilized and sent over $2,000 in the form of direct relief." Williams said.
Horace Groff, who will be the keynote speaker Saturday, is a member at Virginia Point. "Worshipping with people you know, care about, and can agree with is so important in spreading the gospel of Jesus Christ and responding to the needs of the community. We also have a tremendous ministry to the schools in Bells and Savoy," he said.
Lifetime member, Jeff Youree, is a sixth generation descendant of the family that provided the land on which the church now sits. Youree serves as the church's song leader, just as his father and grandfather did before him. Two of his aunts also played piano during worship. Inspired by the church's rich heritage, and his family's vital role in it, Youree cares deeply for the church.
"It's a rock. It's always been here, and it means everything. The building is important, and we're proud of our past, but it's the worship that really counts. I'm excited about the church today, its current growth, and its hopes for tomorrow," Youree said.
180 years of faith filled history, festivities for all, and a bright vision for days ahead will be on display as the church gathers to celebrate. Virginia Point United Methodist Church is located at 1386 County Road 1200, 4.4 miles from Bells and 5.3 miles from Savoy.
Published: Thursday, September 28, 2017