Vacation Bible School Crosses Language Divides

Churches partner to offer trilingual – English, Spanish, ASL – experience
Like so many churches across the country, Walnut Hill UMC, a ministry of Lovers Lane UMC, had gone years without a Vacation Bible School on its campus. COVID prevented VBS from happening in 2020 and 2021, and in 2022, Walnut Hill partnered with Lovers Lane to host VBS at the main campus. But Melissa and Andy Nelms, Walnut Hill's co-pastors, committed to bringing VBS back to their church in 2023 – and they found strength in the United Methodist connection to make it happen.
Rev. Tom Hudspeth, pastor of Congregational Care and Deaf ministry at Walnut Hill, recalled that Melissa had been in talks with Rev. Amy Spaur of Christ's Foundry Fellowship to partner on a bilingual Spanish/English VBS, when he proposed they include Deaf children and the Deaf ministry in VBS as well.
"I am excited about the exposure of ASL and Deaf adults to hearing children and adults," Hudspeth said. "Bringing the communities together this way demonstrates the contributions of Deaf people to the church."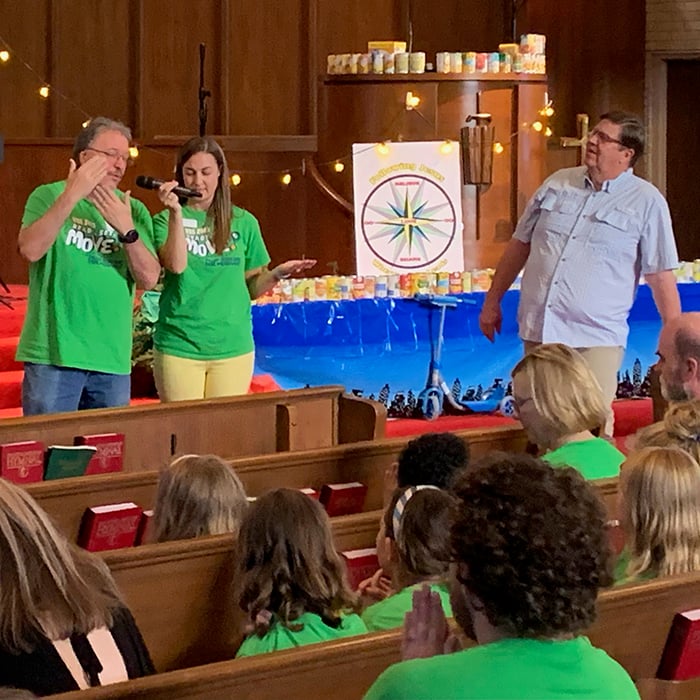 To gather support for this new type of VBS experience, Walnut Hill's Deaf lay leader, Naomi Rapp, recruited and invited Deaf children, CODAs (Children of Deaf Adults), interpreting students of ASL and teachers of the Deaf to attend Walnut Hill's VBS. Rapp also visited Martha's Vineyard Place apartments, a residential complex designed for Deaf people, and the Deaf Action Center of Dallas to promote VBS.
At the July VBS, the trilingual approach was put to the test – and it worked beautifully. All the activities were designed to be inclusive, without breakout groups based on language differences. Instead, language barriers never affected the children's ability to play and learn with each other, and the glory of God shone through the children during their time in the sanctuary.
"We celebrate our joys and God sightings each night as a volunteer team after the kids go home," Melissa Nelms said. "One thing that has been lifted up every night is how excited and engaged the kids are. They're having fun together, learning together and serving in mission together every day, and language hasn't prevented them from participating fully and making new friends in the process."
One young participant, Harper Morrison, said "sign language is actually pretty fun." She proudly demonstrated the phrases she had learned, and when asked if she would use ASL in the future, she stated matter-of-factly, "in college, yeah."
For one week in July, a trio of churches embraced this "anything is possible" spirit to break language barriers, reach their communities in a new way and create a VBS to engage all of God's children.
Published: Tuesday, July 25, 2023