United Methodists Gather To Hope, Create Space At The Table

'We are a people of the Spirit. ... COVID and the 'schism' have given us an opportunity.'
"Our unity is based on one absolute: Jesus is Lord, and everything else is a conversation."
That was Rev. Mike Slaughter's message for the more than 300 clergy and lay leaders gathered at the SPACE at the TABLE one-day event. Hosted by Lovers Lane UMC on Nov. 16, the day's programming offered "conversations of hope for The UMC's future." He is pastor emeritus and global church ambassador for Ginghamsburg Church in Ohio.
"We are a people of the Spirit," Rev. Slaughter said in his opening remarks. A reminder that Jesus left his church the living, leading Holy Spirit elicited cheers from the congregation, as did his framing of the UMC's current position as an opportunity to revisit the essentials of faith in the face of division. "COVID and the 'schism' have given us an opportunity," he said. "What an opportunity to reconsider what God's 'next' looks like for The United Methodist Church."
At an Academic Panel, seminary administrators and educators including Rev. Dr. Ted Campbell of Perkins School of Theology and SMU's Rev. Dr. Rebekah Miles and Rev. Dr. Maria Dixon Hall explored the issues, opportunities and challenges they face in providing United Methodist education to a rising generation.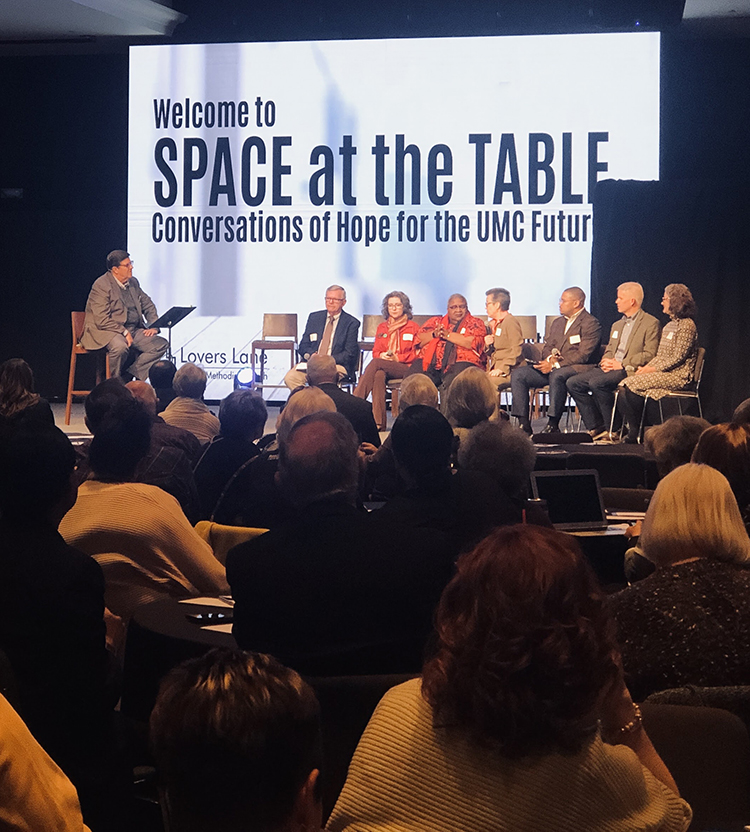 "I love the way that we as a church have been focused on mission," Rev. Dr. Miles said. "Whether it's evangelism, whether it's social witness, the whole array. That's why we're all so frustrated, because we've been so focused on internal politics instead of that mission. We know that there are hurting people in the world; we know that we failed – we are failing them. … As we get through our divisions, I give thanks to God that we'll be able to focus once again on that mission."
A Young Clergy Panel comprised of eight clergy members – including the NTC's own Rev. Scott Gilliland, Rev. Keri Lynn Lucas, Rev. Joshua Manning and Rev. Bryant Phelps – shared what they are seeing and dreaming for the future of The UMC.
"Half of our new members are coming not from other Methodist congregations, but from other denominations," said Rev. Gilliland, senior pastor of Arapaho UMC. "People are making an intentional choice to step away – or they've been pushed away – but they still love Jesus and wonder if there's a place at the table for them. … They want to have a place where they're not called a heretic, but someone working out their faith. And they're finding that in The UMC."
During the day's closing Episcopacy Panel, Bishop Ruben Saenz, Jr., Bishop Cynthia Fierro Harvey and newly elected Bishop David Wilson spoke to the opportunities they see before The United Methodist Church.
"The creative edge for the church needs to be at the local level because that's where the experts are and that's where the learning happens," said Bishop Saenz. "We have an open table of communion and grace; I think we have the best anthropology and best theology that any denomination can offer. But how can we express that in a way that wins the hearts and minds of the people that are not yet part of the movement that we are?"
The SPACE at the TABLE event follows just weeks after The United Methodist Church's five U.S.-based Jurisdictional Conferences convened to elect new episcopal leaders and pass resolutions casting a vision for the future of the UMC.
The event is the second in a pair of events organized by Rev. Dr. Stan Copeland of Lovers Lane UMC and Rev. Bill Britt of Peachtree Road UMC in Atlanta. Their first event on the topic of The UMC's future took place in Atlanta in August 2022.
The archived livestream of the event is available on the LLUMC YouTube channel.
Published: Wednesday, November 16, 2022