UMW Awash Over Members' Generosity to Help Others

Spurred by memories of Hurricane Harvey, group collects 570 flood buckets at Annual Meeting
The North Texas Conference chapter of United Methodist Women recently celebrated its 45th year in our conference. October's annual meeting and celebration included the installation of new officers, recognizing the group's accomplishments, a keynote address from Rev. Joy Carol and collecting flood buckets.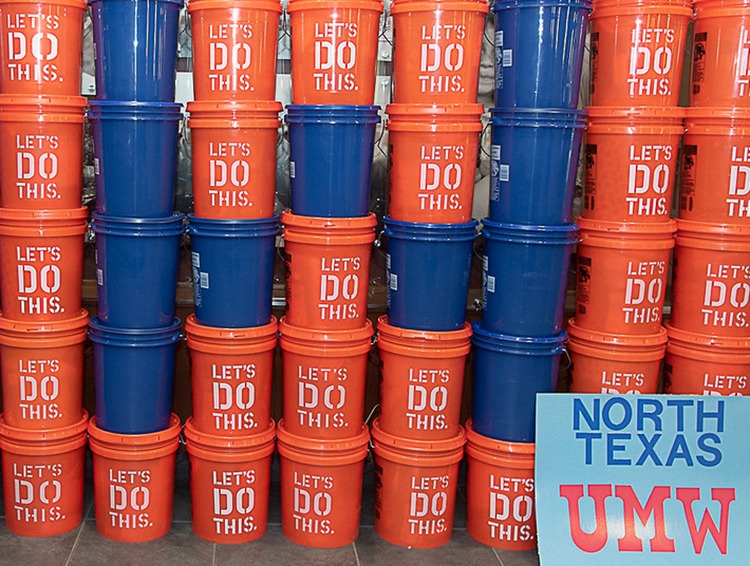 For 2018, the mission project was to collect and distribute flood buckets for the United Methodist Committee on Relief. Hurricane Harvey was top of mind when Education and Interpretation Coordinator Peggy Land, was thinking of what the mission project should be. Speaking at the 45th Annual Meeting and Celebration, she said she watched on the news the "devastation caused by the floods" from Hurricane Harvey.
When Land read an article in Response, the official magazine of the United Methodist Women, she once again saw the destruction of the hurricane and flooding. The article showed the devastation at Wesley community centers in Corpus Christi, Robstown and Houston. The centers help the community through services such as child care, senior care and food pantry. Inspired to "do something to help," Land knew what the mission project should be.
The goal began as each UMW unit would collect five buckets. The women responded. Five buckets per church turned into a total of 570 buckets that were sent to a distribution center in Conroe, Texas, part of the Texas Annual Conference, to help victims of flooding.
Published: Tuesday, November 27, 2018