The Bethlehem Market Delivers More Than Meals

DBC's new grocery store-style food pantry offers dignity, choice
Since 1946, the Dallas Bethlehem Center (DBC) has empowered and resourced the South Dallas community; today, this comes in the form of early childhood programming, food distribution and stand-out signature events. This fall, DBC revamped its approach to food programs and imagined a new way to meet needs in their community.
The area that DBC serves is a USDA-designated 'food desert,' meaning that 20% of the population lives at or below poverty level and more than a third live at least one mile away from the nearest grocery store.
Every week, the long food pantry line is a visible reminder of the urgent need for affordable food. For many clients, this won't be their only stop. They will visit multiple food pantries in a week, not out of selfishness, but to bridge the gap between their budgets and their families' hunger.
"Because our pantry was open 10:30 a.m. to 12:30 p.m. on Thursdays, it meant many clients had to take off work to come pick up food," explained DBC Board Chair Harden Weidemann. "Not only was that not conducive to families who work, but it ran counter to the self-sufficiency and employment we encourage. We knew we could find a better way to do this work."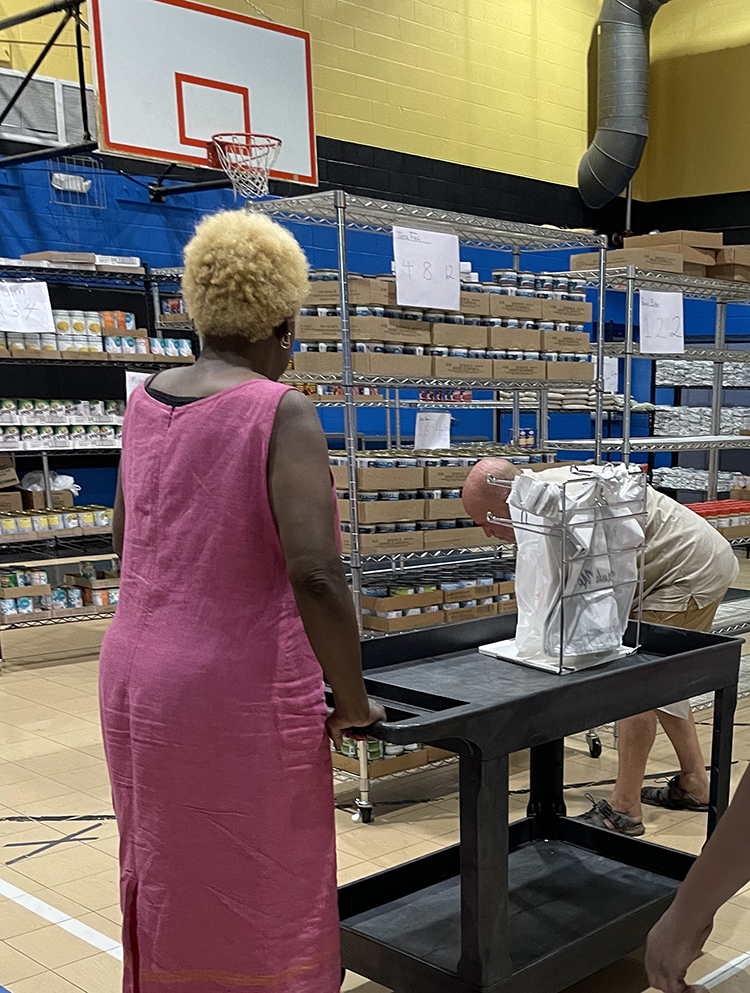 On Aug. 22, that better way came to fruition with the grand opening of The Bethlehem Market, a food pantry built on the model of client choice. Set up grocery store-style, The Bethlehem Market allows clients to check in and browse the shelves and produce bins, making their own grocery selections.
"It was important to us that The Bethlehem Market truly give clients autonomy when making decisions about their family's diets," said Jami Russell, Executive Director. "This model allows shoppers to choose the items that will work for their families' meals and pass on the ones that they know wouldn't be eaten. On the food distribution side, it also means that those items can stay on the shelf, ready to bless another family that will put them to use."
In addition to offering a new way to shop for groceries, The Bethlehem Market brings extended hours to better address the needs of working clients. New hours are 5-7 p.m. Tuesdays and Wednesdays, and 10 a.m.-3 p.m. Thursdays.
Beyond reorganizing its food pantry, DBC is further working to help their neighbors extend their grocery budgets by providing two hot, healthy dinner meals each week. Every Tuesday and Wednesday evening from 5-7 p.m., DBC staff and volunteers serve a Family Dinner style meal to 50 to 75 clients, including single parents, seniors, school-age children and those living on the streets. "For the adults, we often hear that this meal is the only time they have eaten that day," Russell said. "It is fulfilling to know that every child who attends will go to bed with a full stomach."
DBC is also engaging in new partnerships.
A South Dallas nonprofit has identified three local sites – including DBC – for an 18-month pilot program to increase access to groceries and healthy food through online ordering. Under the test program, clients will shop at DBC's food pantry in person and place online orders to fill any remaining gaps. The supplemental groceries will be delivered to DBC in refrigerated trucks for pick up the next day.
The partnership with this renowned nonprofit will also bring renovations to DBC's physical building, the addition of a new 10-seat computer lab and staff to support the lab's operation, benefit screenings and workforce development programs.
"We know that this important project will help our clients stretch their budgets even further and encourage healthier eating habits. In the next few months, we will announce the names of the wonderful nonprofits that are helping DBC innovative and grow to the next level in food distribution," Russell said. "We are looking forward to the ways our collaboration will improve lives and connect our community to valuable solutions and resources."
To learn more about DBC, including how to get involved, visit www.dallasbethlehemcenter.org.
Published: Wednesday, September 13, 2023