Symposium Seeks To Educate, Amplify Mental Health Topics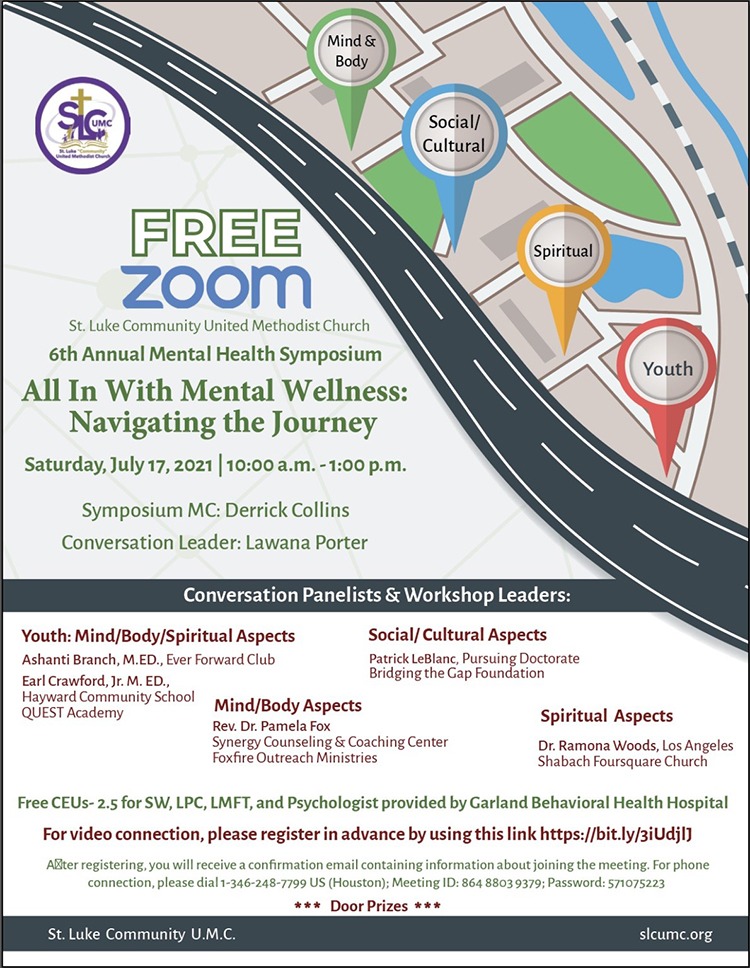 St. Luke "Community" UMC hosting its sixth annual event on July 17 via Zoom
As planning took shape for this year's Mental Health Symposium at St. Luke "Community" UMC, Rev. Velda Turnley – the church's pastor of discipleship and small groups – didn't have to look too far for ideas. The events we've all experienced, individually and collectively, since the start of the COVID-19 global pandemic in spring 2020 have been impactful.
How we respond to life changes brought about by the pandemic remains critical.
"We want to give them an overdose of hope. People have gone through so much and we recognize that, sometimes, we just survived," Rev. Turnley said. "As they come into the space, we know not everyone has an awareness of what mental health is so we have information to give. But we're not just informational, we want to be transformational.
"Transformation is what we really are about, but we start with this journey that we call navigating because so much is happening in the mental health space. People don't always know how to navigate it, so we want to help with that."
This is the 6th annual symposium for St. Luke "Community," with this year's event 10 a.m. to 1 p.m. Saturday, July 17, via Zoom. Guided by the theme "All In With Mental Wellness: Navigating the Journey," Derrick Collins will serve as symposium emcee and Lawana Porter will lead conversations with panelists and workshop leaders on the following mental health topics:
Social/Cultural Aspects
Mind/Body Aspects
Spiritual Aspects
Youth: Mind/Body/Spiritual Aspects
Rev. Turnley said the timing of the event is intentional. July is Minority Mental Health Awareness Month, and she notes that the alarming rate of suicide among African-American boys is an issue that must be addressed.
Addressing mental health is a community-wide effort, Rev. Turnley said, especially as we identify ways to reduce the bias and stigma. Teaching and preaching about the subject will empower laity to become part of the solution.
That solution begins with the church.
"People are experiencing deep and chronic grief. People are angry. People are very sad and broken," said Rev. Sharon Larkin, pastor of congregational care at St. Luke "Community." "The symposium is a way to truly touch people and help to bring wholeness in all of these situations.
"Churches have to be beacons of hope. Jesus was about bringing good news, healing the broken hearted and setting captives free. If we are beacons of hope, we have to do the same for the people within the church and the communities that we serve. That IS being the hand and feet of Jesus. At St. Luke "Community," we would say that is what it means to be ALL IN!"
Published: Monday, July 12, 2021