Stained-Glass Window Survives 107 Years, Tornado, Fire and 4 Moves
The Christ window lands in Copeville in its remarkable journey among small North Texas churches
Over its 107 years, a stained-glass window depicting Christ has been on a remarkable journey among small North Texas churches. It has survived a tornado and a fire, and now it is in a new home, facing the street so that it might lift up others.
The window, donated by the Epworth League, was originally installed at the Methodist church in Nevada in 1910. In 1927, a tornado destroyed almost every structure in Nevada. It damaged the church, but the Christ window was unharmed.
On the afternoon of St. Valentine's Day 1943, the Nevada Methodist church and parsonage caught fire. As the fire progressed, men hurried to save pews and as many stained-glass windows as they could. Despite the intensity of the blaze, the Christ window survived.
In 1947, the Nevada church moved into a new building, a repurposed World War II-era Army chapel from Camp Bowie. And there, the Christ window stayed for more than 40 years.
When the Nevada church closed in 1988, the Christ window was given to Josephine UMC. The Josephine congregation had the window mounted into a backlit display frame and installed it in the chancel area of the sanctuary, facing the congregation.
In 2013, the Copeville and Josephine churches merged to form Community UMC in Copeville. When the Josephine property was sold in 2016, the Christ window moved to the Copeville property. To ensure that the Christ window would not only inspire parishioners, but also invite and welcome all, the newly merged congregation had the window installed in the front of the church so that it faces all who pass by.
"Jesus is not just for the church. Jesus is for all people," said Pastor Katie Shockley. "So it is good and right that Jesus face the street. We do not keep Jesus' face for ourselves."
To mark the Christ window's new home, Community Copeville held The Day of Celebration and Dedication, focused on worship and joy. North Central District Superintendent Ronald Henderson preached "Super-sized Faith" from Matthew 16:13-19 at the February 26, 2017, service.
Trustees Chair David Piekarski read the history of the window. Mark Newsom, the last pastor of Josephine UMC, Dr. Henderson and Pastor Shockley led the liturgy for consecration and dedication of the window.
Church member June Graham, a former member of both the Nevada and Josephine churches, read the plaque describing the window's history, and a catered lunch followed worship.
This spring, Boy Scouts working on an Eagle Scout project will install a prayer garden below the window to invite members of the community to pause and pray at Jesus' feet.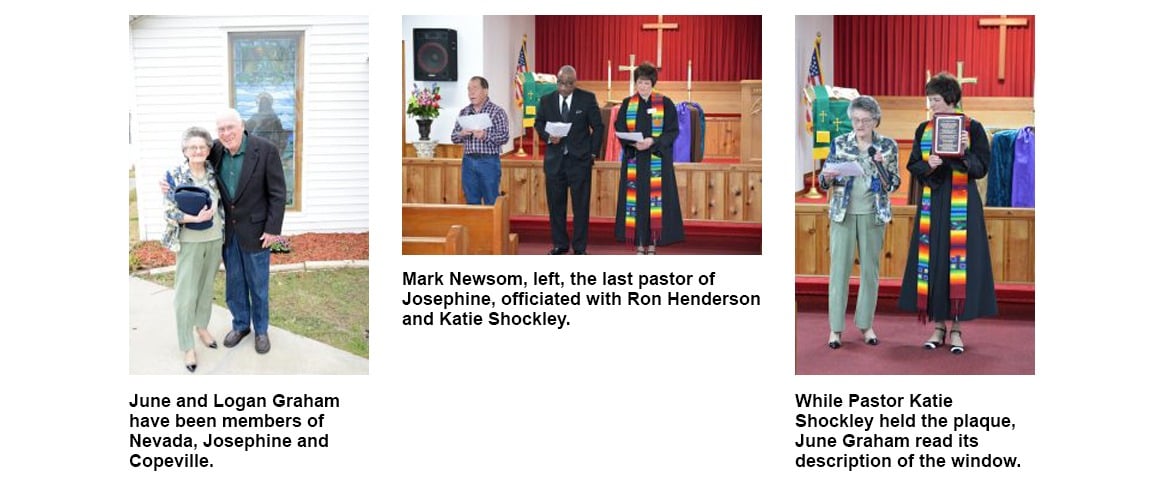 Published: Tuesday, April 4, 2017