St. Marks in Mesquite Is the No‑Excuses Church

This small, aging congregation has dealt with ailing pastors, and yet members accomplish so much
Just call St. Marks UMC in Mesquite the no-excuses church.
Sure, its aging membership is on the small side at 151, with about half of the people active. Even more challenging: Its previous pastor, Jackye Waiters-Lee, died of cancer in 2014, and its current pastor, the Rev. Edwin Zarate, is on a kidney transplant list.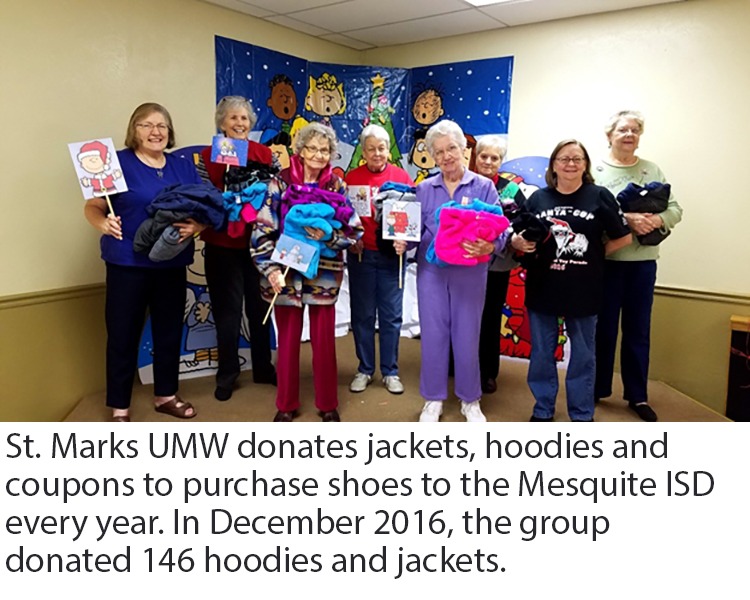 And yet, St. Marks has earned the recognition of the Mesquite Independent School District trustees for its years of service to the district. The school board honored the church at its January 9, 2017, meeting.
To be exact, the congregation provided 146 jackets and 44 food baskets in 2016 for district children and families. The United Methodist Women collect the jackets, which are donated to the Mesquite district's homeless program. Twice yearly, the United Methodist Men provides school supplies to seven schools.
The church also conducts a Santa Cops drive at Christmas.
"This type of community outreach has been going on for at least 20 years," said Millie Arnold, UMW president and chair of the church's personnel committee, the Staff-Parish Relations Committee. "We have so much to be thankful for. We want to bless others. We also want to make disciples of Jesus Christ for the transformation of the world."
This Mesquite congregation not only loves its community, but also its pastor. Rev. Zarate is on daily dialysis and awaiting a possible kidney transplant in March.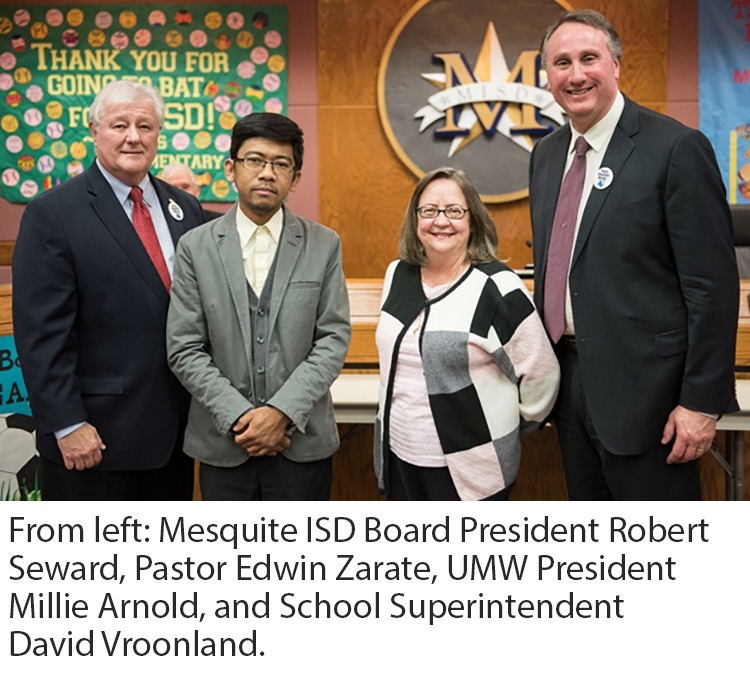 "I am glad that they support and care for me. I have experienced the love of God," Rev. Zarate said. "It is a great moment in my ministry to be a part of St. Marks UMC. They have limited resources. Most of the members are retired, yet they are so gracious and happy to offer what they have."
"We pray for the kidney transplant and are working behind the scenes on details and even started fundraising to cover additional medical expenses," Arnold said.
St. Marks has shown perseverance before in the face of a pastor's illness when Rev. Waiters-Lee died on June 21, 2014.
St. Marks UMW has pressed on, shaped in part by the example of Rev. Waiters-Lee, who had a passion for the United Methodist Women. She served as a study leader for the UMW School of Mission in Texas, Alabama and Missouri.
"Yes, we are a small congregation," Arnold said. "We named ourselves the Little Church with the Big Heart on Motley Drive."
Published: Thursday, February 2, 2017