St. Andrew UMC Raises $57,000 At Benefit Concert

'United with Ukraine' evening featured DFW-area orchestral musicians and St. Andrew's Chancel Choir
St. Andrew United Methodist Church's "United with Ukraine: A Benefit Concert," on March 21 was a huge success as it raised $57,137 for the United Methodist Committee on Relief. Fox 4's Good Day host Lauren Przybyl served as emcee for the evening.
UMCOR is helping displaced people and refugees within and from Ukraine with food, water, shelter and other needs.
"It has been said 'when words fail, music speaks,' and this conflict in Ukraine has us all speechless," said Taylor Davis, Director of Music and Worship Arts, St. Andrew UMC. "My involuntary response, as director of music, is to gather musician friends and create unity and peace through art. Individually, we can't change the world, but music can help change the molecules in the room, which can change hearts and minds across lines of division."
Davis made calls to his musician contacts to see if any benefit had been planned. Upon learning that it had not, he orchestrated the event in two weeks. The concert featured songs of solidarity from musicians across the metroplex, including members of the Dallas and Fort Worth Symphony Orchestras, as well as St. Andrew's Chancel Choir.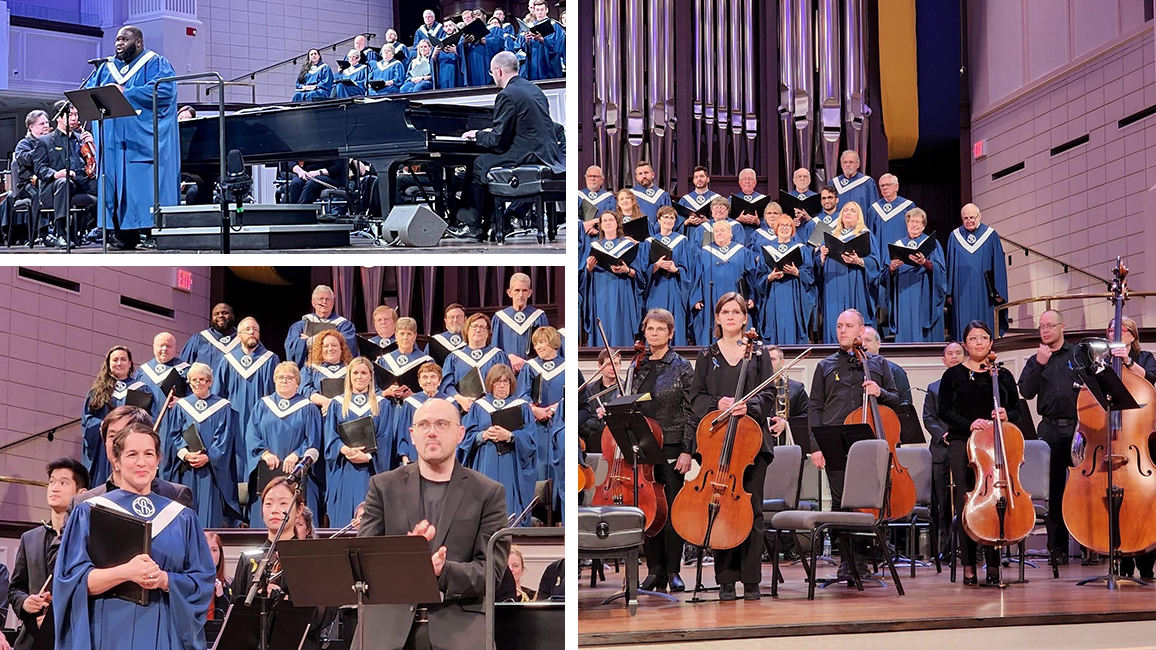 "The musicians, passionate about the cause, were excited to be a part of this program, expressing that they felt this was important and exactly what the church should be doing during this time," Davis said. "One of our musicians, Ordabek Duissen, concertmaster, violin I, of the Fort Worth Symphony, had a personal connection to the war, expressing that he was concerned for his family living in Kazakhstan because he felt if the invasion progresses, his country would be the type of country that would be pursued. It was powerful to see the event come together so quickly with each talented musician and our choir uniting to share their gifts to make an impact."
Opening with an orchestral performance of "The Great Gate of Kiev," the concert included music selections from Dmitri Shostakovich, Myroslav Skoryk, John Williams, John Rutter and more. In between pieces were meaningful readings and poetry. St. Andrew's Rev. Kim Meyers provided a prayer for the many children affected by this conflict followed by "Hush," sung by choir member Megan Gackle.
This was followed by "What a Wonderful World" and a powerful performance by choir member Jimmy Robertson and the choir ensemble. The event concluded with "Let There Be Peace on Earth," sung by choir member Sarah Brammer.
"In the United Methodist Church, one of the things we do best is care for people – whether locally or globally – we care deeply about loving our neighbor." said St. Andrew UMC Senior Pastor Arthur Jones. "We have churches everywhere including in Ukraine and its border countries, and 100 percent of this money will go to relief efforts through the United Methodist Committee on Relief, which is actively working with churches and pastors in Ukraine, Poland, Slovakia, Hungary, Romania and Moldova."
Ovation Health & Life Services, the LaBroad Family and the Nancy Seaberry Frost Arts Endowment sponsored the event.
Published: Wednesday, April 6, 2022