Soil Collection Ceremony In Greenville Recalls Lynching Of Thomas Peddy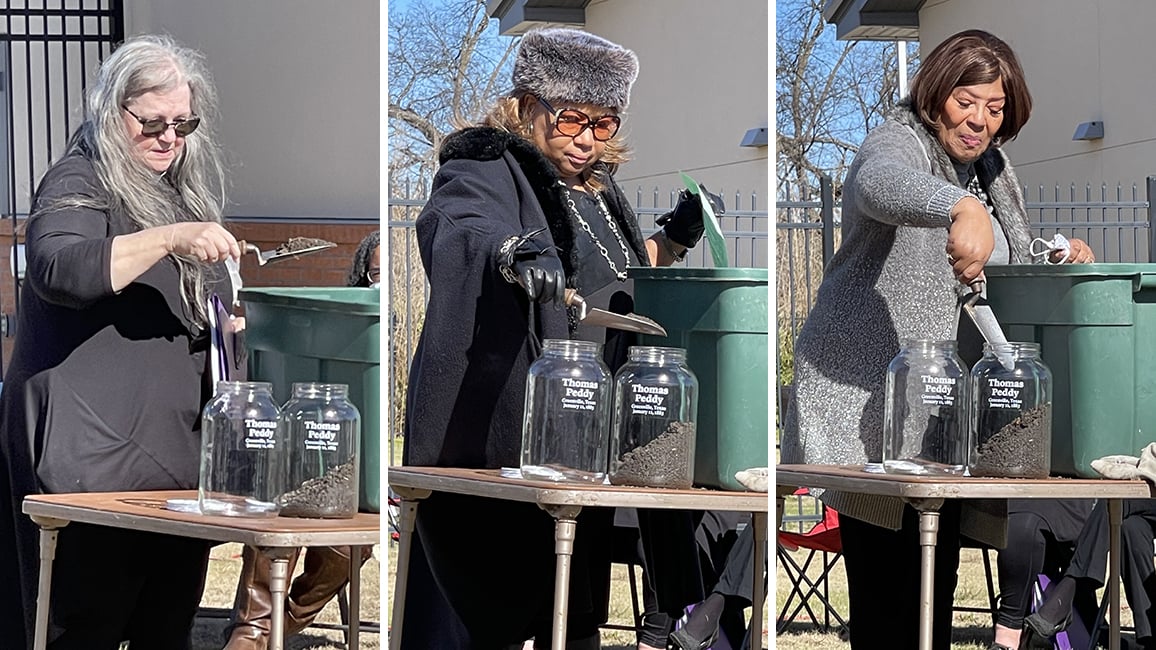 Commemoration intended to memorialize documented victims of racial violence, foster meaningful dialogue about race and justice
On a crisp, sunny day this January, 30 people gathered in Greenville, Texas, to honor and remember the life of Thomas Peddy. But this was no ordinary memorial. The soil collection ceremony marked the 137th anniversary of Peddy's lynching by a white mob along the banks of the Sabine River.
Intended to provide space for healing and to bring the community together, the Corporation for Cultural Diversity for Greenville, Texas (CCD) planned and sponsored this year's event as part of the Equal Justice Initiative (EJI) Soil Collection Program. EJI's Community Remembrance Project partners with community coalitions to memorialize documented victims of racial violence throughout history and foster meaningful dialogue about race and justice today.
Peddy's death occurred after he was alleged to have raped a white woman. Despite the courts in Hunt County being open and operating on the day of the attack, he was killed when a mob of more than 200 people captured him before any charges had been filed or before an investigation had commenced.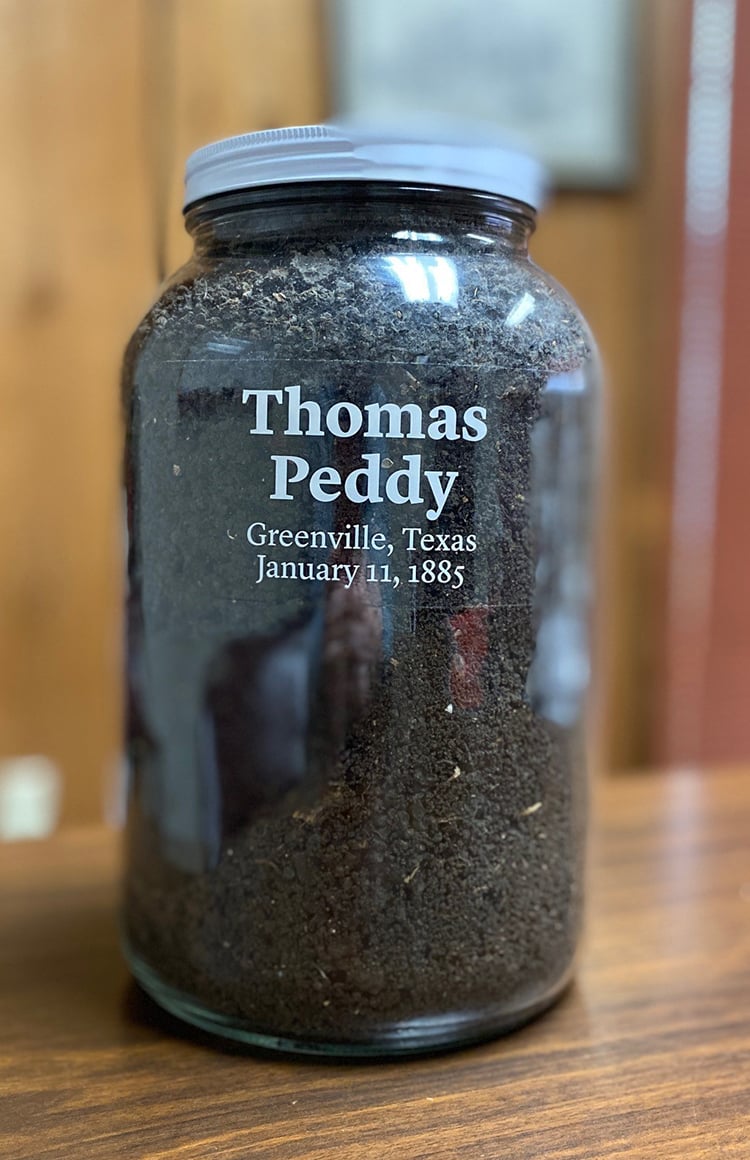 Roselyn Lane, a community leader and founding member of CCD, said the January commemoration was a sacred way to mark this history.
"It feels good to be involved in this. Here we are over a hundred years later. It was really doing his funeral, it was very reverent," Lane said. "We gave everyone who attended, down to the reporter and cameraman from the local news, the chance to come forward and help fill the soil."
The soil collection ceremony included reflections from several clergy and community leaders, including a homily by Rev. Deana Lowe, CCD member and Senior Pastor of Westview UMC and Floyd UMC in Greenville.
"We wanted to give Thomas Peddy dignity and honor him, to bring him to light in the community. My homily was meant to be a message of repentance. So often it was a white woman who lied saying a black man touched them." Lowe hopes adding her voice as a white woman to the work of repentance will have a positive impact on the community as they move forward together.
"Thomas Peddy had people wake up and see what was happening," Lane added. "As we do these events, I hope people gain an awareness — especially that there was no due process — and get a feel for how this was done, how they were wrongly treated. Hopefully the community will hear this history and be willing to learn about it."
"It's abstract if you say some black man was hung or burned in the south," said Dan Perkins, a lay member of Wesley UMC in Greenville and participant in the January ceremony. "That doesn't mean my family. But when you hear it happened here in Greenville – it's our ancestry, our family. It affects you." Calling to mind Jesus' words in John's gospel, Then you will know the truth, and the truth shall set you free (John 8:32), Perkins said "If we know our history, we can be set free from it."
This is the focus of CCD's work as they offer presentations and commemorations intended to bridge the divides within communities. "We're about education, we're about diversity," said Rev. Lowe. "People think all that's in the past because we're not as bad as we used to be. We want to help people think about where we've been, where we are, and where we need to go."
Retired UMC elder Rev. James Minor has been active with CCD since its inception. "This is a group of clergy and laity committed to the hard work of building a more open and equitable community," Minor said. "They seek to bridge the multitude of divides that separate us from living into the image of God we were created to be. They have shown themselves willing to stay the course for the long haul and have been a presence in Greenville and Hunt County for over a decade."
The EJI Soil Memorial is only one of the ways they have continued working to raise the consciousness of the people within the community. "When we remember and acknowledge where we have come from, both the good and the bad, then we are in position to build a better future," noted Minor. "That's what we do. That's what we work to do in the confident belief our tomorrow will be a little more just, a little more open, a little equitable than yesterday. Participation in the EJI Soil Collection Project is just another way we seek to live into a more faithful future."
Additional soil collection events are being planned to commemorate the lynchings of George Lindley and Ted Smith, also in Hunt County. CCD and their educational partners are available to give presentations on reconciliation and healing for local churches, community groups, and businesses. Email Dan Perkins for details.
Published: Wednesday, February 23, 2022