Servant's Heart Draws Winslow into New Role

New executive director of The Storehouse of Collin County focuses on three vital community needs: feeding, clothing, equipping
Candace Winslow is putting her professional consultancy background and years spent as a tireless nonprofit volunteer to use in her new role as executive director of The Storehouse of Collin County.
Housed at St. Andrew UMC, The Storehouse is an organization focused on providing hope to Collin County and surrounding communities by feeding those in need through Seven Loaves Food Pantry, by supplying clothing for their families through Joseph's Coat and by providing relationship-based, in-depth mentoring for women who desire to transform their lives and the lives of their family through Project Hope.
Winslow sat down with the North Texas Conference to discuss her vision for The Storehouse.
Please tell us about your background and what drew you to service, broadly and specifically, at The Storehouse.
After many years in human resource consultancy, I recognized I wanted to work in organizations that would leave an impact long past my time here on earth. The Lord led me to serve in the community – first as a volunteer when I moved to Dallas post-college graduation, and then through vocational ministry in 2003. Although I have volunteered in various charities throughout my life, serving in a non-profit professionally allows me to apply my business experience in a mission-minded environment.
I was originally introduced to The Storehouse in 2016 by way of serving in the food pantry – Seven Loaves – with my son, Grant. From my very first volunteer shift, I appreciated how I was empowered to own the work assigned to me and to personally connect with each neighbor I served. I felt a "pull" to The Storehouse that I did not understand initially, but now believe the Lord was calling me to this season of service.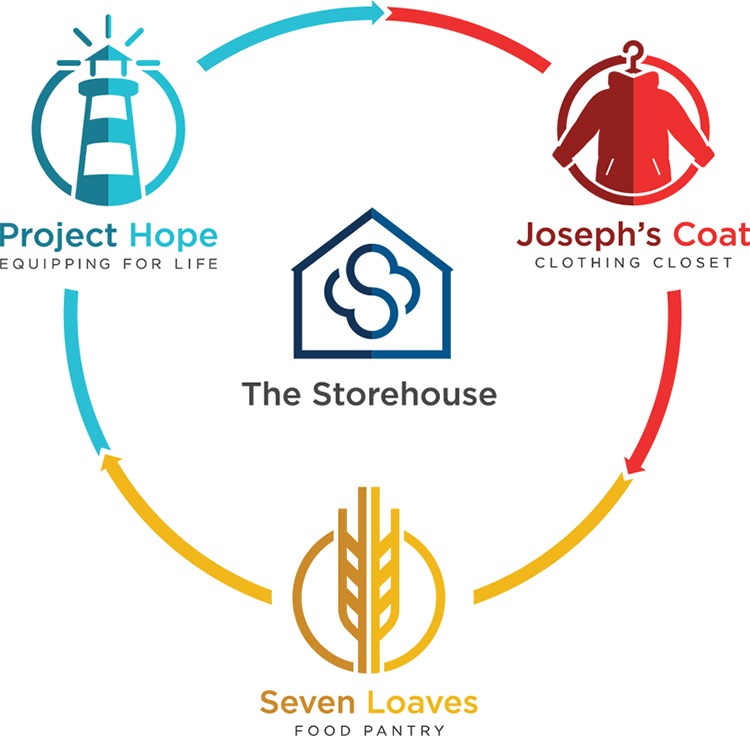 In your mind, how does an investment in what The Storehouse offers – be it volunteerism or financial – enhance the community's well-being?
The Storehouse could not serve the over 1,000 families we serve monthly without the investment of our volunteers and our donors. Considering the current valuation of the volunteer hour at $24.69 per Independent Sector and the fact that on any given week, we have over 175 volunteers serving at The Storehouse for two or more hours each, it is very easy to see the quantitative impact. Yet of equal importance is the qualitative impact of our volunteers: their gracious smiles, their sincere relating to the families we serve and their commitment to excellence is unparalleled.
Perhaps the financial impact of our donors is most readily seen in the work in our food pantry, Seven Loaves. Our neighbors come to our pantry once a month and receive a three-tiered cart full of meat, fresh produce, dairy and canned goods. Each cart has an average retail cost of $92 if the groceries were purchased at a low-cost grocery provider. Due to our relationship with North Texas Food Bank and other local grocers, the cost – for the same quantity of groceries – to The Storehouse is $5.10 per cart. In other words, a $100 gift to The Storehouse would feed 20 families for one week … a strong return on investment!
In what areas do you see opportunities for The Storehouse to further extend its outreach and impact?
The Storehouse will continue to capitalize on the nine years of tremendous impact in our community: feeding, clothing and equipping our neighbors in Collin County. With the help of our volunteers in all three areas of the agency – Seven Loaves (our food pantry), Joseph's Coat (our clothes closet) and Project Hope (our mentorship, training and education program) – our goal is to serve each one who walks through our doors with love, grace and acceptance. We are beyond excited to celebrate 10 years of service in 2019 and what the Lord has in store in the coming season!
What is something about The Storehouse that the public may not know ... but should?
The Storehouse is the largest distributor of food from the North Texas Food Bank in Collin County and just last week, we were named Partner Agency of the Year by the North Texas Food Bank for our impact in the community. We are so honored by our collaboration with NTFB and could not serve our neighbors well without this incredible partnership over many years.
What does the future hold for The Storehouse, and what recommendations do you have for those who want to get involved?
The Storehouse is in an exciting season as we are currently undergoing construction of a new pantry space, due to the generosity of St. Andrew United Methodist Church. We anticipate being in our new space in late 2019, so the coming year affords us the unique opportunity to strengthen our current processes and approaches for serving our neighbors well.
We would invite anyone to become a part of our volunteer team by visiting us at here to learn more about our organization and how to volunteer.
Published: Tuesday, September 18, 2018