Seniors At Wesley UMC Greenville Find JOY In Prom

King J.B. McNatt and Queen Mary Lynn Patterson preside over a memorable event with food, dancing, fun
It's prom season across North Texas and that usually means formal dresses, suits and dances like the "Cupid Shuffle." For the senior adults at Wesley United Methodist Church in Greenville, Texas, it meant jazzy standards from the 1950s and 1960s and awarding superlatives like "most likely to show you pictures of their grandchildren."
"What was intended as a memorable experience for our active adults turned into a great multi-generational experience for many members of the church," said Kevin Banks, director of JOY (Just Older Youth) at Wesley UMC.
JOY is a community of older adults that meets monthly for fellowship, social outings, developing friendships and reaching out to those who are visiting or new to the church. On Feb. 12 they held a special senior prom in honor of Valentine's Day and the entire church got in on the fun.
"We started with a promotional plan in which more than 50 members of our JOY group supplied us with their high school senior photos," Banks said. "We created photo collages around the building and on social media, creating a fun guessing game around the church to figure out who was in each photo. We finally revealed all of the answers as the photos streamed across the screens in Fellowship Hall during the prom, along with people's names."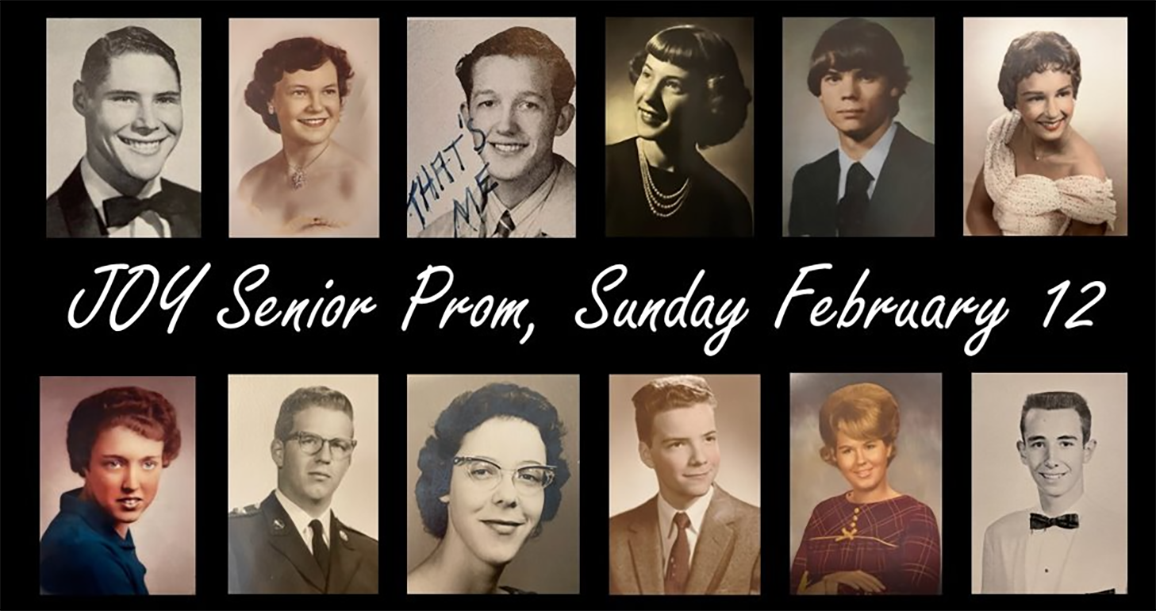 Youth and their families helped with setup, cleanup, decorations and serving the meal. A local radio DJ volunteered his time spinning tunes and taking special requests as couples hit the dance floor. To add to the festivities, three teens played "faculty" members and even dressed in character. Principal Dan Druff, coach Skip Dover and teacher Constance Nooring wore custom name tags, and their faculty costumes reinforced the theme of being at WUMCHS, "Home of the Fighting Saints."
Banks noted how the youth got in on the fun: "They did a fantastic job. It was like a role reversal and the youth really got into their characters and hammed it up!"
Close to 100 people attended the senior prom and had their photos taken in front of the custom photo backdrop. A prom king (J.B. McNatt) and queen (Mary Lynn Patterson) were named, as well as those voted most likely to travel the world, most likely to visit you in the hospital and most likely to lend a helping hand.
For Banks, this ministry is fulfilling because he recognizes how much seniors have to offer. "This is probably one of the most rewarding things that I've ever done," he said. "Our active adults and our homebound folks all have such amazing stories and have lived incredible lives and they just want someone to talk to about it. The best thing you can do is sit down and talk with them. They'll blow you away!"
Published: Wednesday, April 19, 2023