Secondhand Stories: Church Resale Shops Support Those In Need

Ministry gives a second life to clothing, household items and profits are donated to non-profits, help with rent, utilities
Helping people shop with dignity. Pouring thousands of dollars back into the community. Extending the church into the neighborhood.
Resale shops at three North Texas United Methodist churches are making a significant impact. These ministries give a second life to clothing and household goods that would otherwise end up in a landfill, and they give another chance to individuals and families in need of help to regain their footing.
First UMC Gainesville | Second Time Around Resale
First UMC Gainesville opened Second Time Around Resale (STAR) more than 45 years ago when church member Eula West recognized her community's need and worked to provide a place where people could shop with dignity.
"I'm really inspired by the sheer joy that can be felt in this space," Senior Pastor Rev. Adam Spore said. "I go over and pray with the volunteers before the store opens in the morning. What we're doing here is ministry. We hope people can find community within the walls where they're shopping."
The all-volunteer staff takes pride in treating STAR like a retail experience, rotating merchandise for the seasons and creating eye-catching displays. Every dollar they make beyond their small overhead is put back into the community. Last year alone, they donated $35,000 to partner organizations like Big Brothers Big Sisters and VISTO, which is Cook County's largest community aid organization.
For Edna Slater, one of the managing volunteers, STAR has had a positive impact on her life as a retiree. "It's a labor of love. I feel like I'm doing something that benefits people. We do work hard and every time I go down there, I get fulfilled. I'm retired and otherwise I probably wouldn't be doing anything, so it's been a blessing for me."
Rev. Spore realized there was an opportunity to connect at an even deeper level with their mission field, so he added a box for prayer requests inside the store. Every Tuesday morning, he gathers the prayers and FUMC Gainesville's team prays over the requests.
Valley View UMC | The Clothing Closet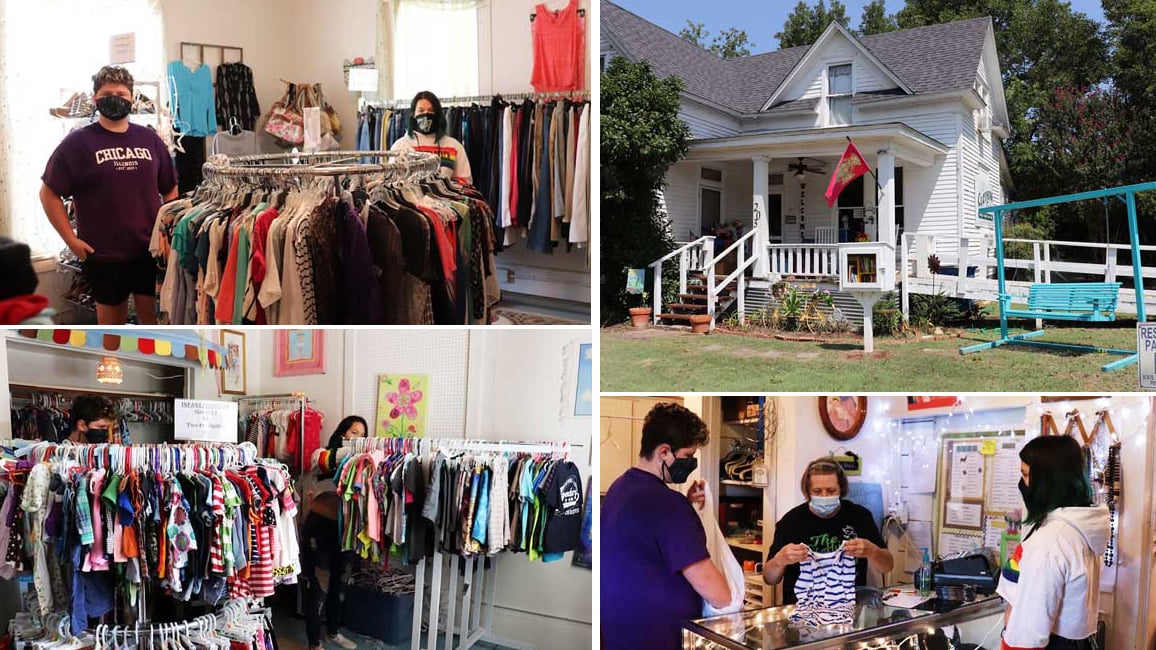 Just 11 miles away in a neighboring community, The Clothing Closet resale shop is a ministry of Valley View UMC. This ministry launched in 2012 and is located across the street from the church. Like STAR, The Clothing Closet donates 100% of its profits back into the community by supporting local nonprofits, donating funds for the city of Valley View's back-to-school supply giveaway and awarding scholarships to two high school seniors each year.
For committee chair Kim Stahl, The Clothing Closet is a way for her to give back. "When this idea came up, I realized, that's something I could do. I love to organize and it's one of my gifts, so I enjoy giving back." Stahl works mostly behind the scenes sorting and pricing items that donors drop off on the back porch.
Valley View UMC Rev. Beate Hall is inspired by the dedication of the volunteers at The Clothing Closet as they live out the calling of Jesus in Matthew 25 to clothe those in need. "God provides, that's the biggest message I take away from this ministry," Rev. Hall said. "When a student comes in to get a coat or socks or pants for school, I know that we are not only protecting them from the cold, but also from any unkindness from being different or without. When someone around town gets complimented on their cute new top or nice shoes, it is never a surprise to hear 'Clothing Closet' as the response for its origin."
Lakeway UMC | The Resale Barn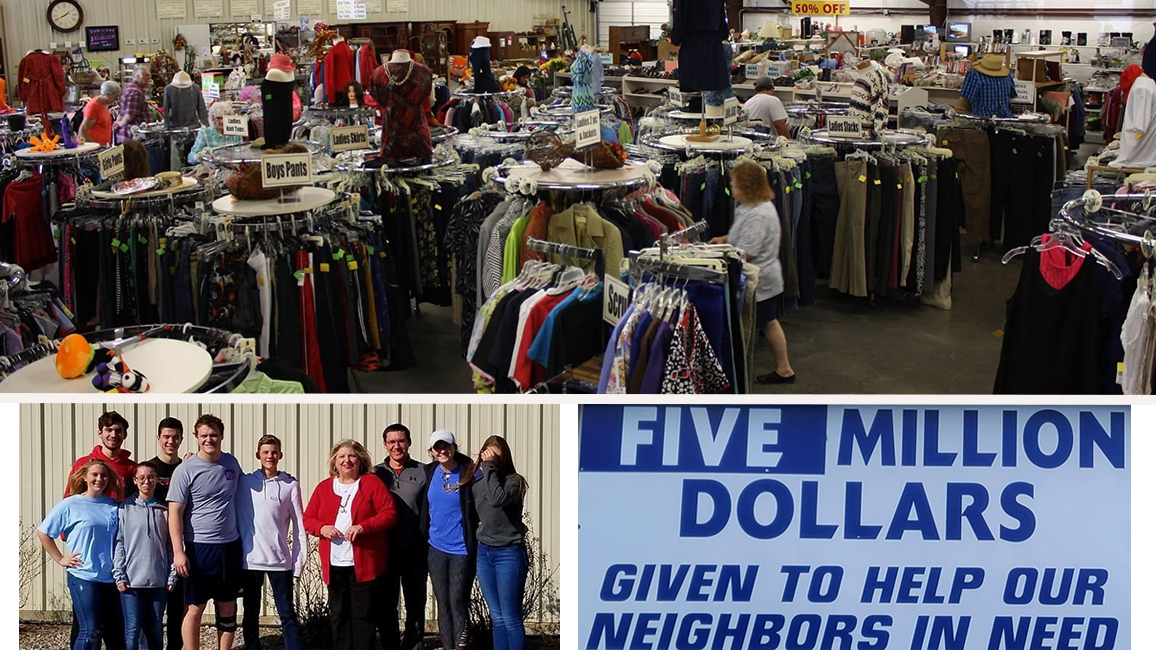 Just a little further northeast in Grayson County, Lakeway UMC is known for starting one of the largest resale shops in the area. The Resale Barn is expanding to 12,000 square feet and is focused on neighbors helping neighbors. Over its 26-year history, the shop has brought in enough funds to donate more than $5 million dollars in utility, rental and prescription assistance.
"It is a huge endeavor and makes great strides in the community," Lakeway UMC Pastor Rev. Frank Alegria said. "It gives away an enormous amount of money to those that qualify."
Director Kris Reeves recognizes this is God's work. "This is first and foremost God's business," Reeves said. "I tell myself 'Don't fret over it, this is God's business.' If you give God the glory, God will bless it."
Reeves and the staff and volunteers at the Resale Barn are always on the lookout for how else God might be calling them to serve the community. As they assist with rent and utilities for neighbors in need, their questions often focus on how the person would pay their bills the next month. The team quickly recognized that ongoing medical expenses were creating extended crises for many households, so in 2008, Hope Through Grace was developed.
Reeves explained: "We cover their mortgage or rent and utilities for four months at a time, so they can focus on healing or, for those on hospice, they can spend their time with loved ones and preparing to meet God."
Each of these resale shops offer community, a dignified shopping experience and a place of love and support as these UMCs demonstrate the value of church having a presence outside the walls, and their communities are better for it.
Published: Wednesday, September 21, 2022