Ross Looks for Innovative Ways to Create Churches

Director of the Center for Church Development brings an international perspective to his new job
Rev. Owen Ross will be happy to talk to you about swine management, the Texas A&M grad's expertise while in the Peace Corps in Ecuador.
Or about how interning in government relations for the Dominican Republic phone company is a fast way to become fluent in Spanish.
Or his plans for the Center for Church Development, for which he officially became director on July 1.
Many in the North Texas Conference know Rev. Ross as the force behind Christ's Foundry, or La Fundición de Cristo, the Spanish-language and bilingual mission north of Love Field that he oversaw from its start 15 years ago until his recent appointment.
Even how he landed at Christ's Foundry is a bit of a story. He was just off the plane from a Perkins internship at Africa University when he discovered how Lovers Lane Pastor Stan Copeland, NTC urban strategist Sarah Wilke and Bishop William Oden had the next 10 years of his life planned — planting Christ's Foundry.
"I had never been a part of a Spanish-language church at all," Ross said. "The learning curve was quite steep."
It didn't help that the young mission was in an area where "most had not heard of The United Methodist Church or didn't like us. We were not the church of their mothers," meaning Catholic and Pentecostal, he said.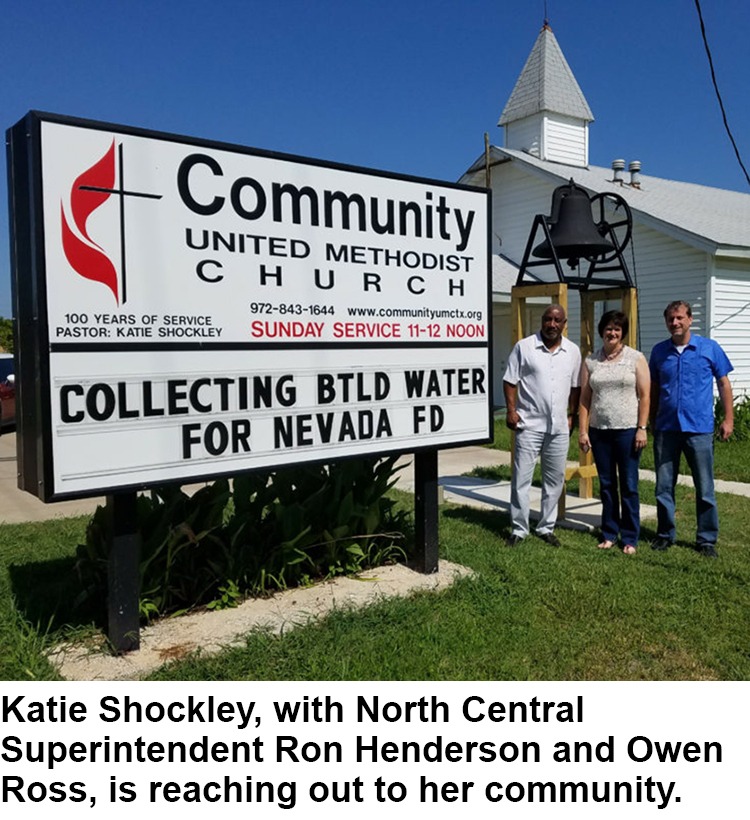 Most church plants rely on the support of consultants and coaches. Rev. Ross had a Catholic nun. Sister Pearl Caesar took him under her wing, meeting with him every two weeks to teach him community organizing.
In 2009-10, he felt the mission had turned the corner, with a "solid 140 in attendance each Sunday and hundreds more touched by social services" in the neighborhood, where the per-capita income was only 40 percent of the national average.
The momentum kept rolling with a capital campaign, enabling the church to move into its own building in 2012, and Christ's Foundry has continued its consistent growth since, reaching more than 300 in 2016.
In taking on his new role, Rev. Ross says the NTC is fortunate to be in an area of growth. "We always have to be mindful of where people are moving to and how they are redefining life in that area," he said, pointing to Uptown and the Highway 380 corridor as examples.
But soaring land prices mean United Methodists must be creative in setting down footprints, whether among Dallas' skyscrapers or in the rapidly developing outskirts, he said. And strong children's programs are key to attracting and keeping parents involved. He also wants to reach out to the conference's growing population of diverse ethnicities.
Rev. S. Dianna Masters has come on board as his associate director to build up black congregations. Her work will include "contextualizing" the denomination's Strengthening the Black Church for the 21st Century and the Healthy Church Initiative, designed to revitalize congregations, to make them more relevant to African-American churches in the NTC, Rev. Ross said.
In visiting the different NTC congregations, "you'll find just as much passion for ministry in rural areas as in towns and the diverse ministries going on throughout Dallas County — churches that I see doing such amazing things."
He's seen it at Community UMC Copeville, where Rev. Katie Shockley "is reaching out to persons building nice, beautiful homes as well as those living in their trailers." And at First UMC Decatur, which has taken an if-you-build-it-they-will-come approach by constructing "a facility for people who are yet to be in their church." And he's seen it in a 14-year-old girl's testimony at First UMC Terrell about what her church means to her and at Christ UMC Princeton, where a pair of guys from very different worlds have formed a bond "I know was only possible through Christ."
In the end, Rev. Ross said, his job is about strengthening the local church because "that's where disciples are made."
---
Facts About Owen Ross
He's a lifelong United Methodist. His uncle was a district superintendent. His older brother, Ryan, and his family are members of Arapaho UMC.
His father also was in the Peace Corps.
He grew up in Henderson in East Texas, where his father was the Rusk County district attorney, then a district judge and finally an appellate judge. He credits his dad for his "sense of justice."
At Texas A&M, he pursued a double major in international relations and government relations and graduated in 1995. He learned Spanish first through summers in Puebla, Mexico, and Santo Domingo, Dominican Republic, but really got it down while in the Peace Corps in El Empalme, Ecuador.
As a Perkins School of Theology student, he studied at Africa University in Zimbabwe in fall 2000.
He is married to Xochitl, and they have two preschool sons, Leland and Larkin.
Published: Tuesday, October 24, 2017