Retired Pastor Shares His Stories Of The Rio Grande Conference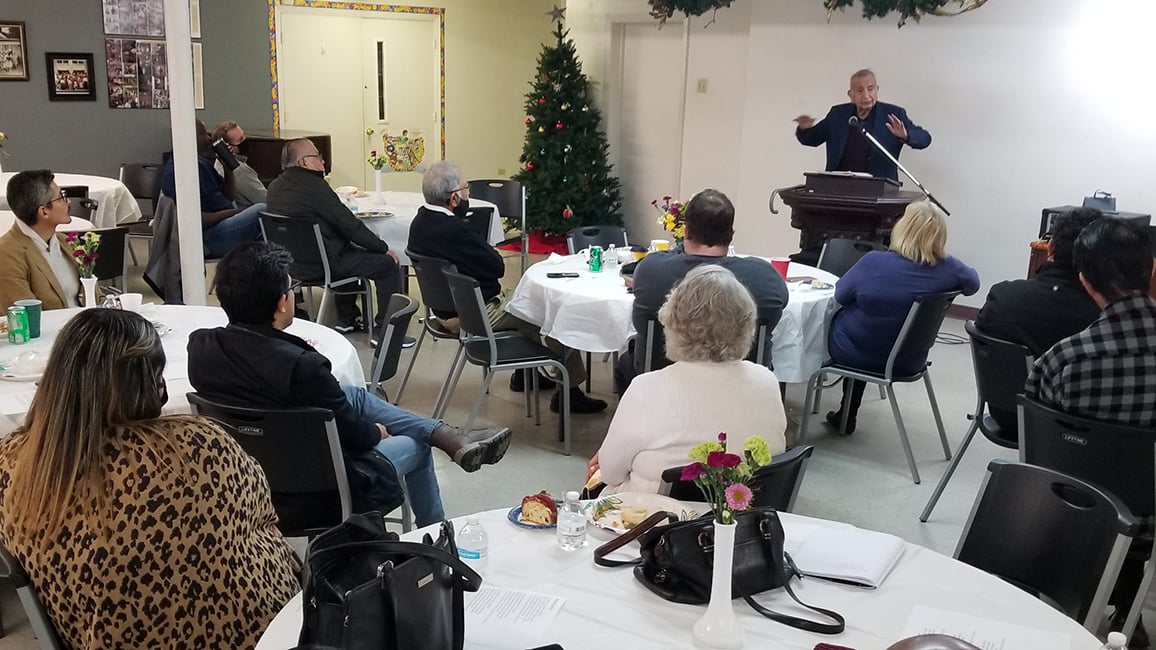 In 2001, Owen Ross was interning at Parkland Hospital in Dallas and met Rev. Isabel Chabelo Gomez who was working as a chaplain.
"I will never forget how he assisted me in sharing compassion in leading parents who just experienced tragedy through the grieving process," said Rev. Dr. Ross, now the Director for the Center for Church Development. "We developed a friendship then, and I have really appreciated him, respected him and loved him ever since.
"When I post pictures of him on Facebook, I often put the caption 'with the man, the myth, the legend.' People always comment 'you got that right.' "
Rev. Gomez, 85, was the guest speaker at an Epiphany Luncheon at Agape Memorial Church on Jan. 5.
Rev. Gomez, who was diagnosed with terminal cancer in late 2021, wanted to tell his stories of the Latinx Church in the conferences he has served: Rio Grande and North Texas.

Gomez, who was born and raised in Dallas, shared:
On being a member of the Rio Grande Conference: "There are five geographical conferences in Texas. I belong to the Rio Grande Conference. Not geographically, it was a language conference. The Rio Grande covered all of Texas and New Mexico. The bishop was in San Antonio. We were spread out. How did we keep together? How did we work together? This was our hymnal. We all sang from the same hymnal."
On the role model he found: "In elementary school I never had a Hispanic teacher. All my teachers were white. I grew up thinking that the smart people were white. And the others, us, were not quite that smart. I did not have a role model until I came to the Rio Grande Conference, and we got a pastor, his name was Pablo Calderon. He had been to seminary, he had been educated, he was articulate, he was interesting, he was funny, he inspired me. And I said 'I want to be like him.' Later I found out not all white people are smarter than me."
On working for the Commission on Religion and Race: "In the year 1970, I was named to serve as a staff member to the Commission on Religion and Race. The United Methodist Church have barely been established in 1968 and one of the results was the Commission of Religion and Race with a new conscience of how to treat minority groups. The Commission on Religion and Race was given $4 million dollars to distribute among minority groups projects. So, I had money! We received proposals of projects from the churches and the community to help minority groups. I served to evaluate and to distribute the money, a million dollars a year. I was popular!"
On Hispanic Ministry today: "I talk to people in El Paso, not much going on in Hispanic Ministry. I talk to people in San Antonio, not much going on in Hispanic Ministry. I talk to people in Houston, not much going on in Hispanic Ministry. But in the North Texas Conference, we have got Hispanic Ministry very much alive. That makes me very happy."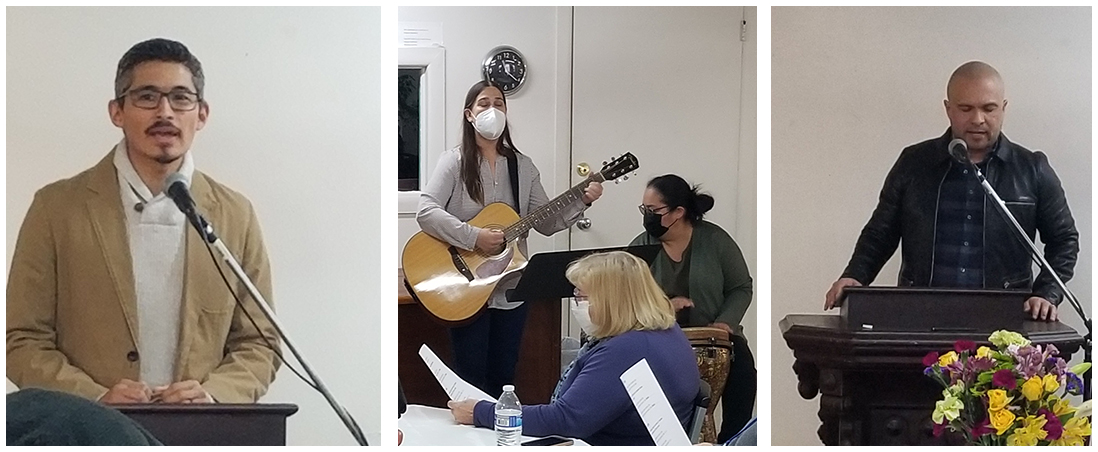 The audience was filled with clergy and lay members from both the North Texas and Central Texas conferences.
Said Cynthia Salinas Dooley, a member of Tyler Street UMC: "Isabel really brought the past back to life for me. I grew up in the same church (Casa Emanu-El UMC) that he did. He raised the hymn book and it just reminded me how important that hymn book has been to me, my life and the church. That is how I learned to read and spell in Spanish. Those hymns are still in my heart."
Published: Wednesday, January 12, 2022