Restoring Community One Water Bottle at a Time

Warren UMC offers cold water through their weekly Hydration Station
"I was thirsty and you gave me a drink," Jesus said in Matthew 25. As temperatures rise, one church is helping their neighbors beat the heat as a living example of what Jesus called care for "the least of these."
Every Saturday morning, you will find members of Warren UMC handing out ice cold bottles of water in front of the church on Malcolm X Blvd., near the intersection of Martin Luther King Jr. Blvd. in South Dallas. The church runs its Hydration Station from 10 a.m. to noon weekly and sees this as a vital opportunity to connect with their community.
For nearly two years, Warren UMC worshiped online – because of the pandemic – and at Dallas Bethlehem Center – building repairs following the 2021 ice storm and broken HVAC units.
"A lot of our neighbors passed away during that time and we have a whole new generation out there," lay leader Elnora Randon said. "The community has started building new houses, so we're really trying to reach out to the younger generation and to get the word out that we are still here and back up and running."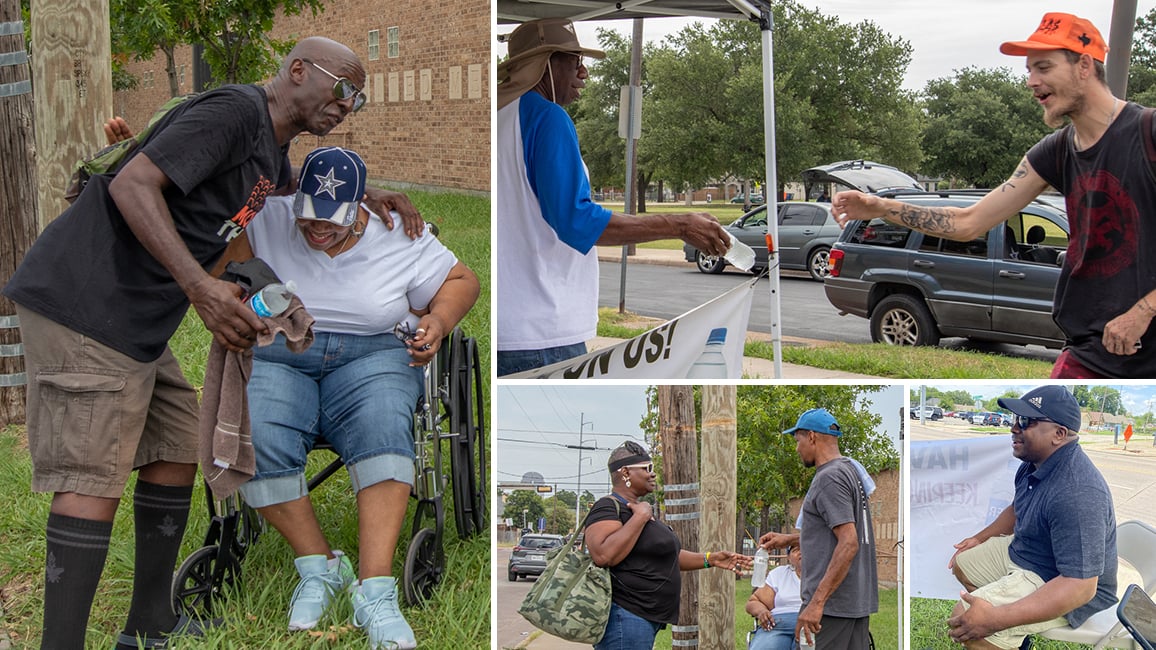 Last year Pastor Montreal Martin began handing out water to reconnect with the community, and now the church is known in the neighborhood as the place to go for a cold drink of water.
"People ring our doorbell all year long or come in when I'm here and ask for a bottle of water, so we're known for that now," Martin explained.
"When I got to South Dallas in 2022, I noticed this need for replenishment – physically, spiritually and holistically – and of course it was hot," he said. "Two people in the neighborhood suffered from a heat stroke that summer, and I realized the church needed to do something to try to prevent that from happening to others. So, I began handing out water in July and August that year."
As simple as a bottle of water is, that bit of replenishment can go a long way. Martin emphasized: "We usually take that for granted, but for our unsheltered neighbors and those without access to cold water, it's a necessity."
The Hydration Station is staffed by four to six volunteers every week and draws people together. One conversation starter has been a large vinyl banner that reads, "Have a drink on us!"
Martin laughed recalling how neighbors have walked up and inquired what type of drinks they have available. "I chose that slogan because I knew people would ask. It's a way to engage with our neighbors and invite them into our space," he said.
As they refresh the body and the spirit, this church is touching the lives of their neighbors one water bottle at a time.
If you would like to donate to Warren UMC's supply of bottled water, email Martin.
Published: Tuesday, July 25, 2023