Putting Faith Into Practice At The Ballot Box

Texas Impact hosts local 'Faith in Democracy' events to discuss priorities for the 2022 elections
On a warm Sunday afternoon in September, 120 people gathered in St. Paul UMC's sanctuary in Dallas to discuss faith priorities for the 2022 elections and the next legislative session. Sponsored by Texas Impact, the "Faith in Democracy" event began with a panel of faith leaders who helped shine a light on the intersection of faith and civic engagement.
"The church is involved in justice work because God cares about the body and the soul. And God cares about what happens to us between Sunday to Sunday," said Pastor Danielle Ayers of Friendship West Baptist Church in Dallas. She was joined on the panel by Rev. Virzola Law of Northway Christian Church and Cantor Sheri Allen of Congregation Beth Shalom.
For Texas Impact's Engagement Director Scott Atnip, voting and being engaged on the issues is a critical part of living out his faith as a United Methodist.
"When I think about who we are as United Methodists, I always go back to our mission statement, 'to make disciples of Jesus Christ for the transformation of the world,' " Atnip said. "We live that out, in part, by engaging with our communities and the world around us to identify needs and work to bring about transformational change. Part of that is by engaging in democratic processes and with those elected to represent us. Churches can support that work by encouraging our members to participate in democracy by studying both our communities and pressing public policy issues and lifting up the needs of our local communities with our elected representatives and at the ballot box."
The event included presentations by Texas Impact staff and breakout sessions focused on voting rights and access, as well as key legislative priorities. The goal of the Faith in Democracy events taking place in Dallas, Houston, Austin and Denton this fall is to provide training for faith leaders on civic engagement and bring to light issues for the common good.
Texas Impact is an interfaith organization that brings together diverse people from across Texas to advance state public policies consistent with the shared values of Texas faith communities. Working on a variety of public policy issues within the broadly held social concerns of mainstream religious traditions, Texas Impact's board and staff use a process of discernment similar to the processes used by many faith traditions – using Scripture, the wisdom of the faith traditions, current public policy information and data and the experiential knowledge of people of faith to develop specific positions and policy goals.
Executive Director Bee Morehead finds hope in this work as she interacts with people of different faiths across Texas. "We do our work within a great cloud of witnesses who have faced huge challenges and made real progress in securing rights, freedoms and dignity for people in every time and place," said Morehead. "We know that God's work is not done, and that God's plan is for us to live together in peace, without fear, so we know our work is aiming at something possible and promised. And looking around, in our present moment, I interact daily with people from all faiths and walks of life who ask me to put them to work."
Putting people and communities of faith to work to secure the right of all eligible voters to have access to the ballot is a key priority for the 2022 election. Amid great division in our culture, the importance of ensuring all eligible voters can participate and have their voices heard remains a common goal.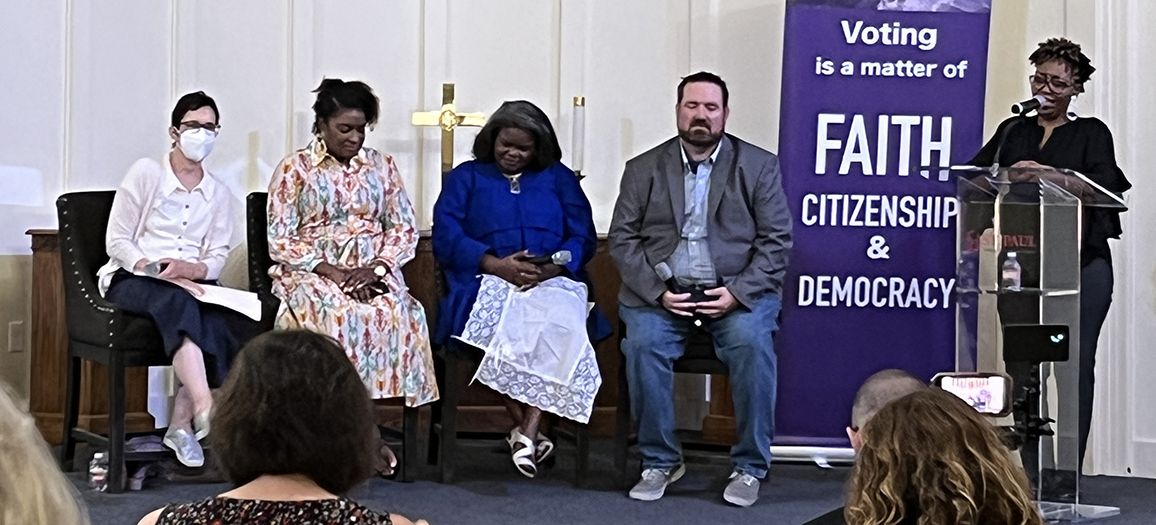 Rev. Phil Dieke, who serves as chair of the North Texas Conference Board of Church and Society, underlines this point.
"These are indeed divisive times. Within any congregation surely there are differing opinions on any and every issue. I think this is why voting can act as a unifier," Rev. Dieke said. "The right to free and fair elections is not only a part of our Social Principles as United Methodists, it is non-partisan and really the very root of a democracy. Each person holds sacred worth. Each person has a voice and their vote is their voice."
During the Faith in Democracy event on Sept. 11, Texas Impact Advocacy Director Josh Houston used volunteers from the crowd to visually represent just how few eligible voters participate in local, state and national elections. This made a significant impression on Rev. Jessica Wright, associate director for the Center for Missional Outreach.
"I was most impacted by how Josh Houston demonstrated how a very small group of committed primary voters – roughly 5% of registered voters – are determining the legislative priorities of the over 28 million people who live in Texas," Rev. Wright said. "I've been a registered voter since I was 18 and faithfully participated in local, state and national elections, but I've never voted in a primary. Micah 6:8 asks us to do justice. We can't do justice as observers in society, only as active, thoughtful, faithful participants. Justice is love expressed in the public square."
For Rev. Dieke, Texas Impact's Faith in Democracy training inspired him to help others get involved.
"Events like this inspire me. Representatives from dozens of faith communities showed up to learn more about civic engagement, and, more importantly, ways to get involved," he said. "I've often found - and I am guilty of this as well - that people are eager to learn, but not as eager to get involved, to do. When I think about what it means to be a disciple, there is a learning component to it, but I'm not a very effective disciple if I only learn about God and my neighborhood, but don't actually do anything. To love God and my neighbor means acting, showing up for them, standing in solidarity with them, advocating for them, not just my own well-being, but that of my neighbor."
As United Methodists in the North Texas Conference we are well-equipped to do this work of motivating a more involved electorate. Bee Morehead affirmed, "The North Texas Conference of the United Methodist Church is taking a courageous and thoughtful approach to advancing justice in Texas. Many of the Conference's activities and approaches are models that Texas Impact can share with our colleagues in other states, as well as other judicatories in our state. So, keep up the good work, friends!"
The next Faith in Democracy event will be held at First UMC Denton at 5:30 p.m. Tuesday, Sept. 27 (register). For more information on ways to get involved email Rev. Jessica Wright or Rev. Phil Dieke.
Take Action for Free and Fair Elections Resources
Published: Thursday, September 22, 2022