Prayer Walk for Unity takes steps to improve South Dallas/Fair Park

The faithful turned out for song and prayer on a 1.2-mile trek to show their commitment
It may be winter, but warm hearts and sunny weather made it a beautiful day Jan. 28 for the third annual Prayer Walk for Unity in South Dallas.
Organizers of the South Dallas/Fair Park Faith Coalition, which includes St. Luke "Community" and Warren UMCs, said the walk is among efforts to heal and restore neighborhoods in the area. In fact, the North Texas Conference's Zip Code Connection focuses on South Dallas-Fair Park in its efforts to eliminate asset poverty. The other Zip Code Focus Area is in Red River County.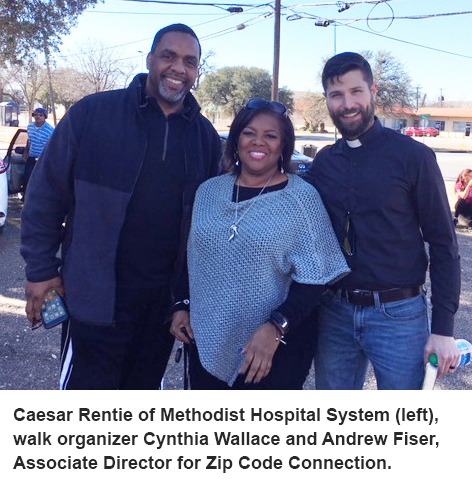 Roughly 200 people gathered for the 1.2-mile trek down Martin Luther King Boulevard between James Madison High School and Forest Park.
Dallas County District Attorney Faith Johnson, Rev. Andrew Fiser, Associate Director for Zip Code Connection for the Center for Missional Outreach, and Cynthia Wallace, Zip Code Connection intern and walk organizer, helped kick off the event. Then, as a dozen Corvettes from the On-Time Corvette Club lined up two abreast, the march got underway. Voices joined together in spirited song, led by a walker with a bullhorn, as children wove their bikes alongside the procession and bystanders looked on.
A woman in bright orange clapped and sang joyously. "I used to sell my body right here on these streets," she said. But two years ago, she turned to Jesus Christ and away from the drug friends who kept her mired in a destructive lifestyle.
Where MLK Boulevard crosses over S.M. Wright Freeway, the Prayer Walk paused as Rev. Caesar Rentie, vice president of pastoral care for Methodist Hospital System, used the bridge as a symbol.
"God, we pray that you will build bridges of economic development, that you will be bridges of jobs and opportunities, that you will build bridges of better health and wellness, that you will build a bridge of love and salvation," he said.
The walk ended at Forest Park, where barbecue, music and information on community resources awaited the prayer walkers and others from the surrounding neighborhood. Forest Park represents the work of the Faith Coalition, which adopted it and cleaned it up to benefit the community, Wallace, the prayer walk organizer, said.
Wallace is a Perkins School of Theologystudent and intern with the Zip Code Connection whose focus is with the Faith Coalition "to engage the churches in the community," she said. She considers herself nondenominational, but the work of United Methodists has impressed her.
"The Methodist Church is really about being hands and the feet of Jesus in the community," she said.
Published: Tuesday, February 6, 2018