Plymouth Park laywoman wins top evangelism award
'Ms. Kay' joins prestigious ranks for her Irving children's ministry
The Distinguished Evangelist Award given by the Foundation for Evangelism often goes to a well-known United Methodist pastor, the kind who leads a megachurch, writes books and gives keynote addresses at church growth conferences.
Think the Revs. Adam Hamilton, Mike Slaughter, Jorge Acevedo and Adam Weber — all past winners.
But the foundation's latest honoree is Kay Schecht, a laywoman. Her early work in evangelism included setting up a card table under a tree at a low-income apartment complex and waiting for children to come around.
For 24 years, Schecht has had a volunteer ministry to at-risk kids, feeding them, tutoring them, giving them etiquette lessons, helping them with college applications, taking them everywhere from museums to water parks — and bringing them to Plymouth Park United Methodist Church in Irving.
Schecht, 73, doesn't think of her work as evangelism, much less award-winning evangelism.
"I was shocked," she said of learning about her award.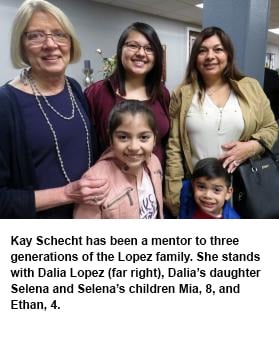 But to Jane Boatwright Wood, president of the Foundation for Evangelism, Schecht exemplifies distinguished Christian outreach.
"She came in with a truly open heart, open to God's calling, and she listened to the children whom she was trying to serve," Wood said.
Schecht received her award during the April 8 worship service at Plymouth Park United Methodist, with Wood and North Texas Conference Bishop Mike McKee presenting.
On hand were some of those Schecht has mentored, including Jose Sifuentes, 32.
He recalled a camping trip she took him and other kids on, and how she stumbled climbing down a steep hill. He reached out and grabbed her.
"She said I saved her, but in reality, looking back at it as an adult, she saved me from so many things," he said. "Growing up in poverty, where our parents couldn't provide, she picked up the slack."
Schecht was a single mom but also a recent empty nester in 1994, when she began her volunteer work. She was moved to do so after Irving saw a string of violent deaths of young people.
Already, Schecht had been a public transit advocate, so she formed a group called Irving Together and began to lobby city officials to provide more recreation sites and wholesome activities for children and youth.
But she and her team also dug in themselves. Schecht focused on one apartment complex, persuading management to let her set art supplies on a card table under a tree.
"The kids would trickle in from school. They'd sit around asking what I was doing," Schecht said. "By the end of the week, I had a bunch of kids out there."
Some were intimidated by her last name, so one of the other adults suggested they call her "Ms. Kay."
"That stuck," Schecht said. "Everybody, including the adults, calls me Ms. Kay now."
Schecht and her volunteers provided regular group outings, but also tailored their work to individual needs and wants. For one boy who wanted to be an engineer, that meant finding an engineer who would be a mentor.
Elizabeth Fofana, 36, recalls getting more basic help.
"I never knew how to set a table, where the fork went," she said. "Ms. Kay taught us things like that. She helped me become an adult."
Schecht at first confined her volunteering to weekday afternoons and Saturdays, but she recalled that one girl wasn't satisfied.
"She kept saying, 'Can't we do something with you on Sunday?' I said, 'That's the only day I have for me. I go to church and Sunday school.' She said, 'Well, we can go to church and Sunday school with you.'"
Schecht agreed reluctantly, afraid the children might not behave. But they did, and bringing children and youth to church on Sundays — Wednesday nights, too — has long been central to her routine.
"It is not unusual to see her praying with the children in the chapel at the end of a busy Wednesday night," said her award nomination by Plymouth Park United Methodist.
Some of those Schecht mentored have remained active at the church, and on April 8, Fofona became a member, with her two young daughters making professions of faith.
Through the years, Schecht has balanced volunteering with full- and part-time jobs, a return to college and long-distance caregiving of her parents. She estimates she's worked closely with about 300 young people and their families.
Schecht noted that they have come through for her many times, including when she was exhausted from traveling to help her parents and especially in the sad aftermath.
"I started Irving Together to help youth and they ended up saving me," she said.
The service drew longtime Irving Together volunteers, such as Chris Walker, who met Schecht on a bus and became convinced of her sincerity. He's been helping from the beginning.
"I thought, if she's going to try it, I'll do it myself," he said.
In more recent years, Schecht's co-workers have included the Rev. Joan La Barr, a retired elder and wife of the Rev. Bill La Barr, Plymouth Park United Methodist's pastor.
"We've had happy times and real sad times. Sometimes things just don't work out," Joan La Barr said. "But she's very, very faithful to her calling. It is a calling. That's the only way I could express it."
Article originally published on UMNS.
Published: Wednesday, April 18, 2018