Pieces Come Together for Peace Makers Quilt Debut at Mega March

Oak Lawn's Gregg Smith hopes the quilt inspires people to get out of the pews and into the streets
The Rev. Gregg Smith, director of outreach at Oak Lawn UMC, dreamed of creating a quilt that brought a patchwork of people together — "a visible expression of community, understanding and unity among peoples of many faiths and cultural backgrounds."
Smith envisioned what he called the Peace Makers Quilt, which would "facilitate respectful, creative conversation and plant the seeds of change in our attitudes toward each other, which can help lead us from distrust to peace."
Suddenly, Rev. Smith had a deadline for the project: the Mega March for Immigrants on April 9, 2017, in downtown Dallas.
So in a five-hour quilting session the day before the march, the quilt was pieced together at the church by a group including Heather Gottas, Rachel Baughman, Becky and Ben Hensley and Cathy Bryan.
Rev. Smith is a member of Faith Forward Dallas at Thanks-Giving Square, and the quilt is actually a product of the diverse, ecumenical coalition of Dallas religious leaders.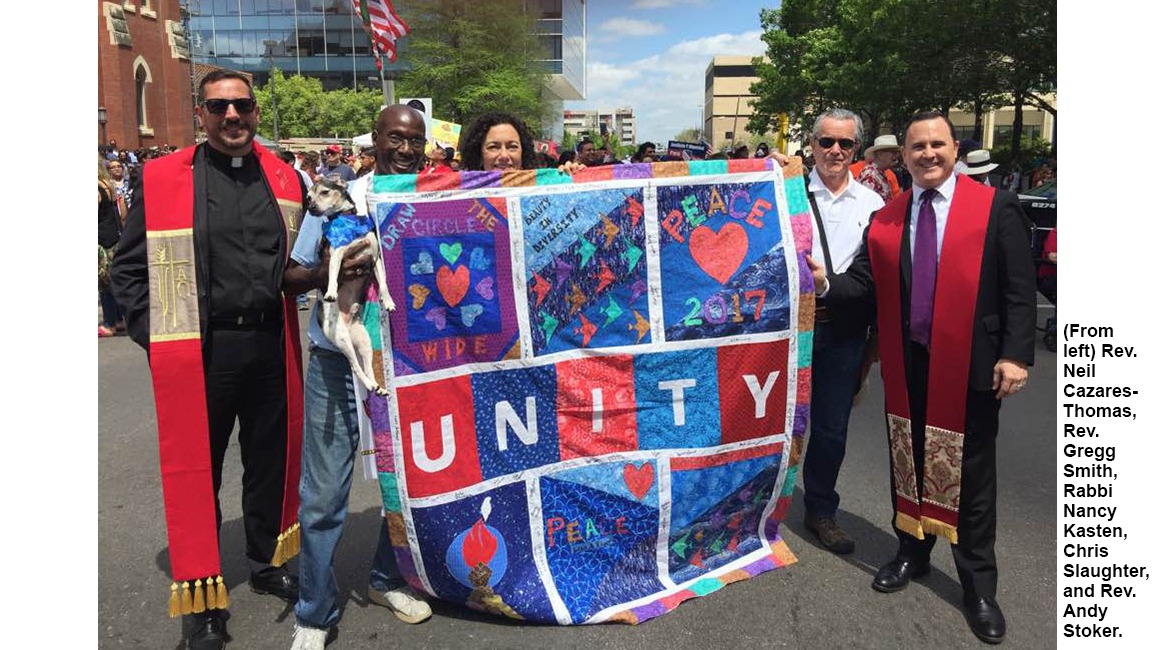 At the march, "we showed that we are not afraid of the terrorists. The terrorists cannot win as long as the body of Christ does what Christ called us to do. We must listen to the still, small voice from God," he said.
Between 3,000 to 4,000 marchers took part, down from hundreds of thousands in the past. Rev. Smith said that may have been because people were "concerned about getting 'iced' if they came out" — meaning being detained by U.S. Immigration and Customs Enforcement (ICE) officers. Still, many United Methodist clergy and laity participated.
"As for us, we were not disappointed at all" by the smaller turnout, Rev. Smith said.
And a conversation with his Uber driver on the way back to the church confirmed those feelings.
"The driver was telling me he was from the Middle East, and he mentioned that he had anxiety because Texas has a negative reputation. He paused and said he doesn't feel that way anymore. The march was totally worth it.
"This Peace Makers Quilt is the continual beating of the drum that peace is possible, and God is still God," he said. "There are negative themes hitting us with visceral images, and the quilt is hitting back with the message that this is not a time to sit in the pews. Get out. Get your hands dirty. Help people."
The quilt is on display at Oak Lawn UMC, and its next stop is Thanks-Giving Square. After that, he'd like to see it exhibited at a mosque or synagogue.
Published: Tuesday, April 18, 2017