ONE Event Helps Students Forge Relationships
Director of Student Ministries Jordan Jackson says conference-wide youth gathering stresses unity in worship
In just a few weeks, First UMC Rockwall will be hosting its annual ONE Event for the North Texas Conference. This superb event was put together to bring all our student ministries together for one afternoon in solidarity and worship.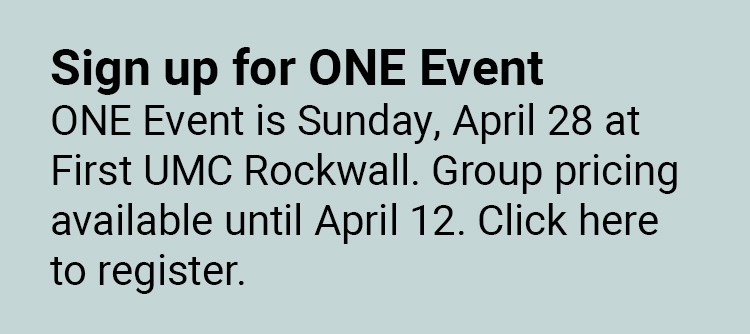 I have worked in student ministry in The United Methodist Church for over 16 years. In that time, I have seen so many students build affirming relationships that help each be accountable and grow to be amazing adults. These relationships come from not only the student ministries within their home churches but from church camps, mission trips and gatherings comprised of other UMC churches.
When the individual UMC churches get together on the superficial level, you can really see how diverse we are in so many ways. But when you spend time together in small groups and worshiping together, you can see how diverse and amazing we are internally.
I know the students I work with need to step outside of their bubble and see the world around them. The ONE Event gives them an easy way to accomplish that. They need to see what the "United" in our name means. They need to step outside their comfort zones, meet new friends and experience worship with some diversity.
I encourage everyone to bring your groups to this event. Now, more than ever, we need to be as united as we can be.
Jordan Jackson is the director of student ministries at First UMC Coppell.
2018 event
Published: Tuesday, March 26, 2019