Oh, Thank Heaven: St. Luke Member Wins 7-Eleven Franchise
Alyson Rae Lawson put church ties, social media and determination to work for her
Winning a recent contest to own her own 7-Eleven franchise has St. Luke "Community" UMC member Alyson Rae Lawson, 28, belting out the words to the company's famous jingle:
"Oh, thank heaven for 7-Eleven!"
Lawson, who was raised in St. Luke, will operate a 7-Eleven store that is being rebuilt on Interstate 20 in Arlington, across from The Highlands shopping district. Although winning a franchise may sound easy, it wasn't, Lawson said.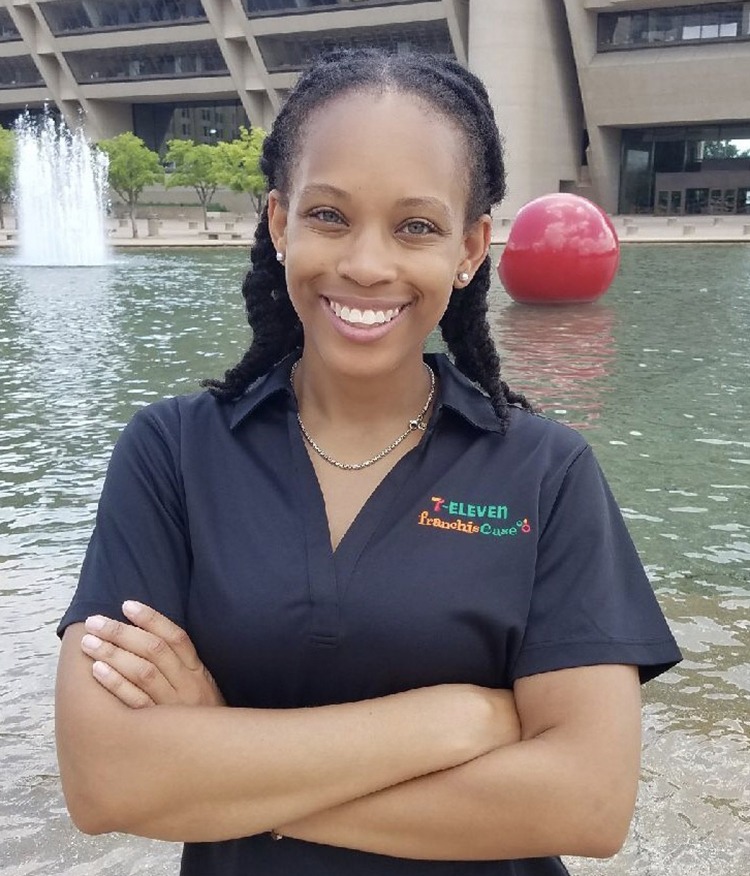 7-Eleven has held the franchise giveaway for three years. This was the first year the giveaway was specifically for women. In the past, it was limited to veterans.
The requirements to enter the competition were the same as if contestants were applying to be a paying franchisee.
"They checked my work experience and educational background. They did a financial check to ensure I could afford all of the fees, and I had to write an essay on why I should own a franchise," Lawson said.
After thousands entered the giveaway, 7-Eleven's pre-screening cut the field to 500 applicants. They were narrowed down to 25, then seven, whose next task was to make a video on why they should own a 7-Eleven. After two weeks of voting on the videos on 7-Eleven's website, the top three got a franchise. Lawson led each group during the elimination process.
Lawson, who majored in business management at Hampton University in Hampton, Va., drew on her marketing and public relations expertise, focusing on a "sense of community" to differentiate herself. She used her Facebook page to tell her story and included a link to the video on the chain's website.
Lawson's family and friends, St. Luke members, Hampton alumni and students, and her sorority sisters of Delta Sigma Theta quickly spread the word to vote for her. Rozalind Dickerson, a St. Luke member who watched Lawson grow up, said she called everyone she knew across the country.
"I just told them that I mentored this young lady at St. Luke, and I need you to help her," Dickerson said.
Lawson got 80,000 views, 500 reposts and won the contest with 45,000 votes. Even though the contest is over, people who see Lawson's video still contact her asking if they can vote.
Lawson's friends and family, including Bernice J. Washington of St. Luke, are not surprised by the effort she put into winning the competition.
"Very few people realize that this child was born with a spirit of independence," Washington, a 34-year member of St. Luke, said. "Hard work is just par for the course for her."
Lawson's track record of hard work started at age 8 when she took up golf, thanks to the Leonard Jones Minority Junior Golf Foundation. At 14, she got her first job as a junior docent at the African American Museum of Dallas while still keeping up with golf. She excelled enough at the game to earn a golf scholarship to Hampton.
"Alyson has a drive to excel more than anybody I know. When she told me about taking golf lessons, I asked her, 'Dear, are you sure about golf?' " Washington said. "She told me, 'Golfing is what I want to do because it will give me the discipline I need to steady myself.' I couldn't believe this was a child speaking."
She also had a role model in her mother, an entrepreneur who built her own business.
"Alyson's mother always had high expectations, and Alyson did whatever it took to live up to those expectations to make her mother proud of her," Washington said. "Owning this store will be no different."
After getting her degree, Lawson worked in the budget office of the City of Dallas for nearly three years, then moved back to Virginia to work for the City of Norfolk, the Hampton/Newport News and the Virginia Association of Community Services Board, a public entity.
"When you understand the finances of the businesses, you understand business," Lawson said. "I've always been in a position to understand the finances of the business.
"But my goal was always franchising," Lawson said. She had done her research on 7-Eleven and liked that the convenience store chain is expanding.
"My goal is to get more than one. It is not a greedy thing," Lawson said. "I wanted to be an entrepreneur because after working in corporate America, I didn't want to do that anymore. I wanted to be independent."
While waiting to take the keys to her store in the second quarter of 2018, Lawson is relishing the win.
"I just want to thank 7-Eleven for giving me the opportunity and my friends, family and America for voting for me," she said.
Published: Tuesday, August 29, 2017