Oak Lawn opens door to homeless in severe freeze

It only took one member to ask: Why not shelter people from the dangerous cold?
It all started with a simple request from one woman to her pastor on a Sunday morning before worship: Could our church stay open overnight for those living on the streets as a shelter from the brutally cold temperatures?
What makes this story unique? The parishioner, Billie Jean Baker, is herself homeless.
When Rev. Rachel Baughman asked her staff at Oak Lawn UMC why they couldn't do so, "no one could come up with a good reason why not," said Heather Gottas, the church's director of Family Ministries and Church Administration.
"It just made perfect sense, even if we've never done anything like this."
Serving the homeless population is nothing new for the church, which hosts a Sunday night meal and operates both a clothes closet and food pantry. But Oak Lawn UMC had never before taken on something of this magnitude, inviting an unknown number of individuals to sleep for the night.
Until now.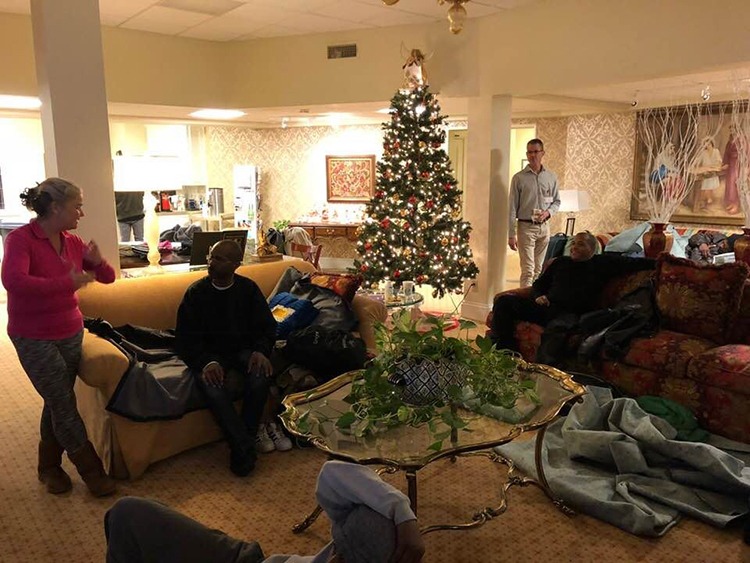 The first night — New Year's Eve — temperatures in Dallas dipped to 17 degrees, with wind chills in the single digits. Around 30 people rang in 2018 inside the sanctuary. When word began to spread further, those numbers grew to more than 60 each of the next four nights — which meant opening up the fellowship hall and classrooms to guests.
Logistically, reinforcements trickled in almost immediately. Gottas sent out an initial request for volunteers around noon Sunday, and that roster began to fill up within minutes as individuals signed up to work three-hour shifts from 6 p.m. to 9 a.m. On Monday, the church received blankets from one company; the next day, cots arrived from another organization.
The assistance came in droves, from those making warm meals at dinner and breakfast to those simply there to be a presence and answer questions. City officials and political candidates have offered their support, as well, and the shared posts on social media have brought increased attention to the cause.
"It's been very overwhelming in a positive way," Gottas said. "Seeing the breadth of people involved in something they have no investment in … just the thought of being out there in this weather, they can't imagine having anyone do that."
The shelter remained open through the night of Jan. 4, after which nighttime lows stayed above the freezing mark. Moving forward, Oak Lawn UMC hopes to create a network of churches that will work collaboratively on hosting similar shelters when the weather and needs dictate. This coincides with a recent decision by the North Texas Conference's Board of Church and Society to make youth homelessness one of its major 2018 initiatives.
Said Daniel Roby, executive director of Austin Street Center in Dallas: "During inclement weather, the emergency shelters in the area, despite their best efforts, simply cannot accommodate everyone who needs the most basic care: a roof over their heads. If it were not for Oak Lawn United Methodist Church, I am most certain that some of our typically unsheltered would not have made it through the night. Our staff lit up with excitement learning of their decision, driving several folks to the church and praising God for an unanswered prayer.
"This week, the United Methodist Church can be proud to be an example to all church communities of what the church can accomplish with hearts and hands willing to serve."
The words of Hebrews 13:2 — "Do not neglect to show hospitality to strangers, for by doing that some have entertained angels without knowing it" — fittingly are Oak Lawn UMC's motto. Not just in this initiative, but in all respects.
"That's our 'why' — everything that we do is focused on letting that love continue and feeds into the larger United Methodist Church goal of making disciples of Jesus Christ for the transformation of the world," Gottas said.
"We're changing [the homeless population's] lives, and very well could be saving their lives, by not having them out in the freezing temperatures these last few nights. The hundreds of people who have responded to this need — their lives are being transformed in some way, too. That's exactly what Jesus wants us to do."
Published: Tuesday, January 9, 2018