NTC Staff Share Their Favorite Christmas Presents
The Ministry Center staff and the district offices share their favorite Christmas gifts.

Rev. Cassie Wade, East District Superintendent
When I was about 11 (not yet a teenager, but too old to be a kid – at least in my mind), I wanted a Tubsy Baby. This toy was one of the early battery operated animated toys on the market. She would coo and move her arms up and down when set in a tub of water creating a splash. She came with a towel and her own baby tub. I was simply overjoyed to have a doll that was almost like a real baby! Yet, I was much to old to share with my friends, who had moved on to battery operated bedside clock radios for Christmas. So, Tubsy was kept in the corner of my closet and only came out during bath time.
Mary Skinner, Center for Leadership Development Admin
My favorite Christmas gift was from my boyfriend of 2 years, Sam. He got me an entire art set including acrylic paint, paint brushes, canvases, and an easel. And then he set up a spot in his home where I could paint while he plays guitar so that we could do the creative things we love together.
Rev. Todd Harris, Northwest District Superintendent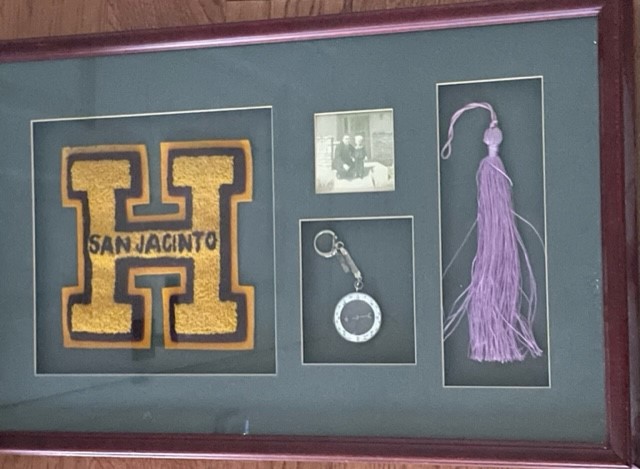 The first year Stephanie and I were married she gave me a custom shadow box that included a picture of my dad and I when I was a little boy along with the tassel from his high school graduation and a compass he had brought me from a business trip he had taken. I had shared a story during a hanging of the greens homily about his bringing me that compass from a business trip and how it had been accidentally broken but that I kept all through the years because it was a simple reminder of a deep love we shared. I talked about the simple reminders in the sanctuary during Advent of God's deep love for us…items that might not mean much to some but for others the symbols directed them like a compass to the profound message of Advent and especially Christmas. My father died when I was 9 so I was probably 7 or 8 when he gave me that compass which I had kept for many years and still have. My wife contacted my mom and asked her to rummage through the attic in my childhood boxes to find the compass and other simple memories of my dad so she could give me the shadow box.
Rev. Cammy Gaston, Director for the Center for Leadership Development
I grew up in the mountains of Southern California where my family had Christmas trees on a few acres of land. Each season we would sell trees and assist numerous families in finding just the right tree for their home. It was such a gift to me to watch families hunt for just the right size and shape of tree and to know that my family had worked during the year to trim, water and prepare the tree for someone's Christmas celebration. I'll never forget the smell of a fresh pine tree or the beauty of its natural imperfect beauty. Those memories remind me of the nurture and love of my family and how wonderful it was to share Christmas with others.

Rev. Andy Lewis, Director of Missional Outreach and Assistant to the Bishop
From ages 5-8 (1977-1980), Christmas was all about Star Wars toys – action figures, vehicles, playsets. If I had to pick one, it would have to be the Millennium Falcon!
Rev. Jessica Wright, Associate Director of Missional Outreach
My favorite Christmas gift has been a Christmas Day nap. Each year I've been a clergy mom, often not getting home on Christmas Eve until 2 a.m., my in-laws have taken care of all the details of Christmas Day – meals, playing with the kids, etc. – so I could slip away for a nap after the presents were opened and wake with energy to really enjoy the rest of the day with our family.
Rev. Debra Hobbs Mason, North Central District Superintendent
My favorite Christmas gift was an Alaskan Cruise from my husband Marc for our 20th Anniversary. He kept it a complete secret, saved the money in a new bank account, planned every detail, including clearing my time away at the church and securing childcare for our 2 sons. I felt very special, loved and cared for! The backstory: I was helping him with the books of his company at the time and discovered the deposits into the new "mystery" account and he would not tell me what it was about and what it was for and I was very upset. I explained that we don't keep secrets and I "see it all" as a pastor counseling couples and I was not happy – at all. He continued to refuse for months. It was only at Christmas when I opened the box that I realized he was indeed trustworthy, and I was very hard to surprise.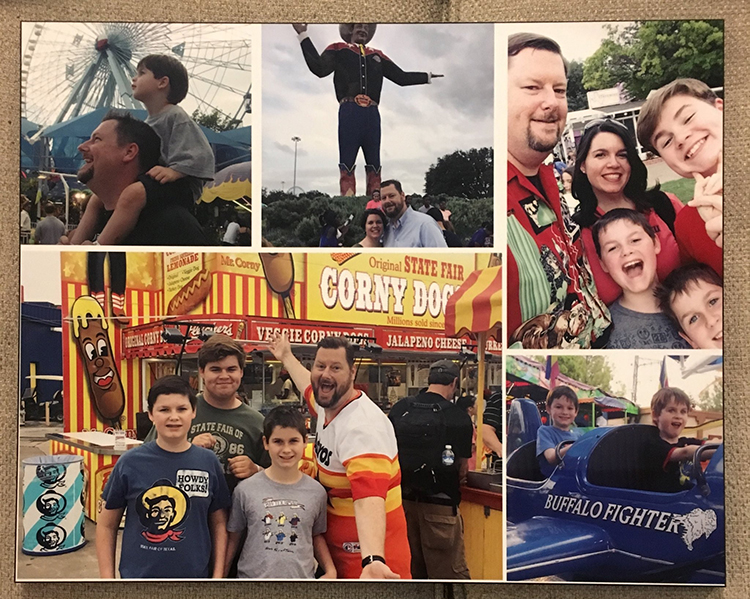 Liz Lancaster, Metro District Admin
In high school Home Ec class, I made a dress that I planned to wear to a Christmas Eve service. The outfit would not be complete unless I had red shoes. My parents surprised me with a pair of red shoes I had been eyeing (and probably talking about ad nauseum) on Christmas Eve afternoon. The outfit was complete. I made an A on the project.
Christy Drenner, Director of Connectional Resources and Treasurer
A few years ago, my husband Frank made me a photo collage of our adventures at The Great State Fair of Texas. It is our tradition to go each year on opening weekend. I always take photos but am so bad about printing them out – this was a great gift! Top 5 for sure!
Published: Wednesday, December 7, 2022