NTC Churches Jump into Action After Hurricane Harvey

Roundup of some of the churches' efforts and information to use
An Early Response Team from Trietsch Memorial UMC in Flower Mound left Sept. 7, 2017, for the Rio Texas Conference to help residents clean up after Hurricane Harvey, Disaster Response Coordinator Rev. Dr. Janet Bell Odom said. Two more teams, with members from two to three churches, were expected to go to the Victoria area the week of Sept. 11, she said. North Texas early responders are awaiting an invitation from the Texas Conference, covering Houston and southeast Texas, to work there.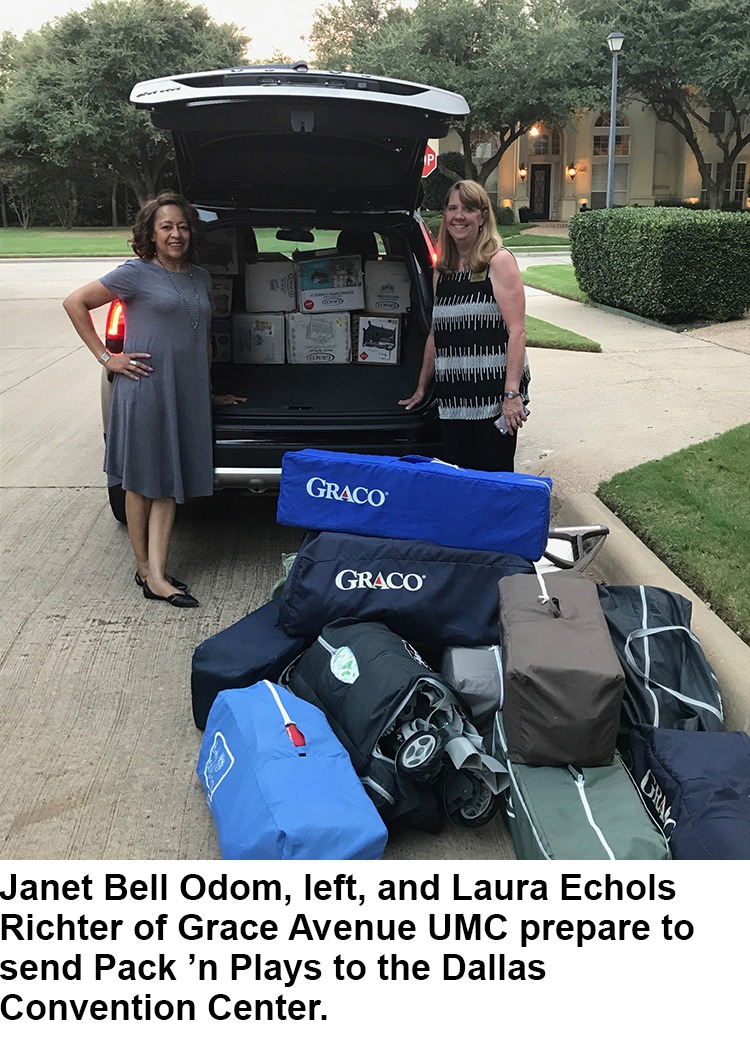 Christ UMC in Plano had a shelter on standby to receive evacuees if other shelters filled up, Dr. Odom said. The church also will host Early Response Team training on Sept. 16, 2017, for people interested in volunteering for disaster cleanups and related work. The training is required before a volunteer can be sent on a trip, and Dr. Odom is working to set up more sessions.
Grace Avenue UMC in Frisco jumped into action after Dr. Odom put out a call for Pack 'n Plays, playpens that double as places for babies to sleep. By 6 p.m., the church had 21 pack-and-plays at Dr. Odom's house; within 24 hours, they'd provided a total of 61 for use at the shelters.
Pastor Edlen Cowley of Fellowship UMC in Trophy Club set an ambitious goal — to assemble 100 flood buckets with 2,200 donated supplies within five days. Laywomen Mary Jane Coolidge, in charge of church outreach, and Katie Simpson quickly spread the word by email. While most items were easy to find, some members drove to Denton or Hurst to find clothespins and clotheslines. The list was fulfilled, and 80 members put together the buckets and sent them off to Grace Avenue, the first leg of their trip. Read the full story here.
Dr. Odom expects the need for items at the shelters to taper off, but financial donations will still be vital. The Trusted World warehouse on North Dallas Parkway, the first drop-off site for toiletries, diapers, non-perishable food and other items, filled up quickly with the outpouring of generous donors. On financial donations, every penny donated to the North Texas Conference for hurricane relief will go straight to helping the victims recover. Click here to donate.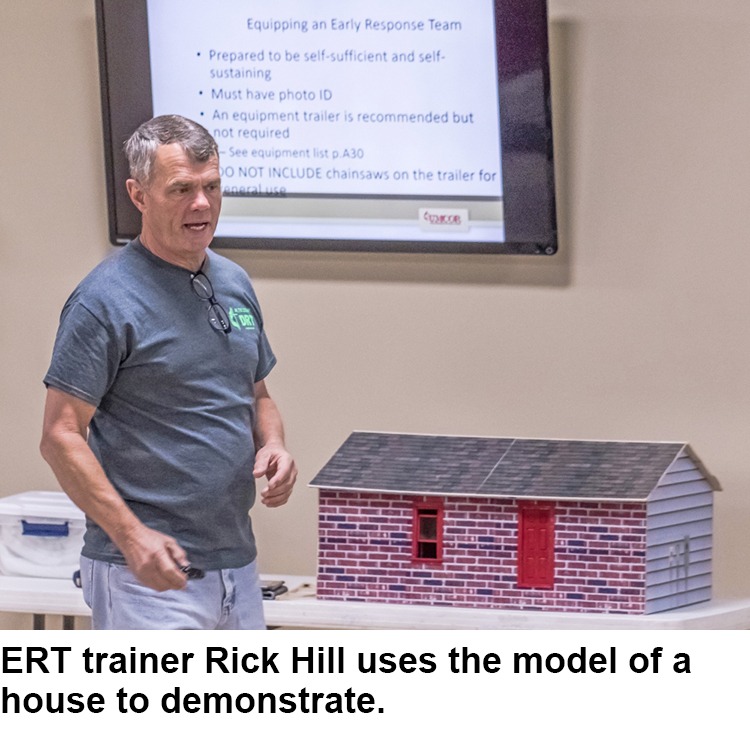 Early Response Teams, or ERTs, go in when invited after first responders have done their work in disasters. Regular construction teams go in later once an area is considered safe. Sometimes, the work of the ERT team is just to be there to listen as survivors wrap their minds around their situation. Rick Hill, an ERT trainer, uses a model of a home to demonstrate how teams can do their work properly. That includes going over tarping, roof safety and chainsaw safety. He also goes over the potential hazards that volunteers might not think about. The roof on the model comes off so Hill can show ERT work on a home's interior. He tells how to separate salvageable items from those that are not and how to deal with different circumstances of a disaster, such as encountering noxious chemicals. The hazards are manageable — it's just a matter of thinking ahead, he says.
Did you know you can't just show up at a shelter to help? Dr. Odom says no matter how honest and well-intentioned, volunteers must go through a criminal background check first. Go to VOLY.org to start the process.
Even in the midst of trauma, God's spirit can shine through, Dr. Odom said. During a service at the Kay Bailey Hutchison Convention Center, she noticed a young mother there with her two toddlers. "She had lost everything she had," Dr. Odom said, and yet the woman was happy. "These babies were like new life for her. She knew she was in the shelter, but she hadn't given up hope … and I walked away knowing that we as the church can't give up hope."
Published: Tuesday, September 12, 2017