North Texas Annual Conference 2023 Finds Hope for Church of the Future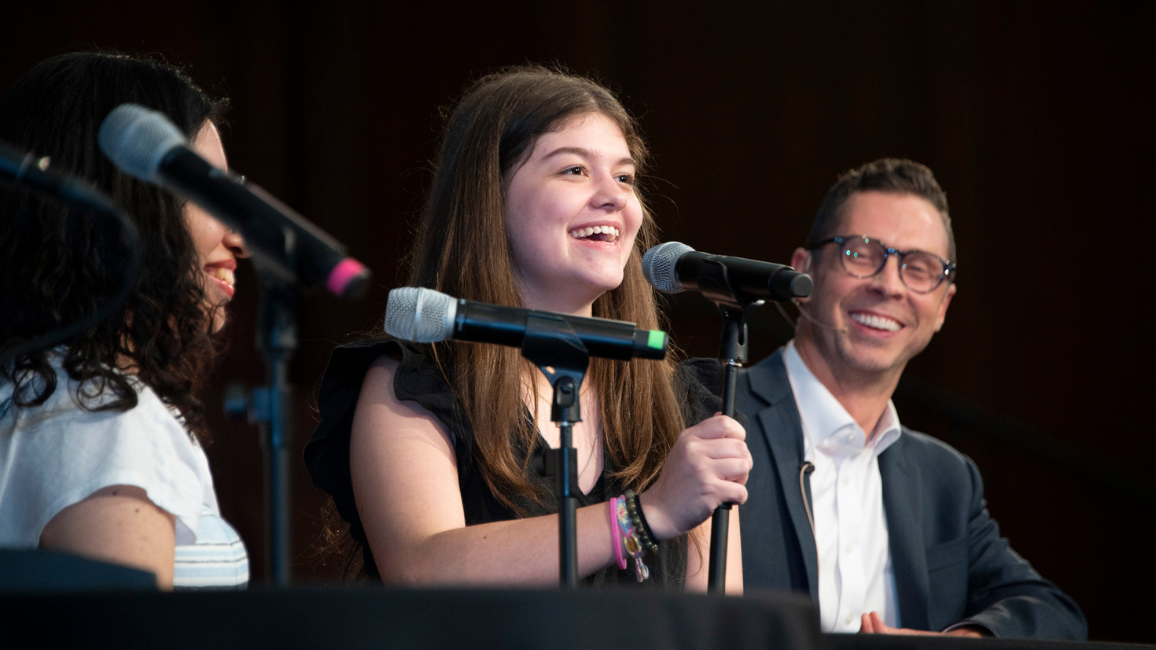 Annual Conference celebrates and advocates for Gen Z perspectives and concerns
"Be strong. Take heart. Hope in the Lord!" That was the theme and rallying cry of the 2023 North Texas Annual Conference. For two and a half days, clergy and lay members of the North Texas Conference gathered at Christ UMC in Plano, Texas, to worship, learn, pray, proclaim what it means to be the church and affirm their hope in the Lord.
As the gathered body explored the idea of hope and looked forward to the future, it also dedicated time during the conference to learning more about Gen Z, which includes four- to 22-year-olds and represents the rising generation of church members and leaders. Rev. Trey Wince and Rev. Dr. Aqueelah Ligonde of Ministry Incubators joined the conference as keynote speakers, delivering two information-packed sessions and helping members to better know and understand Gen Z.
"There is an entire generation who is hearing God's voice at a frequency that many of us cannot hear," said Wince during Monday's keynote address. "And I think we would be wise to step into our role … and help usher them into a space of recognizing God's voice for what it is. We have a role in this, and young generations have a role in this, and I think we can do something pretty beautiful together."
More than just hearing about Gen Z, though, attendees also heard firsthand from Gen Z voices throughout the Annual Conference sessions. At the Laity Session on Sunday afternoon, Nathan Lewis delivered a powerful message from his perspective as a young person who has had a challenging relationship with the church as an institution.
"Today, here with you, is the first time I have been in a church in over two years," Lewis said. "I think a lot of Gen Z shares a similar experience of leaving the church – and a lot probably left sooner than I did. We left because the church looks more like the world than the Jesus who turned the world upside down. So we don't come back."
Lewis' encouragement to the crowded sanctuary at FUMC Plano was to pursue the unchurched and dechurched of Gen Z through acts of radical love, grace and acceptance. "Leave these walls. Search for Jesus. Be hands and feet."
Sharing the Mic
The conference continued to lift up Gen Z speakers throughout the event, as young people presented offering moments during worship and featured prominently in videos about campus ministries, youth leadership and the Ministry With grants. On Tuesday morning, Raileigh Flaniken of FUMC Jacksboro received the Harry Denman Evangelism Award for Youth in recognition of her work to launch C3'd, a youth ministry that is safe and open to all, regardless of gender, identity, sexuality or belief system, and creates space for conversation and a deeper understanding of Christ's love. And on Tuesday afternoon, Leo Barrios and Kaia Anderson delivered a powerful Young People's Address.
Two Gen Z panels served as signature moments during the conference: one at Laity Session, featuring Maeson Bryant, Jillian Jackson and Nathan Lewis, and one on Monday afternoon with Lewis, Isaiah "Zay" McDaniels, Shirley Ramirez and Jorja Sipe. The panelists' candid conversations onstage provided a glimpse into the lives of today's youth and young adults, including what brings them joy and what motivates them.
"We are the generation of movement – whether it be good or bad," said Ramirez. "We are a generation of large movement. We don't sit down and take everything that is given to us. If we want something done, we will get it done one way or another."
There was also frank discussion of the fears and challenges that are the ever-present backdrop for many young Americans' lives. These included concerns over anxiety and mental health, and the prevalence of gun violence.
"It's guns," said Lewis, when asked what keeps him up at night. "Over the past few years, it has begun to really permeate every decision that I make. If I want to see a movie, if I want to go to the mall, I have to ask myself 'Is this worth dying for?'."
Moving from Listening into Action
The North Texas Annual Conference directly addressed many of Gen Z's passions and fears as they considered 12 resolutions on Tuesday, June 12.
"My heart felt especially heavy yesterday in the Gen Z panel, as Nathan admitted to weighing out whether the movie he wanted to see was worth risking his life over," said Rev. David Lessner, as he introduced a Resolution to Take Action on Gun Violence. "What I heard … was this basic childhood need that I believe we all feel: for an authoritative voice to assure us we're going to make this better."
Over the course of nearly two and a half hours, the Annual Conference voted overwhelmingly in favor of resolutions including ones that recognize and welcome the gifts and leadership LGBTQIA+ community, protect trans youth and families and call for action to end gun violence.
In the coming days, Annual Conference materials, including video recordings of all business sessions and final language of the adopted resolutions, will be made available at www.ntcumc.org.
Published: Wednesday, June 14, 2023