Mental health: A&M-Commerce's Wesleyan Foundation takes lead
Jolted by suicides, students and their pastor help organize event drawing many at university
On Halloween morning, Rev. Brian Dierolf was driving to the Wesleyan Foundation at Texas A&M University-Commerce when he got a disturbing text.
"Did you hear about the body found on campus?" a student wrote, alarmed by news sweeping campus.
"I was just hoping it was heinous, bad-taste joke," said the associate pastor, who spends 75 percent of his time at the student ministry and the rest at First UMC Commerce.
It wasn't.
In fact, it turned out to be a student he knew from the Wesleyan Foundation who had apparently committed suicide. And this was on a campus still recovering from the shock when the popular university president, Dan Jones, took his own life two years before.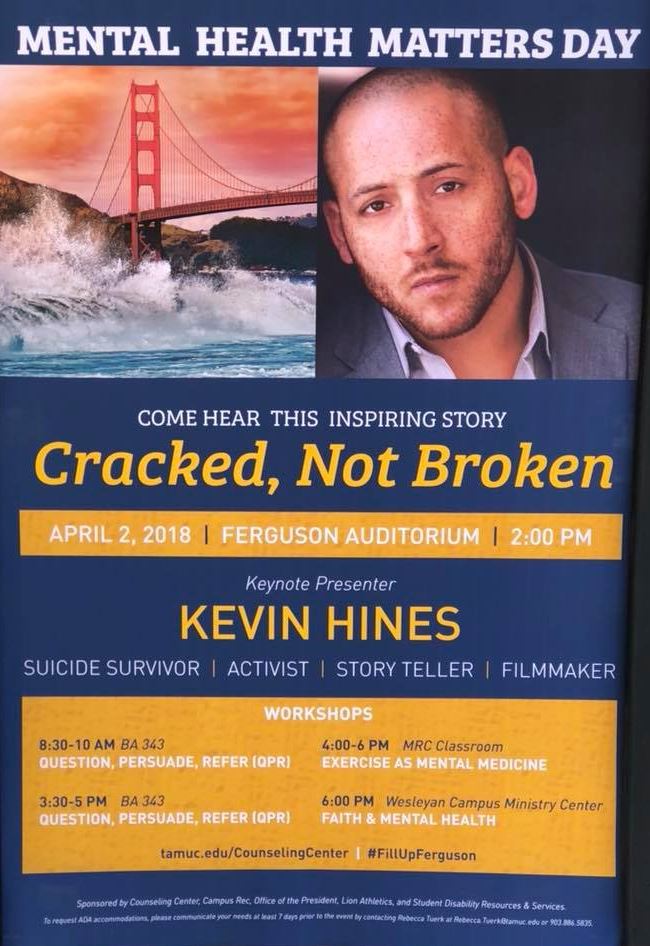 Jones was known for eating with the students in the cafeteria and striking up conversations with them as they walked to class, but there was no formal school remembrance of him, Rev. Dierolf said. Few knew about his struggle with depression.
Between that and the death of senior Alejandro Cifuentes, the Wesleyan Foundation students began raising their mental health concerns, needs and resources. With their push, Rev. Dierolf contacted Dr. Nick Patras, head of the counseling center at the university, to bring mental health issues into the open.
"Right off the bat, we really connected and saw eye to eye on a big campus movement" to lessen the stigma and encourage students to reach out for help, he said.
The result was Mental Health Matters Day, held in April and drawing an estimated 1,000 students at a school with about 7,600 undergraduates. Keynote speaker Kevin Hines, who became a mental health advocate after surviving a jump off San Francisco's Golden Gate Bridge, riveted students with his story of bipolar disorder.
Rev. Dierolf's part of the day, Faith Matters, covered faith elements of dealing with mental health.
"I also incorporated scriptures that are very powerful in addressing mental health," he said, especially Romans 8:38-39 (nothing separates us from the love of God) and 2 Corinthians 4:7 (but we have this treasure in jars of clay). He presented the United Methodist social principles on suicide, which include that "the church has an obligation to see that all persons have access to needed pastoral and medical care and therapy."
He is finding the students receptive to discussing their troubles, including those struggling with sexual identity and racial issues.
He also feels God has equipped him for a counseling role.
"My calling to ministry started as a young child. People would come up to me sharing what was on their heart," Rev. Dierolf said.
He seemed approachable, he said, in part because he had juvenile rheumatoid arthritis (now called juvenile rheumatoid immune arthritis). People could see his pain and felt comfortable to relate theirs, whether physical or mental, he said.
He bolstered his calling with college degrees pointed toward pastoral counseling and began working with youth from the time he was the pastor's assistant at the Wesleyan Foundation in Denton.
Today, the Wesleyan Foundation in Commerce touches the lives of an average 130 students each week.
And plans are already in the works for another Mental Health Matters Day next year.
Texas A&M-Commerce's Mental Health video:
Published: Wednesday, May 16, 2018