Learning And Listening In Ministry With: Glow By Open

Rev. Kake Nations describes how innovative community at First UMC Denton is thriving
When Open Worship got the word about a grant to be in ministry with neighbors on the margin, the LGBTQIA+ community was a natural choice.
Since its beginning, Open has endeavored to be a safe place, welcoming those who are seeking, questioning, feeling excluded and anyone who's been harmed in a church setting. For those who are seeking, the margin is often a place of watching and waiting.
While Glow chooses to embrace the LGBTQIA+ community, aspects of our ministry with approach can be helpful with others who feel or are marginalized.
Here is some of what we've discovered in the months since Glow by Open began to take shape. These are our process and observations, realizing the Holy Spirit will lead others in their unique gatherings and contexts.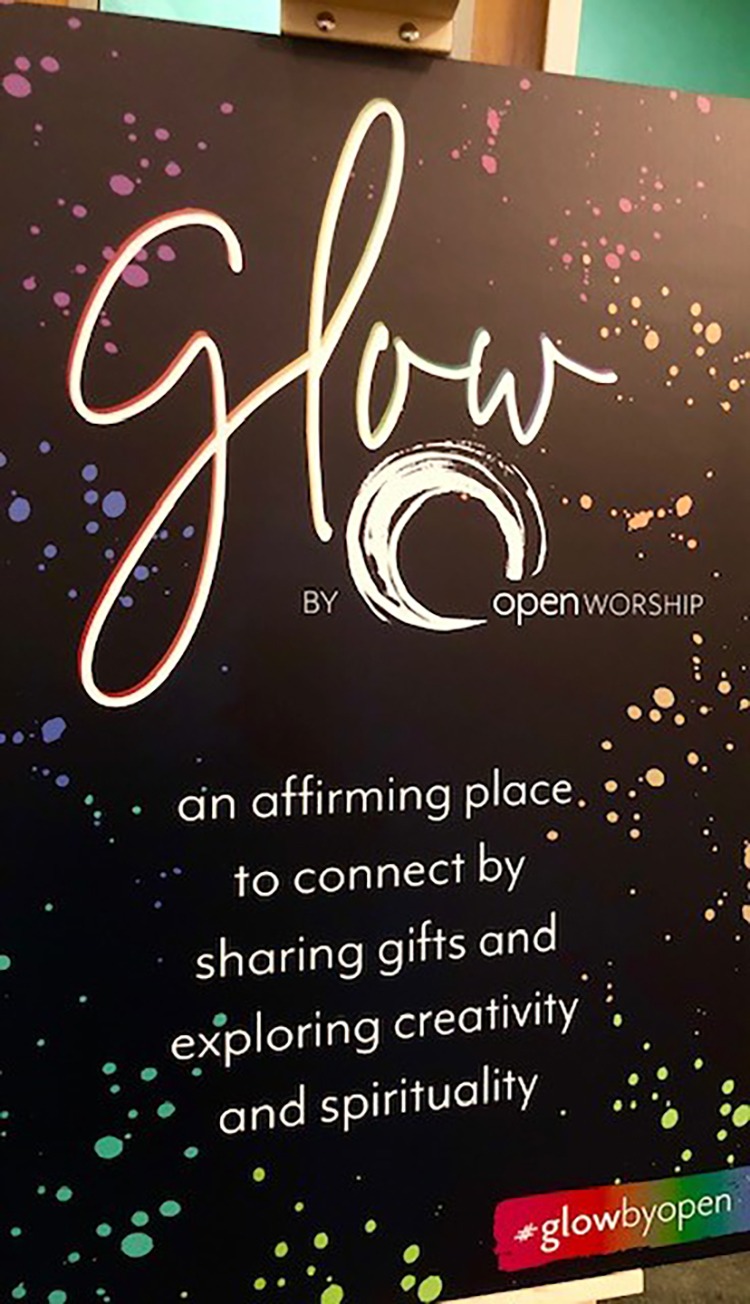 Watch for and invite leaders
In conversations at Open and in the neighborhood, we identified individuals with gifts and desires for a spiritual, creative community. They were invited to meet with Open leaders in a home over a meal. There, we listened to dreams for the LGBTQIA+ community and this outreach. We considered how to lead collaboratively – not by pastors, but by constituent members. We determined not to name a single person to a lead position; instead, a group of four laypersons and a pastor strategize and plan together.
Building trust takes time
A sense of safety and trust are crucial elements of Open and being in Ministry With. We connected initially with leaders, guests and new members by simply talking with others at every opportunity, listening to stories and longings, and telling our story. Trust and personal invitation grow into presence and investment in the larger Glow community.
Because of the need to provide an entirely affirming venue, a closed Facebook group was created and invitations were made 1:1. We handed a printed invitation to each interested person, plus an extra for a friend. There was, initially, no print or social media notice. Over time, Glow carefully became more public – at first in Open Worship announcements and publication, then the larger church, and through social media and blog posts.
Claim and reclaim identity and purpose
Leadership came up with the name Glow by Open, and, over time, articulated what the community's needs, desires, values and purpose would be. This statement is shared each time we gather, included in invitations and publicized. Because the church-in-the-world is a beloved community, distinct from the world around us, reclaiming our intentions and identity brings us back to our purpose. We recall and recommit to the promises we have made to one another and to our journey with God, reclaiming the sense of security and home.
Attentively not leading
This model of ministry led by a constituency – true lay leadership – is the opposite of how most pastors manage their charge. For someone accustomed to drawing out a one-year or five-year plan, with goals and objectives, leading by not leading means starting a new learning trajectory. It means asking questions to prompt thoughtful inquiry, to move toward next steps, attention to gaps or possibilities and then facilitating how the ministry will move forward. Rather than making those things happen by directing, next questions continue to call on the laity: Who has these gifts? Who might take that on? What are our resources? When would be a good time to . . . ?
Attending to the Spirit among the gathered body
Glow by Open began by envisioning who we are – individually and as a gathered community. Because we are a queer, creative, Christian community, vision boarding (collage) was our first activity. Through teaching, trying, trusting and risk-taking, beautiful works revealed hopes, dreams and a vision of a place where authentic selves can glow. The joy shone brightly.
The next question was: what do we seek and what do we have to offer? By exploring our innate gifts, we begin to realize who God has created us to be and how sharing those gifts illumines and enriches our friends at Glow, in our various life settings, and in the world.
Kake Nations is pastor of spiritual life at Open Worship
Published: Sunday, December 15, 2019