Keeping Up The Family Tradition

Eva Englert-Jessen – newly commissioned deacon – follows path into ministry just as her mother and grandmother
The North Texas Conference has several multi-generational clergy families, but one family stands out with three generations of clergywomen.
Eva Englert-Jessen became the latest member of this triumvirate when she was commissioned deacon at this year's North Texas Annual Conference. Englert-Jessen follows in the footsteps of her mother, Valarie Englert – senior pastor of First UMC Garland – and grandmother Rev. Victoria Davidson Paul, who served more than 40 years in the conference before passing away in August 2018.
Victoria spent time with young Eva, taking her to the churches she served. If Victoria had a meeting, Eva would tag along. Eva's mother and father, Valarie and Rick, did not attend church until Eva was older.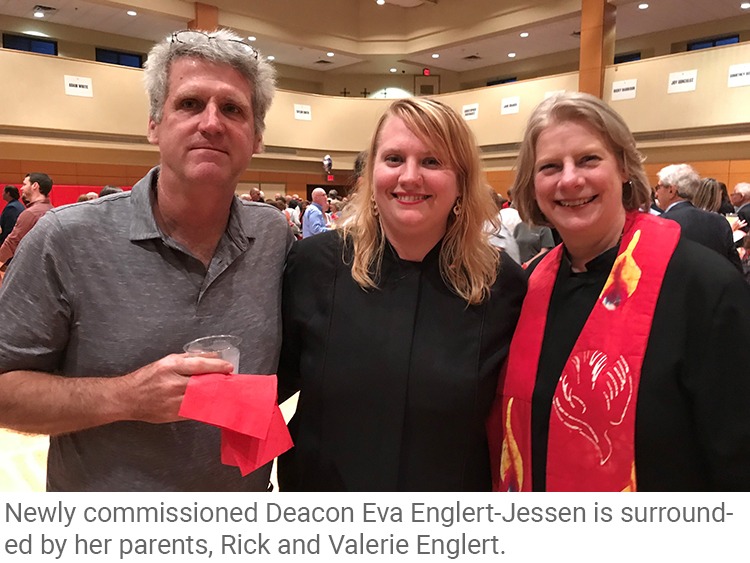 When Eva was around 5 years old, Valarie returned to the church and received her call to ministry. Valarie recalled watching as her mother went to seminary and ordained an elder in the church. She was aware of the struggles Victoria faced as a clergywoman.
"It was astounding and distressing how often she would have to walk into a wall of resistance and deal with rejection," Valarie said.
Valarie accepted her call as an ordained elder and, despite encountering similar opposition, appreciated her mother paving the way for women in ministry.
"In my own ministry, I've received the direct benefit of Mom's courage in serving the Church in ground-breaking ways," Valarie said.
Eva became active in the churches to which Valarie was appointed. Just like Valarie had watched her mother, Eva saw the obstacles faced by women in ministry.
"I watched my mom and grandmother struggle," Eva said.
When Eva was in 5th or 6th grade, she wanted to read the Bible but didn't know where to start. She consulted her mother, who taught her how to make spiritual practices her own.
As a camper at Bridgeport Camp, Eva felt a stirring to change the world around age 16. She knew it was a call from God. She didn't know her call would be a clergywoman.
By Eva's junior year at Hendrix College, she began to consider a call to ministry. After graduating and studying abroad, she started seminary at Boston University to become an ordained deacon.
"My call does look different than my grandmother and mother," said Eva, who wants to explore the intersection of environmental studies and ministry.
Currently, Eva works at Hendrix College helping young adults discern their call. Now, she gets to be a mentor to others.
Published: Wednesday, June 26, 2019