International Hospitality With A Texas Twist

Dinner between African seminarians, counterparts who are NTC pastors designed to forge relationships between groups
In her time as the associate dean of enrollment management at Perkins School of Theology, Rev. Dr. Margot Perez-Greene has noticed a significant uptick in the number of students enrolling from Africa. What was missing, she realized, was a way to build relationships between the students and pastors in the North Texas Conference who hail from Africa.
Wanting to find a way to bridge these groups together, she reached out to Rev. Dr. Owen Ross – director of the North Texas Conference's Center for Church Development – who has a strong interest in supporting African international students.
What came from their conversations was the idea of a dinner between the two groups with the African pastors cooking the meal.
"As a former student of Africa University, I was blessed to receive African hospitality," Rev. Ross said. "Connecting Perkin's African seminarians with our NTC African congregations offered warm hospitality to seminarians as well as providing a means for seminarians to connect and serve in ministry with our NTC African congregations."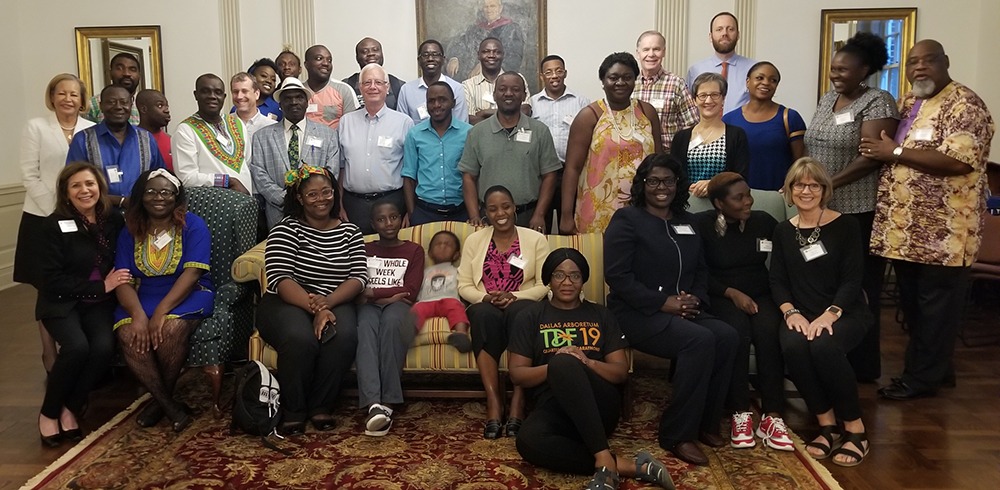 Wendy Campbell chairs the board of the Oasis Global Mission Church and is a member of Lovers Lane UMC.
"It was wonderful, and encouraging, to know that so many Methodist ministries have developed at different churches to welcome the many from Africa now living in North Texas," Campbell said.
Because connecting with one another was important, Revs. Ross and Perez-Greene created an atmosphere to cultivate relationships. Much of the evening was spent socializing, making introductions, singing and praying. To help facilitate conversations, for instance, they asked participants to name their favorite American food ... which Rev. Perez-Greene said yielded many answers centered on Texas cuisine: fried chicken, pizza, barbecue and hamburgers.
Rev. Mary Miriti of Oasis Global Mission took the lead as one of the pastors at the dinner.
"We wanted a meeting to foster and create relationships between African congregations and African students," Rev. Mariti said. "We wanted the students to know they have spiritual support here and places to worship."
Said Rev. S. Dianna Masters, associate director of the Center for Church Development: "What a great joy it was to come to know our African brothers and sisters in North Texas, some of whom are ordained and some just now entering the process. The more we talked, the more we learned that we have more in common than different."
Published: Wednesday, October 30, 2019