Hungry Hungry Kids and Hungry Hungry Hippos at Hamilton Park
At the annual ONE event, youth from 12 churches fill bodies with food and souls with worship
The Hamilton Park Youth Ministry was blessed to host the North Texas Conference's annual The ONE event on Sunday, May 2, 2017. It was an action-packed afternoon led by the young people for young people.
Hamilton Park's youth group, under the direction of Shanterra McBride, spent weeks discussing, planning and strategizing with the church's adult ministries, which also dedicated their time to the day.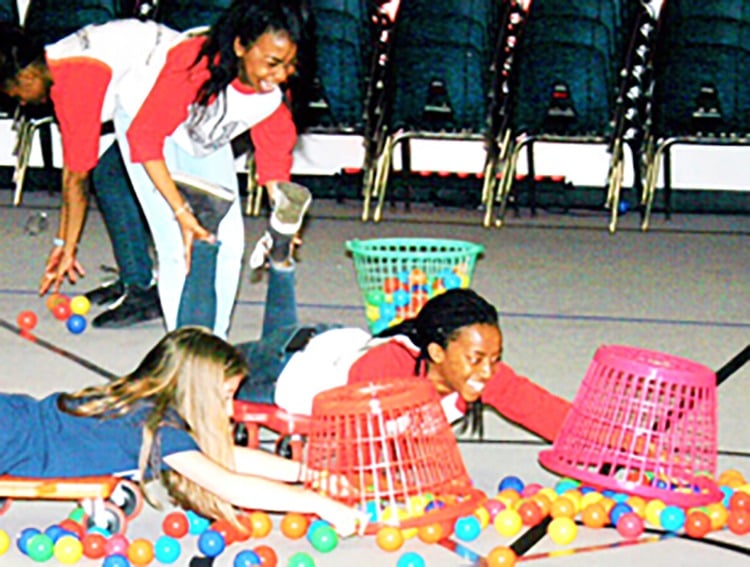 The event was a first for Hamilton Park, and the church was colorfully lit up like never before. Once all the youth from nearly a dozen churches began to arrive, the atmosphere of the entire building shone as well.
Before the kids were released to run wild and enjoy the loads of food and activities, the Hamilton Park youth conducted a worship service filled with Harambe chants and songs. The Hamilton Park youth choir, Favor, and Christian rapper Payton Parker led the music, and there were pastoral messages from Filipino-born Mighty Rasing. In spite of many different skin colors, cultures, ages and churches represented, the sanctuary was filled with the unified sounds of praise as the entire congregation of youth worshipped as one.
After worship, the youth were ready for fun. The Christian Life Center, the church's fellowship hall where the adults converse over coffee, was filled with activities and games. A video game truck in the church parking lot entertained kids and even parents with electronic games and multiple TVs. Kids also played a larger-than-life Hungry Hungry Hippos game. Youth enjoyed generous portions of candy, nachos, beans and tacos as Hamilton Park stuck to its standards and didn't allow a single mouth to go unfed.
Arts and crafts, a photo booth, games, quizzes and a spoken word corner kept the kids busy and happy.
After eating and playing games, the youth filed back into the sanctuary to close out the day by giving glory to God as ONE. Over the course of a few hours, the youth were taught that they are blessed with great power because they are all equipped with God's support and everlasting love.
They received one last word of encouragement from Mighty Rasing. He told them to take a stand in their own church communities and let their young collective voices lead to action and change.
Jessica Grider is a member of the Hamilton Park UMC youth.
Published: Wednesday, May 17, 2017