Human Trafficking … Where I Live? No. Really?

Panel discussion at Lovers Lane UMC contextualizes issue for North Texas Conference
Forced labor and commercial sexual exploitation of children, women and men is increasing in North Texas. As a transportation hub with plenty of sports events, conventions and a robust economy, Dallas is a fertile ground for human trafficking. Men and women from across the North Texas Conference gathered at Lovers Lane UMC on Aug. 26 to learn more about modern-day slavery at a forum presented by the United Methodist Women of Lovers Lane UMC.
Human trafficking is "exploiting a person thru force, fraud or coercion" but has nothing to do with transportation. Transporting people illegally across borders is human smuggling, a different crime. Human trafficking is the second most profitable crime in the world, behind sales of illegal drugs. It happens in suburbs, rural towns and cities and victims can be immigrants and citizens of any age or gender.
There are different types of human trafficking: sex trafficking, forced labor and domestic servitude. Attendees watched the documentary Dreams Die Hard, which illustrated these with three stories that included victim's escapes.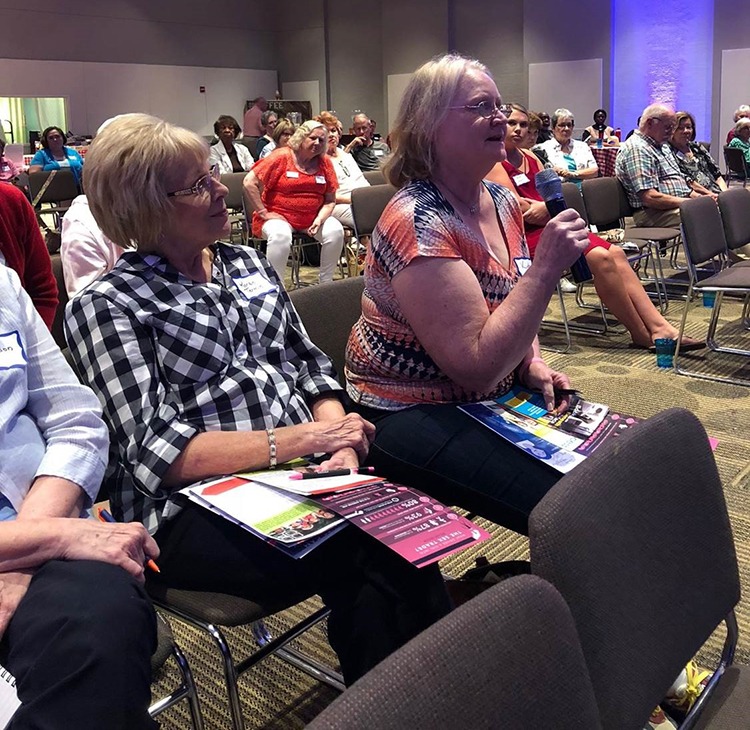 Lovers Lane UMW president Wendy Campbell moderated the panel of experts. Sex-trafficking survivor Chong Kim shared how she endured family abuse, left home desperately wanting love and fell victim herself. She speaks to educate and advocates for human rights, and her story has inspired the feature-length film Eden.
Noel Mendoza, Human Trafficking Outreach Coordinator at Mosaic Family Services, shared how they serve their multicultural clients. They help survivors of human rights abuses, including human trafficking, with legal representation, shelter, counseling and more.
Keri Stitt, Chief Partner Relations Officer at Promise House, explained that youth on the street usually are approached by traffickers within their first 48 hours. Started as a shelter for homeless and runaway youth, Promise House now provides crisis intervention, education, counseling, case management and more for anyone under 24, including a 24/7 drop-in center for youth escaping sex trafficking.
Bill Morse, Community Engagement Director at New Friends New Life, reported that the annual value of the illegal sex trade in Dallas is $99 million. He passionately explained that people know that it is not right to buy another's body, yet demeaning thoughts and words persist that influence actions and behaviors. He speaks to men's groups about manKINDness Project™ for teen boys and young men, basically teaching them to respect women and girls.
The panel took questions and encouraged everyone to be aware and to recognize human trafficking in our everyday lives. Not all trafficking looks like prostitution; some people are trapped as domestics, nannies or health aides, or in industries such as construction, landscaping, manufacturing, hotels, restaurants, bars, spas and door-to-door sales crews.
Watch for clues like people pressured to do things they don't want to do, not getting paid, being threatened, without access to their documents or having to pay to work. They may not understand their situation is human trafficking. Call the Human Trafficking Hotline (1-888-373-7888) if something doesn't seem right
Published: Tuesday, September 4, 2018