How To Hear, Respond to God's Call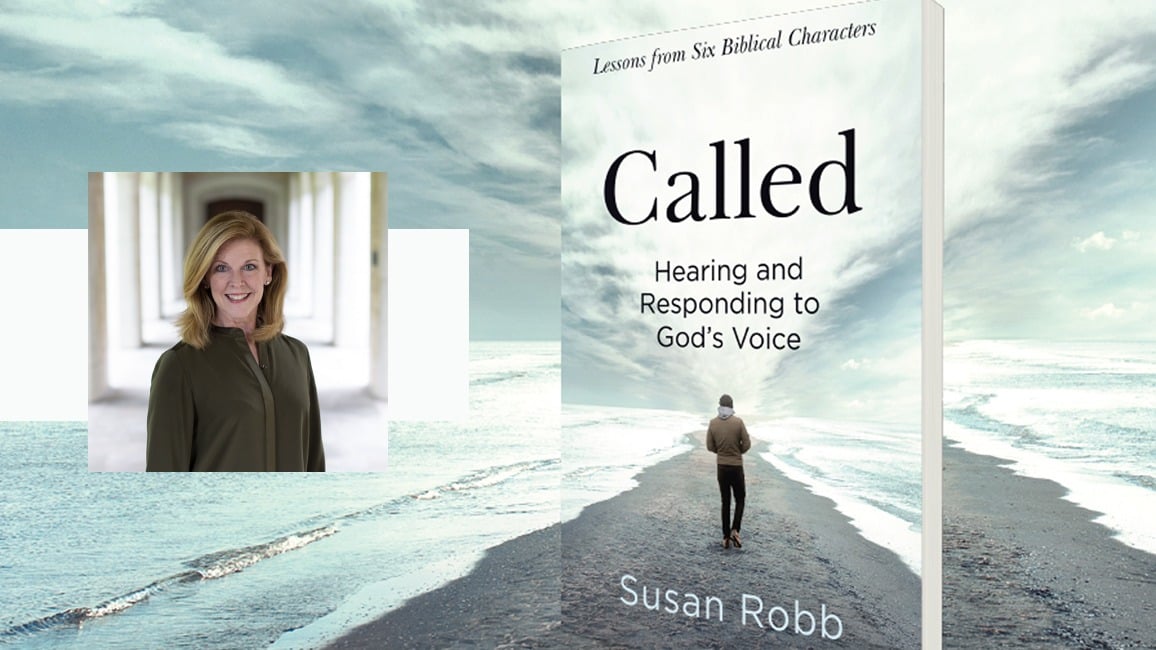 New book by HPUMC pastor draws correlations between call stories found in the Bible and ordinary people
Rev. Susan Robb is the Senior Associate Minister at Highland Park United Methodist Church in Dallas, where she has been part of the church staff for 17 years. God's call to ministry led her to pursue a Master of Divinity degree at Perkins School of Theology.
Called: Hearing and Responding to God's Voice is Robb's first published work. She recently sat down with the North Texas Conference to discuss how the book came about and what she hopes readers can take away from it.
How did you come up with the idea for Called?
I've been enamored with the call stories of Biblical characters since I was in seminary. Also, I teach a Bible study every Thursday morning at Highland Park UMC. Sometimes, it can be difficult to find curriculum that is theologically compatible with Methodism, so I occasionally write my own. A couple of years ago, my love of call stories converged with a need for good Bible study curriculum.
As I teach Bible studies and small groups, I often hear people say that they don't think God stills speaks or calls people in the same way as in biblical times, or that they feel as if others are more worthy of God's call than they. They feel as if they are too old, too young, inadequate or unskilled to be of use for God's purposes – all of which we know is totally not the case! So, I wrote a Bible study workbook focusing on six of my favorite call stories in the Bible – stories that shaped my own call and faith journey.
The book interweaves the call story of various Biblical characters with my own call and personal stories of faith. It received a great deal of positive feedback from my Bible study group and other groups I taught. I sent it to Abingdon Press to see if they had an interest in publishing it. They really liked the study and choice of characters and thought it had a broad appeal for Bible studies, small groups, Sunday morning classes and book clubs. So they asked that I turn the workbook into an actual six-chapter book. The rest is history, as they say.
Do you feel that your work in sermon preparation and life as a minister were helpful in the writing process?
Absolutely! Good sermon preparation requires in-depth study of scripture, biblical criticism, history and current culture, as well as being creative and thoughtful about how to capture and communicate that a Biblical text written centuries ago still speaks, through the power of the Holy Spirit, in a fresh way to us today. In my life as a minister, it is a holy privilege to be invited into the intimacy of the joy and pain others' faith journeys and life experiences. Sometimes I am asked to walk alongside others as they wrestle with and perceive God's voice and call in their own lives - as they seek God's will for their lives. There is no doubt in my mind that the same God of the universe who called Abraham, Samuel, Esther, Jonah, Mary Magdalene, and the Beloved Disciple still speaks clearly, and calls us too, each and every one of us, to a life we could never imagine on our own. So, yes, the same tools I use to prepare for a sermon were utilized times 20 in writing this book! And my life as a minister and the lives of those I am privileged to serve were invaluable in the writing process.
What do you hope readers take away from Called?
My hope for those who engage in this study is that they will see themselves in each of these characters. I hope they will experience the intimacy of God's voice in their ear and God's unique call on their lives and that they will know that they are beloved and invaluable agents in bringing God's kingdom on earth as it is in heaven. Also, I hope that they will be awed to know, and experience, that the God of the Universe, the same God who called Abraham, Samuel, and Mary Magdalene, calls them, too, to an extraordinary life that they could never imagine on our own!
What recommendations do you have for individuals who are unsure about answering calls in their lives?
So many! (Reading Called is a good first step!) But primarily, I would encourage those who are either unsure if God is speaking them (God is speaking, by the way) or if they are unclear about God's call, to immerse themselves in various ways in which they can hear God's voice. Don't skip worship; get in a Bible study, Sunday morning class or small group; listen for God's voice in Communion, during private or group devotional time, in the voice of wise friends and colleagues, and in nature; and get involved in serving in the community.
For those who are pretty certain God is calling them to a particular action, step out in faith. Take one small uncertain step at a time, and buckle up! Because once you say yes to God's call, you are in are in for the ride of your life!
Published: Wednesday, March 13, 2019