History-Making Appointment By Way Of India

Rev. Sumesh Jacob brings expertise, familiarity to burgeoning population
Census numbers reveal that the Asian Indian population doubled in North Texas between 2000 to 2010. 2020 census numbers are expected to show a continuation of this growth. In Carrollton, Coppell, and Irving alone, more than 12,000 Asian Indians call North Texas home. South Asian immigrants and their families are among the fastest-growing ethnic groups in North Texas.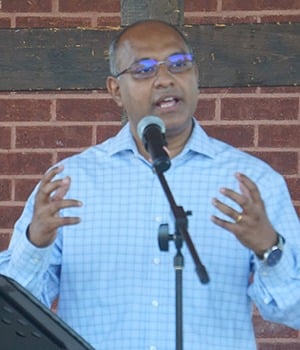 Because the Center for Church Development has made a priority to increase mission and ministry with populations underrepresented in the churches of the North Texas Conference, the CCD celebrates that God has sent Rev. Sumesh Jacob, the first elder of Indian descent or origin, to serve in a full-time appointment in the NTC.
Rev. Andy Lewis met Rev. Jacob in 2017 while Rev. Jacob was visiting his brother, who lives in Wylie. Rev. Lewis then connected Rev. Jacob with the CCD, and the recruitment began. Dr. Owen Ross, CCD director, and Rev. Matt Temple, CCD associate director for Church Planting, met with Rev. Jacob over video conferencing while Rev. Jacob was in India.
Rev. Jacob is an ordained elder in the Church of South India, India's second-largest denomination and the result of a union of many of the Protestant churches in South India, including the British Methodist Church. Arrangements were made to work with Rev. Jacob as he anticipated becoming a student at Perkins School of Theology.
In January 2019, Rev. Jacob moved to Dallas with his wife Joyce and son Timothy (age 9). During his studies and over this past year, Rev. Jacob was active at First UMC Plano and participated in the CCD's Genesis Cohort to prepare pastors for church planting.
This past May, Rev. Jacob graduated summa cum laude from Perkins and was appointed by Bishop Michael McKee to serve First UMC Coppell. The Jacob family has moved just a few miles south of the church – where the local elementary school is 86 percent Asian, with the majority of these students being Indian or from families of South Asian countries.
Rev. Jacob's appointment is historic. Ranked among the many firsts that have taken place of the 200+ years of Methodism in North Texas, Rev. Jacob is the first elder of Asian Indian origin or descent to be appointed full-time in the North Texas Conference.
Dr. Owen Ross is the Director for the Center for Church Development of the North Texas Conference.
Published: Wednesday, August 19, 2020