Got the T-shirt, Taking the Field Trip

Summer camp keeps seniors on the go, connected and rejuvenated
Two North Texas Conference churches and a well-known agency are pitching in together on a summer camp with a twist -- it's for ages 55 and up.
First UMC Dallas and Kessler Park UMC are providing the spaces and Wesley-Rankin Community Center is doing the programming. The campers, most of whom speak Spanish, are predominantly from ZIP code 75212, but some come from other parts of Dallas -- the camp is open to any senior. Best of all, the half-day camp, which began June 4 and runs through July 26, is free and includes a hot breakfast and lunch.
"A lot of what we're focusing is cognitive health, physical health and the emotional component, a connective community," said Job Sterling, Wesley-Rankin's director of adult education.
Much like a kids summer camp, the seniors go on field trips and even have matching T-shirts. One morning the first week, they visited White Rock Lake, and there are plans to visit museums and other Dallas attractions.
That's the beauty of the camp using First Dallas' UrbanLife space on Wednesdays, said Holly Bandel, associate minister of mission and advocacy at the downtown church.
"I love downtown so much, but to navigate all that as a senior adult, someone who is not familiar with that" can be difficult, Rev. Bandel said. That's where the summer camp steps in, to provide the stimulus of seeing a vibrant, changing neighborhood guided by people who know the area, she said.
The sessions downtown also are a realization of First Dallas' vision for UrbanLife -- a busy site filled with diverse people.
Additionally, First Dallas seniors will also interact with the campers.
"We're always trying to build partnerships and engaging in ministry in a different, more personal relationship," Rev. Bandel said.
Likewise, Kessler Park, where campers meet the other four weekdays, wants to be "more than just the host" for the summer camp, said Pastor Wes Magruder. Already, children have joined in for story time with the seniors, Sterling said. The church's Good Shepherds seniors group may also do joint activities, Rev. Magruder said.
Many of the activities are pure fun, including art, dancercise and games. But there are more serious sessions, as well. Representatives from Tolleson Wealth Management spoke to the group about recognizing financial scams that often prey on the elderly. The seniors peppered them with questions and tales about friends and family members who fell victim.
And for something meaningful, the seniors are doing story weaving, Sterling said. "We're taking pieces of each person's story and trying to collectively connect it to the larger group to find those similarities" among us all.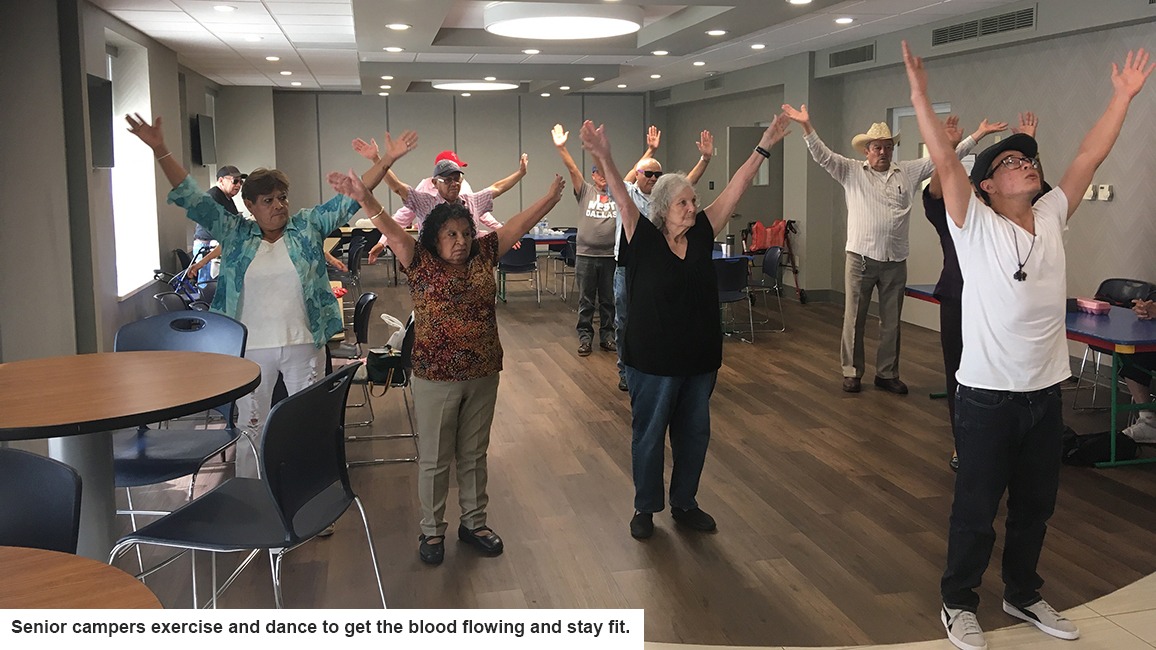 Published: Wednesday, June 13, 2018