Gold Medalist Shines Bright At First UMC Rockwall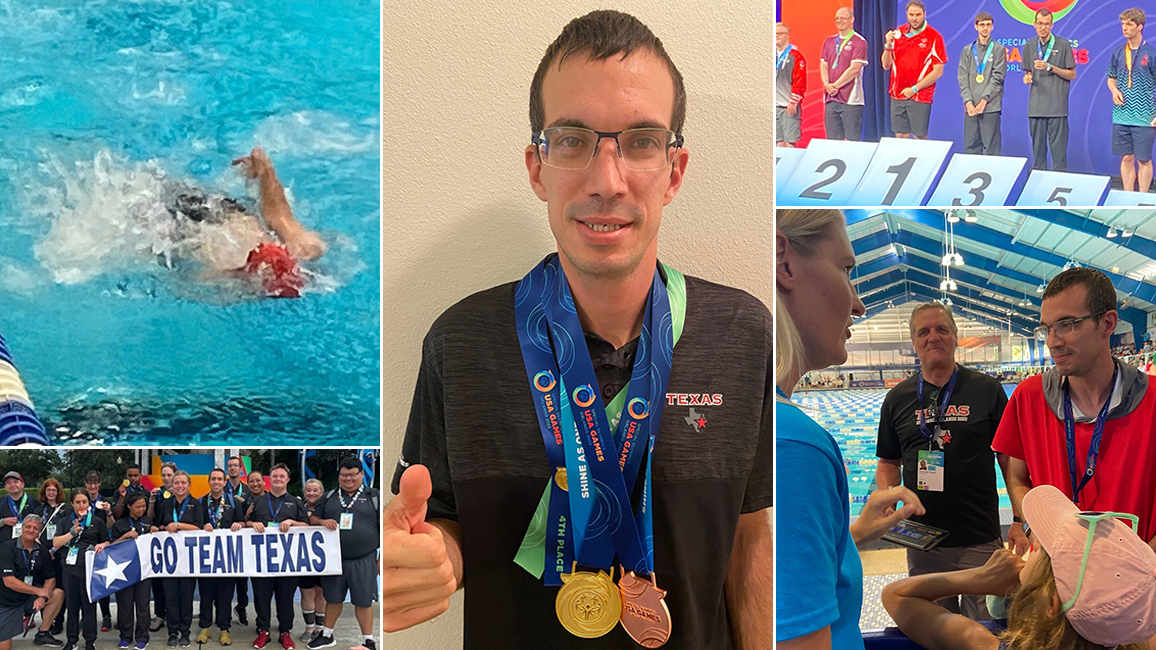 The Open Door worship community blessed Scott Wendt before the games and celebrated with him when he returned home
First UMC Rockwall member Scott Wendt knew his church family was with him all the way as he competed in the Special Olympics national games held in Orlando June 5-12. The Open Door worship community blessed and prayed over the Special Olympics athlete before he departed and celebrated when he returned home sporting new hardware.
Scott brought home the gold medal in the 4x50m medley relay, swimming the backstroke leg in an exciting come-from-behind victory. He also took third place in the 100m breaststroke and fourth place in the 100m backstroke.
"I like meeting other people from different states and making new friends," Scott said about his Special Olympics experience. "I also gain more experience doing the sports."
For associate pastor and Open Door leader Rev. Christina Hildebrand, it was important to mark this event in Wendt's life during a Sunday worship with his church family.
"I loved that our sending for Scott was intimate, with the feel of being a true family," Rev. Hildebrand said. "His parents were there to lay hands on him as we prayed. It was a beautiful connection that bridged worship and community life together, that what happens outside of Open Door matters, that God and the prayers of our faith community go with us as we step out into our important events in life."

Scott's mother, Christy, reflected on how meaningful it is for her son to be supported by FUMC Rockwall. "It was so special the church highlighted him and Special Olympics, praying over him. His faith gives him strength and they make him feel included and needed. It touched him to have the strength of his church behind him."
Scott is actively engaged in the church, assisting with worship on a regular basis. "I love helping people at my church. I try to help whenever I'm available," he said.
FUMC Rockwall Senior Pastor Rev. Dr. Joe Pool admires all that Scott has accomplished.
"Scott is an outstanding young man. We love the guy! For us in the church, we celebrate every aspect of Scott's life," Rev. Dr. Pool said. "He also works at Tom Thumb in our community, he grew up in this church, he's active as a greeter and scripture reader, so we celebrate every aspect of his life. For us to join together in celebration of his accomplishment, it's not only an affirmation of him but also an affirmation of the community that we have here. We recognize everybody, it's our task to do that with everyone."
It is gratifying for Scott's pastors that he has found a welcoming spiritual home at FUMC Rockwall, where they reinforce a commitment to community by connecting Sunday mornings to the day-to-day lives of church members.
"I think the more that we can connect what happens inside our building with what happens outside, in our daily living, the more the gospel comes alive in our hearts," Rev. Hildebrand said.
For Scott, his church certainly helped him feel God's presence and the support of his community as he brought home the gold. For that. his family is grateful.
"As parents, and coaches for Special Olympics, we note people with special needs are not always valued," Christy said. "Our church and Rev. Hildebrand really include him and give him purpose. We are blessed to be members of First United Methodist Church of Rockwall and love that he can be part of the Open Door service."
Published: Wednesday, July 27, 2022