Go Camp Develops Leaders at East Texas Camp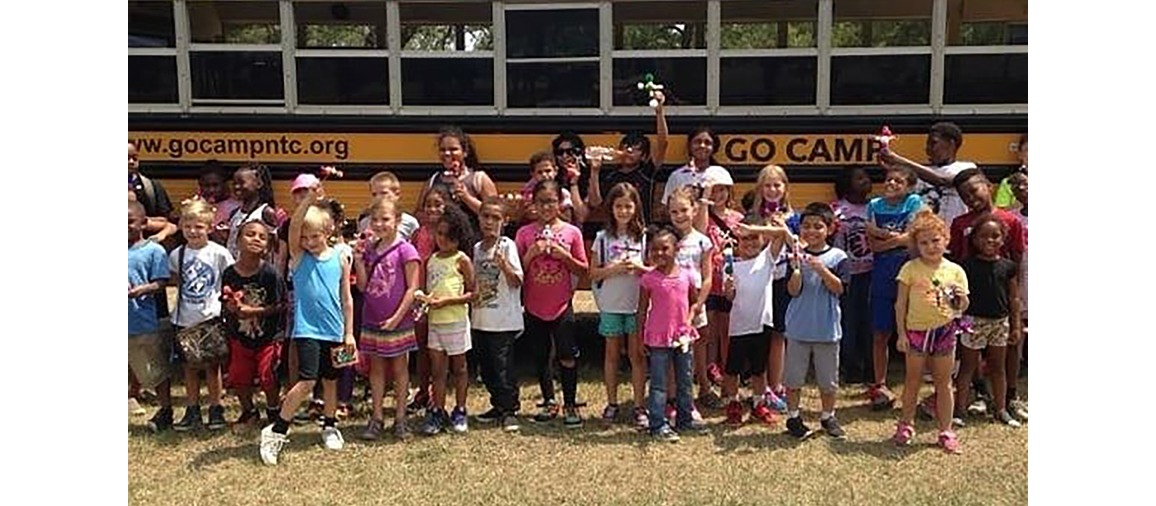 Young students from Red River County benefit from camp, teen mentors
The Jan-Kay Ranch in Detroit, Texas, welcomed youth and children for a second year for a Go Camp experience the week of July 23-27 from a number of churches. Youth from Fellowship UMC (Trophy Club), Plymouth Park UMC (Irving), LifePoint UMC (Fort Worth) and First UMC Paris experienced a leadership enrichment camp where they helped with the day camp for younger students from Red River County. After the local students left for the day, youth leaders spent time together in devotion and evening programming.
GO Camp is a system of camping, both summer and year-round, that complements the camping and retreat programs of the North Texas Conference that reaches under served communities and provides new opportunities to develop young leaders. The camps work with children, youth and young adult groups all over North Texas to provide meaningful camping experiences in their communities
Mina Edwards, who directs the Clarksville Boys & Girls Club, helped recruit students to participate in this off-site camping opportunity that was just a few miles away from home. Go Camp made the outdoor summer-camp experience accessible for young people who would likely not have had access to such an experience nearby and at an affordable cost. And along the way, older students from outside Red River County were equipped to set the example as leaders for young campers.
Over the week, students enjoyed hay rides, getting to see the ranch's rescued exotic animals, as well as fishing, outdoor games, archery, arts and crafts and devotional time. Go Camp Director Bouie Stewart remarked that children and youth are "so thirsty for time in nature they just soak it up and take advantage of every opportunity that we can provide."
So that all students could attend, the Zip Code Connection provided a grant to give scholarships for all students from the Clarksville Boys & Girls Club to cover the $25 registration fee.
Stewart said he is already planning for next year.
"We are hoping to scholarship older youth in the community to attend the overnight camp next year where they will serve as leaders for the younger kids in their own community," he said.
Said Edwards: "Not only did our [club] members have a great time, but they were really able to connect to nature and to faith."
If you would like more information about upcoming camping opportunities or how you can help, please contact Director Bouie Stewart.
Published: Friday, August 10, 2018