Garza sets high-achiever example for school bearing his name

First Hispanic elected to Dallas ISD board sees early college high school win prestigious award
Trini Garza the school takes after Trini Garza the man.
The Trinidad "Trini" Garza Early College High School at Mountain View College, where students can earn an associate's degree as well as a high school diploma, was recognized last month as the only National Title I Distinguished School in Texas. The award, presented by the National Association of Title 1 Directors, goes to a high-poverty school whose students excel in performance and that has made strong progress in closing achievement gaps. At Garza ECHS, 86 percent of the students are classified as socio-economically disadvantaged.
The man for whom the school is named has certainly set an example for high achievers. Garza, a member of Elmwood-El Buen Samaritano UMC, grew up in a migrant worker family in Floresville, Texas, near San Antonio. He lost his mother when he was 12 and his father five years later, leaving him as the oldest to look after his two sisters and a brother.
He also credits growing up Methodist for pointing him in a positive direction. After graduating high school, he moved to San Antonio, taking his brother with him after arranging scholarships to boarding school for his sisters. He worked, went to night school and joined the Naval Reserves. After going active duty in 1952-55 and serving in the Korean War, he used the GI Bill to get an electrical engineering degree from Texas A&M University in 1961. And he's touted the value of education ever since.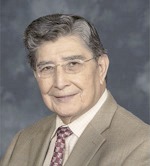 In North Texas, he began working for LTV Corp. the same year he graduated while remaining active in the Rio Grande Methodist Conference. When the Rio Grande and Southwest Texas annual conferences merged in 2015, his membership moved to the North Texas Conference.
"The Methodist church helped me in my development and cultivation and my training," he said. "I learned a lot being active with the [United] Methodist Men. All that contributed to my being appointed to the school board in 1969 and elected as the first Hispanic as trustee in the Dallas Independent School District."
He returned to the board in 1991 and served until 1994, when he became deputy regional director of the U.S. Department of Education.
Now 86, or, as he says, "minus 14" as he edges toward 100, he has a great-granddaughter enrolled as a freshman at the school bearing his name. He's also expanded his advocacy to senior causes, serving as a member of the Texas Silver-Haired Legislature, working with legislators on Hispanic issues. He also spent a term as chair of the Dallas Senior Affairs Commission.
And he's combined his love of learning and of The United Methodist Church: He became a certified lay servant this month and is a lay delegate to the North Texas Annual Conference.
Published: Wednesday, March 21, 2018