Furnishing A New Life For Domestic-Abuse Survivors

New Hope Ministries delivers abundantly to families in need, says Pamela Maestas
Pamela Maestas is the donations coordinator for New Hope Ministries.
Domestic Violence Awareness Month ends Oct. 31 … but the mission to help victims of domestic abuse will continue throughout the year because, sadly, the need will still be there.
According to the National Coalition Against Domestic Violence, 1 in 4 women and 1 in 7 men have been victims of severe physical violence (e.g., beating, burning, strangling) by an intimate partner. The pandemic has only exacerbated the issue.
I am proud to be involved with a local ministry that helps domestic violence survivors. Established in March 2012, New Hope Ministries is an outreach ministry of Suncreek UMC that provides gently-used furniture and household items for survivors of domestic abuse and other struggles in northern Dallas and Collin County areas.
We partner with local family shelters and service organizations, such as Hope's Door New Beginning, MOSAIC and Texas Muslim Women's Foundation, who refer their clients to us when they are ready to move from the shelter into an independent living situation and are in need of household furnishings. To date, New Hope has served more than 440 families, taking an empty apartment and turning it into a new home.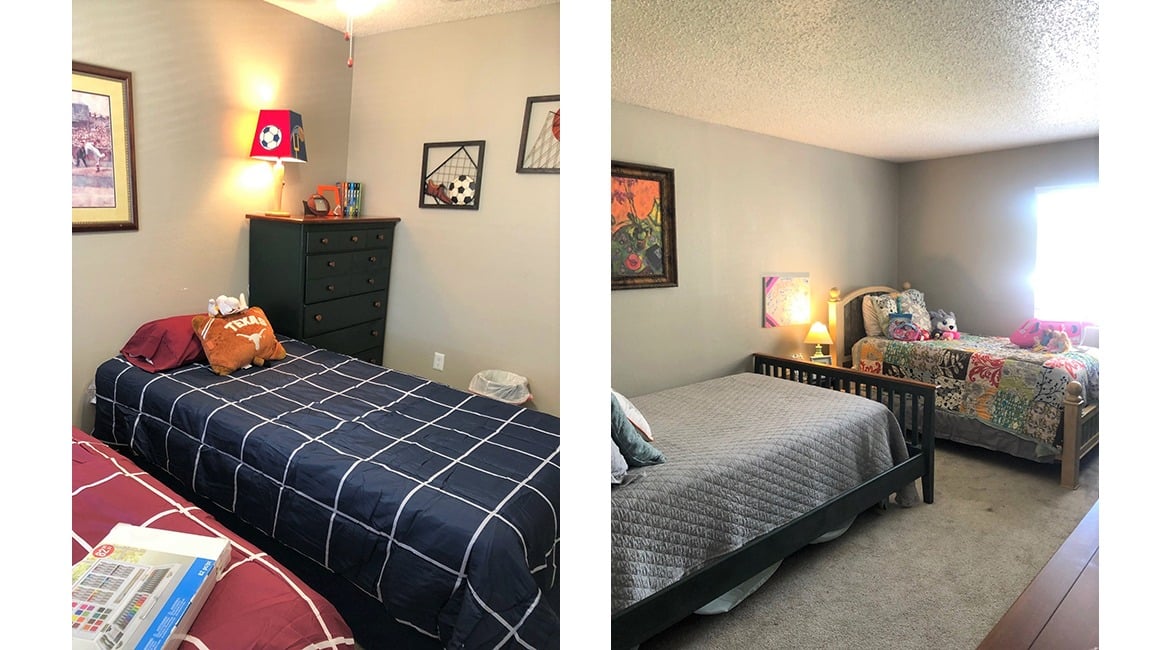 New Hope Ministries began as one woman's vision. While volunteering at Hope's Door Women's Shelter in Plano, the founder of New Hope Ministries observed that many of the women leaving the shelter moved into apartments with no furnishings. She felt a call to service and started collecting items and storing them in her garage until they could be delivered.
We now have five storage units filled with furniture and houseware donations and a committee of 10 that works together to collect and sort donations, meet with clients to determine needs and select décor, furniture and housewares to deliver and set up apartments. There are scores of regular volunteers that assist with all these processes.
Almost every Saturday morning, a crew of 8-10 volunteers arrives at a client's empty apartment. The client and her family leave for a few hours and return to find their apartment transformed with furniture, rugs, décor, dishes, small appliances and even toys and books beside children's beds.
There is nothing more rewarding than seeing the faces and reactions of the mother and children when they open the door of their new home. Tears and hugs from both the clients and the volunteers are a common reaction. One recent donor, upon seeing photos of her furniture placed in a client's apartment, wrote an email to New Hope saying, "your teams are incredible representatives of the Christian life – giving, sharing and caring."

Although New Hope is a ministry of Suncreek UMC, support and participation comes from inside and outside the church. Donations and volunteers come from throughout the community. Youth groups such as the Young Men's Service League, corporate teams and other churches' Sunday school classes regularly volunteer.
The impact of New Hope Ministries is enormous. I see it in the tears of gratitude from the clients when they realize strangers care enough about them to donate and furnish their apartment. I read the "thank you" letters from the counselors expressing their appreciation for us helping their clients. I witness the satisfaction the volunteers get from helping someone in need. I observe donors who are happy to give furniture they could sell, but instead choose to donate to help New Hope clients.
As the psalmist wrote in Proverbs 11:25, "A generous person will prosper; whoever refreshes others will be refreshed."
If you are interested in volunteering or donating items to help a family start over, please email New Hope.
Published: Wednesday, October 27, 2021