From Street To Shelter, One Night At A Time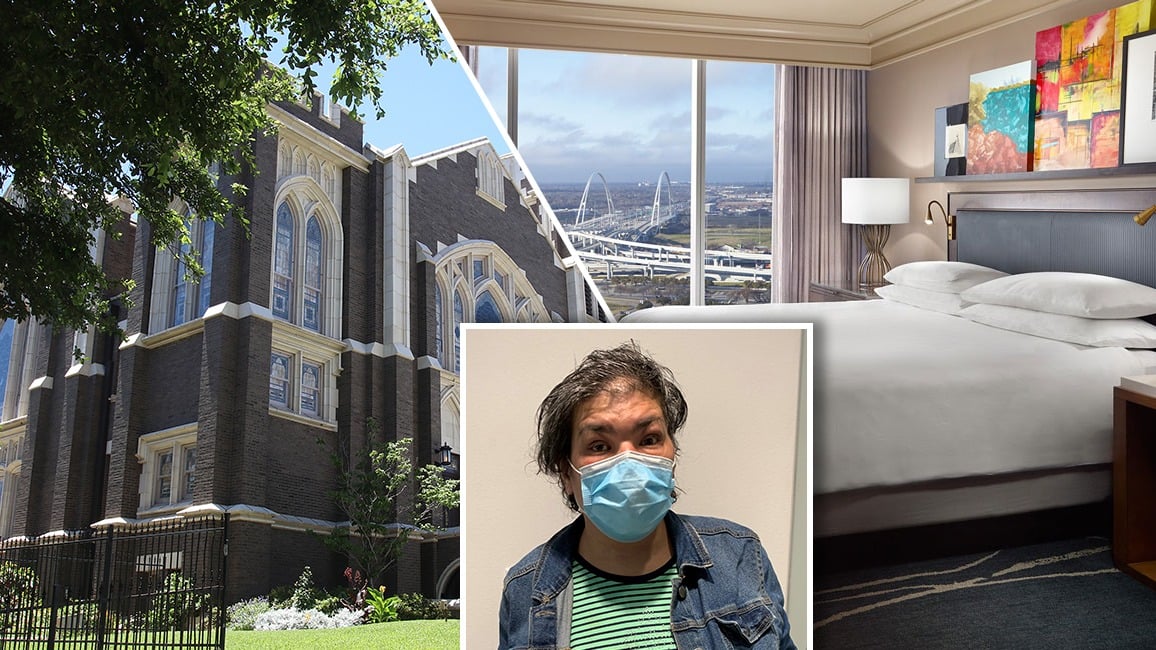 Initiative provides lodging, meals to homeless on bitterly cold evenings
For many, frigid winter evenings are the perfect reasons to stay inside – perhaps drinking a hot beverage and cuddling under blankets.
Glenna Gillilan only wishes that were her reality. Instead, when temperatures plummet, the 48-year-old finds herself scampering the Dallas streets to find any modicum of shelter from the brutal elements.
---

To date, this initiative has raised more than $100,000, which includes a matching-grant program from the NTC Center for Missional Outreach. Opportunities remain to donate.
---
Cerebral palsy and scoliosis impair Gillilan enough. Add homelessness to the mix, however, and it's a trifecta that she said sometimes is too much to take.
"It's really hard to stay optimistic living on the streets," Gillilan said. "I depend on God to keep me positive … praying daily with God, asking Him to help me find a place to stay. But now that's not really working out because of the pandemic in light of people not wanting to take on a street person."
Luckily, assistance has been available. A joint initiative between the Salvation Army, Austin Street Shelter, The Bridge, Oak Lawn UMC, Our Calling and the City of Dallas Office of Homeless Solutions plans to provide hotel rooms on winter nights when the temperature drops below 36 degrees.
So far this winter, the effort has operated six nights, providing shelter to 270 homeless individuals each night along with a hot dinner and breakfast.
The initial goal – funded in part from a matching grant provided by the NTC Center for Missional Outreach – was to raise $100,000. Rev. Rachel Baughman, senior pastor at Oak Lawn UMC, said she was excited to surpass this milestone but notes that the demand for shelter is greater than expected and that additional contributions will be needed.
"The City of Dallas is grossly underequipped to serve the population of unsheltered people in our city," Rev. Baughman said. "Even after taking in as many as we did, there were at least another 80 people who weren't able to be sheltered. … We need to step in to provide for basic human needs for all our brothers and sisters."

Gillilan has been in Dallas since 1997, having moved from Fort Worth when both of her parents passed away. She moved to Texas from Oklahoma and graduated from Richland High School.
Gillilan said she has been homeless the last four years, sleeping for the most part on streets near Oak Lawn UMC. The monthly disability check she receives isn't enough to afford an apartment, and she longs for a place she can call her own.
"I've tried shelters, but I don't like them because of a lack of privacy," Gillilan said. "They mean well, but the staff are really busy, and they can't take a personal interest in people."
The hardest part of being homeless, Gillilan said, is the isolation. She bides her time reading (Star Trek novels are her favorite) and listening to classic rock. She would like to find a job, but searching for one has become difficult given that her most prized possessions – her clothing, wallet and phone – recently were stolen.
More than anything, she wants others to know that any assistance is greatly appreciated.
"It's difficult to ask for help, but I want people to know that we [homeless] are people and should be treated just like anyone else," Gillilan said. "Losing my things wouldn't be a bad alternative to losing my life, but I try not to think about that too much."
Published: Thursday, December 17, 2020