Food For Thought: Share God's Love With Others Whenever Possible

Lake Cities UMC has plentifully provided for neighbors via community pantry
The Lake Cities Community Food Pantry has been sharing its abundant harvest with the areas of Corinth, Hickory Creek, Lake Dallas and Shady Shores for decades. The pantry, located in Lake Cities UMC, is open Tuesdays and Thursdays for clients to come once a month to get bags of non-perishable food items and, when available, fresh milk, eggs, bread and meat.
In the early 1990s, school nurse Kathy Kleam and teacher Joan Castleman noticed children in the Lake Dallas School District going hungry. The only meal some children would have was the lunch provided by the school.
The two knew something had to be done. They started by helping a few families, and their initial effort expanded over the years into helping people in the Lake Cities communities.
Coordinator Rhea Phelan has been working with the pantry since 1999.
"Our purpose is to share the love of Christ by providing food and hygiene items to our neighbors in need," Phelan said. "In 1999, I was asked to help bag groceries to prepare for distribution. I continued to help because I saw a need I felt I could help fill.
"Twenty years later, I'm the one asking people to help. Sometimes, it just takes a personal invite to get someone involved for the first time."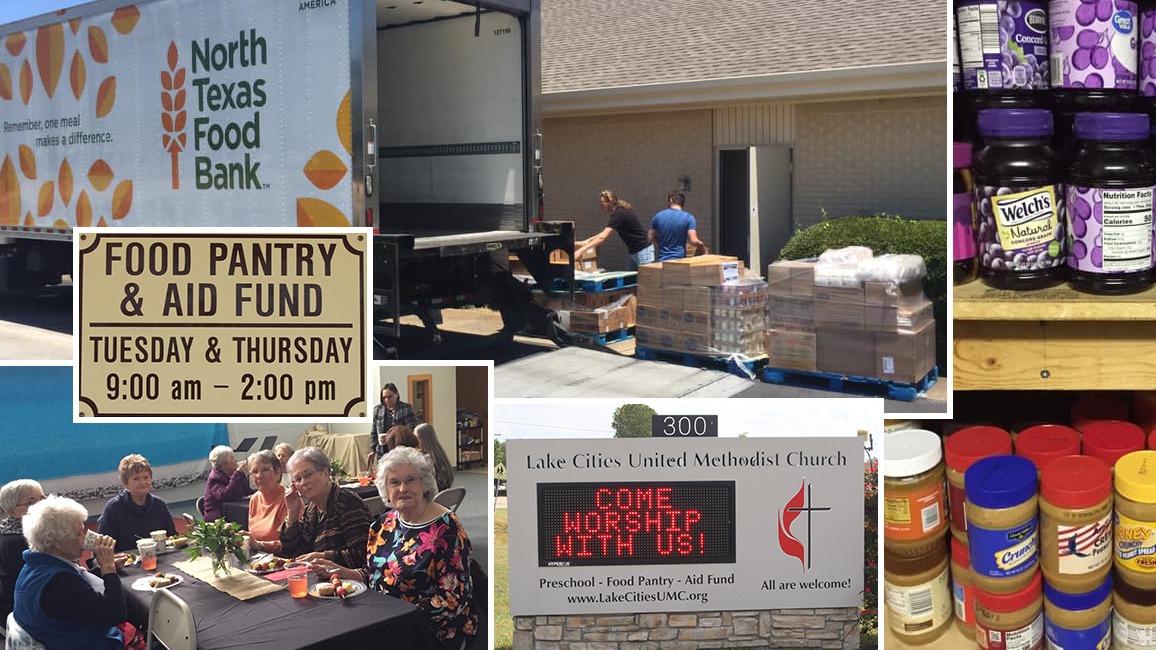 Much of the food comes through a partnership with the North Texas Food Bank. Through this partnership, the pantry can get food for as low as 14 cents per pound.
Other sources of food come from local businesses. Panera Bread in Denton donates its remaining inventory of baked goods, while Target and Pizza Hut donate other harvested items. Filling in the gaps when items are unavailable takes the work of the community.
"Local schools, businesses, organizations and individuals also contribute to food drives and monetary donations," Phelan said. "We purchase items we can't get through the NTFB at our local Walmart."
Community groups that donate vary from school groups to scout troops. A local daycare class of kindergartners held a food drive to stock the pantry and collected almost 500 pounds of food. Fresh vegetables are provided by the Lake Dallas Middle School from the community garden the students maintain.
The pantry is staffed exclusively by volunteers who sort the food, stock shelves and help clients make food choices.
Pastor Beth Kellner of Lake Cities UMC said the pantry is a shining example of God's work.
"I would say I see God working through the joy I witness; joy that flows from the heart of the volunteers as they are sharing the love of Christ, as well as the joy of the recipient in their gratitude of God's provision for them," Kellner said.
More food pantries
| | |
| --- | --- |
| Bethlehem Place | Prosper's Food Pantry is supported by volunteers. It works to ensure families within Prosper and the surrounding area have food to eat to lead productive lives. |
| Christian Community Action | Ministers to the poor by providing comprehensive services that alleviate suffering, bring hope and change lives. |
| Cedar Hill Shares | The Food Pantry is a community-wide effort to alleviate hunger in Cedar Hill. |
| East Texas Food Bank | Its mission is to fight hunger and feed hope in East Texas. |
| Feed My Sheep | Is a non-profit organization whose sole purpose is to provide/supplement food for anyone in Grayson County who is in need. |
| FISH Ministries | Is a partnership between area churches, community members, businesses, nonprofits, social services agencies and foundations to feed the hungry and assist families in crisis in Hunt County. |
| Lake Area Shared Ministries | Offers supplemental food to assist families in four southern Zip Codes in Hunt County: 75189, 75474, 75453 and 75169. |
| North Dallas Shared Ministry | Is an interfaith community of volunteers, partners and collaborators providing charitable assistance to persons in need. |
| North Texas Food Bank | Is a top-ranked nonprofit relief organization, providing access to more than 200,000 meals each day for hungry children, seniors and families across a 13-county service area. |
| Our Daily Bread | Food pantry is available to residents within the Royse City Independent School District boundaries. |
| Seven Loaves Food Pantry | Serves over 1,000 families a month within Collin County and surrounding communities. |
| Wilkinson Center | Its mission is to transform the lives of Dallas families by providing pathways to self-sufficiency with dignity and respect. |
Published: Wednesday, November 13, 2019
We're sorry. New comments are no longer being accepted.