First UMC Royse City helps out firefighters, raises $2,500

Lord's Acre money goes to buy much-needed gas detector
For 44 years, First UMC Royse City has hosted Lord's Acre, a churchwide fundraising event complete with raffle drawings, a silent auction, a country store filled with homemade delicacies provided by church members and a live auction.
But this year's event was different than in years past.
Not only was a citywide barbecue cook-off added to the festivities — complete with a traveling trophy — but money raised from Lord's Acre was used to meet a critical need in the community.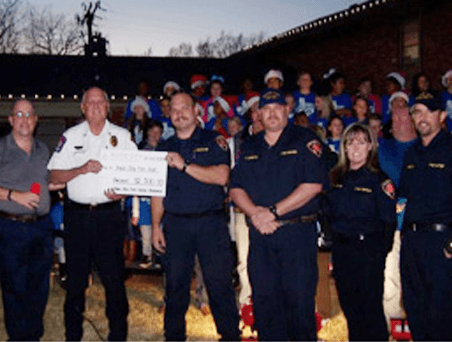 Previously, funds primarily were used for unbudgeted church initiatives. But church leaders brainstormed how they might help outside the walls of the church and immediately focused on what could be done to assist the volunteer fire department.
Royse City is served by a volunteer-run fire department, whose primary mission is to "protect the lives and property of the citizens of Royse Cityand surrounding areas." Rev. Chris Everson reached out to Fire Chief Richard Bell and learned that the fire department didn't have a gas detector, a key piece of safety equipment.
This seemed like the perfect fit … and the church decided to meet this $2,500 need.
A SENSIT Gold G2 Series Combustible Gas Leak Detector, according to the fire chief, could help the volunteer firefighters detect carbon monoxide, hydrogen sulfide and natural gases, which would be useful for combustible gas-leak detection, carbon monoxide investigations and confined space monitoring.
"If there's one thing that the Healthy Church Initiative taught us," Rev. Everson said, "it's that we've got to look outside our building and get to know the community around us.
The church added a citywide barbecue cook-off to this year's Lord's Acre.
"We are here to serve our community, and what better way to serve our city than to provide a key piece of equipment that will help keep our citizens safe from harm presented by invisible threats."
Rev. Everson presented the $2,500 check to Chief Bell during the tree lighting ceremony in downtown Royse City on Nov. 30, 2017.
Said longtime church member Glenda Arnold, "It's really exciting all the ways we're reaching out to our community. This is what the church is supposed to be about, and I'm excited to be a part of a church avidly seeking out ways to make a difference."
Published: Tuesday, December 5, 2017